Delaware Beaches with Kids: 21 Things To Do at the Delaware Shore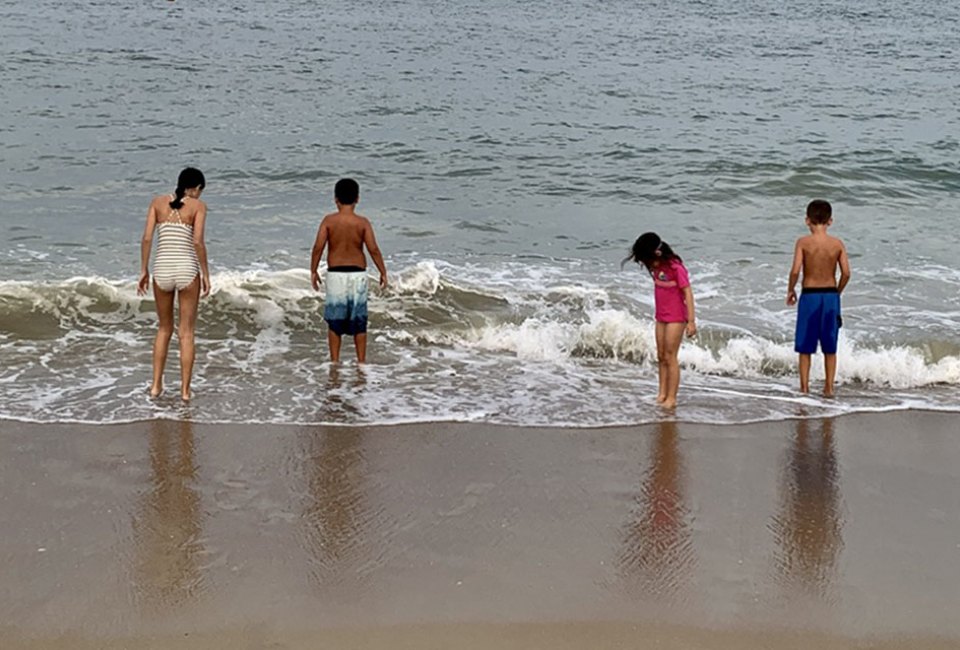 8/20/21
- By
Jennifer Marino Walters
If you're pining for the ocean and don't want to travel too far, consider taking a family vacation to the Delaware beaches—Bethany Beach, Rehoboth Beach, Fenwick Island, Lewes, and Dewey Beach—all of which made our list of great family-friendly beaches near DC. These beach towns are gorgeous, packed with family-friendly activities, and close to Ocean City, Maryland. The best part is, they're only about 2.5 hours from the DC area (depending on traffic)!
For three summers now, my family has stayed at Sea Colony—a Bethany Beach tennis resort full of fun activities for kids—and we highly recommend it. But there are also plenty of other great options for where to stay at the Delaware beaches, from seaside hotels to vacation rental homes.
Here is our list of 21 fun things to do with kids at the Delaware beaches, many of which are free. Though some of them close after Labor Day, many are open through October and beyond. And with the weather still beautiful, the crowds thinner, and the prices cheaper, fall is a wonderful time to visit the Delaware beaches!


Sunset in Bethany Beach makes for some beautiful skies.
Things to Do at the Delaware Beaches with Kids
1. The Beach
Each of the Delaware beaches has its own unique vibe, but they're all beautiful. The three most family-friendly ones are Rehoboth Beach, Fenwick Island, and Bethany Beach. Of those three, Rehoboth is the most energetic, Fenwick is the most laid-back, and Bethany is a mix of both. My kids loved collecting seashells, hunting for sand crabs, and seeing dolphins jump out of the ocean each day at Bethany Beach. — FREE
2. Mini Golf
There seems to be a mini golf course everywhere you turn in the Delaware beach towns, and they all have their own fun theme—dinosaurs, pirates, airplanes, and more. While some are more intricate than others, you really can't go wrong at any of them. A couple to try are Shell We Golf in Rehoboth Beach and the brand-new Nick's Dinoland Golf in Bethany Beach.

Funland Rehoboth has lots of classic arcade and carnival games like Skee Ball.
This amusement park on the Rehoboth Beach Boardwalk has provided old-school family fun since 1962. There are 17 rides for kids (and grown-ups) of all ages—a carousel, bumper cars, the popular Haunted Mansion, and more—as well as loads of arcade and carnival games that let you win prizes, including Skee Ball and Whac-A-Mole. The rides cost between one and six tickets; tickets cost 60 cents each, $15 for 25, $30 for 50, or $48 for 100. You can also buy an unlimited ride wristband for 1-4pm for only $20. Funland is open from Mother's Day weekend through the Sunday after Labor Day.

The line at Bonkey's Ice Cream and Snoballs in Bethany Beach is worth the wait.
There always seems to be a line at the two Bonkey's locations, and for good reason. The 30+ flavors of ice cream are made fresh daily, within three days of milking cows from a local farm. There are also sundaes, shakes, snoballs (finely shaved ice with sweet flavored syrup), and other treats. Don't let the long line deter you—the employees work fast, keeping the queue moving quickly!

Candy Kitchen has so many treats to satisfy your sweet tooth.
5. Shopping
The downtown areas of all of the beach towns are chock full of kitschy souvenir shops peddling everything from painted-shelled hermit crabs to bags of colorful rocks. If you want to step up your shopping game with the kids, though, be sure to hit up Yesterday's Fun in Bethany or Rehoboth for vintage toys and games, Browseabout Books in Rehoboth for books, or one of the seven Candy Kitchen locations in Bethany, Fenwick Island, and Rehoboth for candy, fudge, and other treats.
This nature center is small, but it's filled with hands-on activities that are perfect for younger kids. Once you're finished exploring inside, you can take a short hike to the center of a wetland, where you'll see all sorts of wildlife including the resident ospreys. There's also a small playground and themed Kidz Nature Adventures on Saturday mornings at 10:30. — FREE
There are Grotto Pizza locations everywhere in the Delaware beach towns, and they're very popular among visiting families. But despite the chain advertising its pizza's "legendary taste," it is certainly not gourmet pizza. Still, Grotto is a fun place to take the kids, who will love the on-site arcade games.
Set sail on a treasure hunt along the historic Lewes Canal aboard a custom-built pirate ship. Each child will receive a pirate sword and an eye patch, along with pirate dress-up, face painting, and pirate booty from a treasure chest. Kids can battle a "bad" pirate with water cannons, take part in a pirate sword fight, and test their skills in pirate limbo. Tickets are $25 for ages 3 and up and $10 for children age 2 and under.

Ba Roos in Bethany Beach serves up giant scoops of delicious ice cream for low prices.
This family-owned ice cream shop—one of our favorites at the Delaware beaches—offers loads of flavors of delicious ice cream, as well as Italian ices, homemade smoothies, coffee, and more. The ice cream portions are huge and surprisingly inexpensive. Order the $4 kiddie cup and you'll be amazed at how big it is!
Jungle Jim's, Delaware's largest water park, is open most days from Memorial Day through shortly after Labor Day. It includes a wave pool, a lazy river, a sprayground, an activity pool, a kiddie pool, and several giant water slides. It's pricey, with all-day passes costing $43 for those over 42 inches and $28 for under 42 inches. But if you want to save $5-$10 per ticket, go after 3pm. Jungle Jim's also has batting cages and two 18-hole mini golf courses for a separate fee.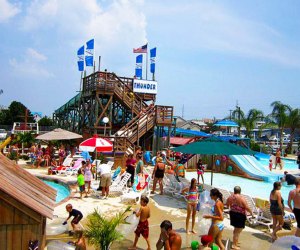 Make a splash at Thunder Lagoon Water Park in Fenwick Island. Photo courtesy of the water park
For a smaller but less expensive water park option, check out Thunder Lagoon. It has a 400-foot lazy river, an activity pool, six water slides, and a kiddie pool. Get two-hour tickets for $23 for over 42 inches, $11 for under 42 inches, and $16 for seniors 60+, or four-hour tickets for $28 for over 42 inches, $14 for under 42 inches, and $20 for seniors 60+. If you don't want to get wet, Thunder Lagoon also has a 19-hole mini golf course and go-karts for a separate fee.
There is so much to do at this gorgeous state park. You can tour the Fort Miles Historical Area, hike or bike (bicycles are available to borrow), visit the nature center and touch tank, hit the beach, and so much more. The cost is $5 per day for in-state vehicles and $10 per day for out-of-state vehicles.
13. Movies on (or near) the beach — Bethany Beach, Dewey Beach
Watch a family-friendly movie on the beach every Monday night at dusk in Bethany Beach or Dewey Beach from June through August, or on the Bethany Beach Bandstand on Friday nights in September. — FREE
14. Concerts near the beach — Bethany Beach, Rehoboth Beach
From mid June through Labor Day weekend, catch live music every Friday through Sunday at 8pm at the Rehoboth Beach Bandstand. At the Bethany Beach Bandstand, you can see a free concert on Thursdays at 7:30pm from June through August, or on Saturdays at 6:30pm in September and October. — FREE
15. Beach bonfires — Bethany Beach, Dewey Beach
Enjoy a bonfire on the beach every Thursday from 8-10pm in October in Bethany Beach. From June through August, Dewey Beach hosts beach bonfires every Wednesday evening from 7-9pm, where a $1 donation will get you a marshmallow to roast or a glow necklace. — FREE

Kohr Brothers is famous for its frozen custard.
16. Kohr Brothers — Bethany Beach, Fenwick Island, Rehoboth Beach
Kohr Brothers serves up rich, delicious frozen custard from an original 1919 recipe at its five Delaware locations. They have the usual flavors such as vanilla and chocolate along with more interesting ones like peanut butter and orange creamsicle, as well as a variety of toppings.
This small museum boasts one of the largest collections of shipwreck artifacts in the Mid-Atlantic—about 10,000 of them! It's closed from December 8 through March and is free to get in, though donations are appreciated. — FREE
This family fun center has go-karts, a water park, mini golf, a climbing wall, and other fun activities. Pricing varies for the different activities, and hours vary depending on the season. Midway Speedway Park is closed

Nalu Surf Bar & Grill offers food, drinks, and decor inspired by Hawaii.
While there is no shortage of delicious, kid-friendly restaurants at the Delaware beaches, my family loved this Hawaiian-themed eatery so much we went back twice! It features beach-themed decor such as palm trees and surfboard-shaped tables, Hawaii-inspired entrees such as street tacos and poke bowls, and a yummy kids menu. Giant TV screens and color-changing lights keep the kids entertained throughout the meal.
Spend a rainy morning or afternoon at this trampoline park, which also includes an arcade, a foam pit, a Kid Zone climbing structure for ages 9 and under, and a cafe. Prices range from $10 for 30 minutes of bounce time to $24 for three hours of bounce time, or $8 per child for access to only the Kid Zone.
21. Playgrounds
There are plenty of playgrounds in the Delaware beach towns where your kids can blow off steam. A few great ones are at Lewes Canalfront Park, Grove Park in Rehoboth, and Municipal Children's Playground in Bethany. — FREE
Photos by the author unless otherwise noted