Best Things To Do in DC's Georgetown Neighborhood with Kids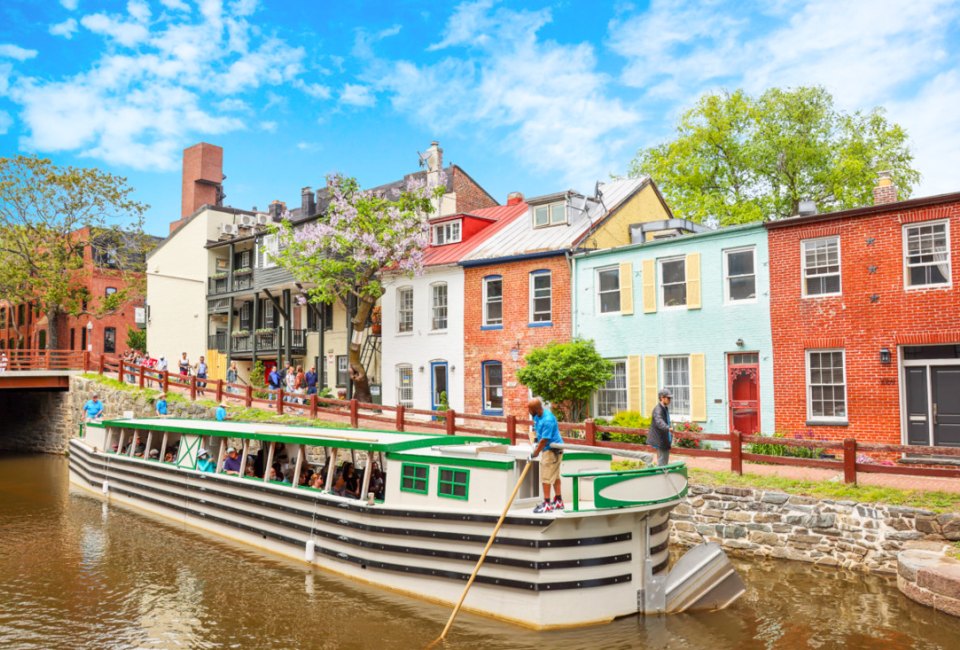 4/14/23
- By
Jennifer Marino Walters
Founded in 1751, Georgetown is the oldest neighborhood in Washington, DC. Its long history is evident in charming, old-fashioned touches like cobblestone streets and historic homes and museums. But Georgetown is also loaded with modern amenities that make it one of the coolest areas in DC. It's home to M Street, one of the best shopping streets in the US, with everything from mall stores to high-end fashion boutiques. Some of the best restaurants and dessert shops in the city are in Georgetown, including those famous Georgetown cupcakes visitors flock to try. And then there's Georgetown Waterfront Park, with it's gorgeous views of the Potomac River and the Kennedy Center.
Ready to visit? Here are 20 fun things to do in Georgetown with kids, from outdoor adventures to kid-friendly shops and eateries. Check out our visitors' guides to Old Town Alexandria in Virginia; Kensington, Maryland; and Clifton, Virginia for more historic neighborhoods to explore with your family.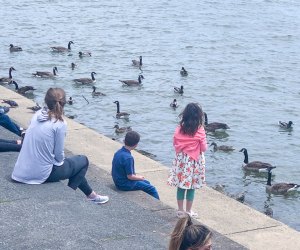 Feed the geese and ducks that visit the waterfront steps. Photo by the author
Things To Do in Georgetown with Kids Outdoors
On warm days, this 10-acre park along the Potomac River is the perfect place to stroll, play, picnic, and take in incredible views of the river and the Kennedy Center. Kids—my own included—love to sit on the waterfront steps and feed the geese and ducks, wind their way through the nearby labyrinth, and explore the pretty rain garden. In summer, the focal point of the waterfront is a fountain that features large arcs of water reaching from the Wisconsin Avenue end to the riverfront. It's the perfect place for kids to splash around and cool off on hot days, and it's especially pretty when it's lit up at night!
2. Boat Rides
Take a one-hour guided historical tour along part of the C&O Canal National Historical Park aboard a C&O Canal boat, which debuted in spring 2022. You will learn about the history, technology, and culture of the canal and hear surprising stories of the people who lived, worked, and played there over the past two centuries. Tours are offered Wednesdays through Sundays, and discounted tickets are available for kids. You can also take sightseeing tours along the Potomac to see the monuments, DC's famous cherry blossoms in the spring, the sunset, or even the 4th of July fireworks through companies like Capitol River Cruises, Capitol Riverboats, and more.
RELATED: 100 Things To Do in DC with Kids Before They Grow Up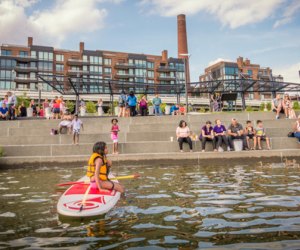 Paddleboards, canoes, and kayaks are all available for rent. Photo courtesy of Georgetown DC
3. Kayaking, Paddleboarding, or Canoeing
In the warmer months, you can also take to the Potomac River by renting kayaks, canoes, or paddleboards from Key Bridge Boathouse or Thompson Boat Center. Just check the websites for age requirements and restrictions before heading over.
A National Historic Landmark, this historic house tells the stories of six generations of Martha Washington's descendants, as well as the enslaved and free people who lived and worked there for two centuries. Tudor Place includes over 18,000 decorative items, including the largest Washington collection outside of Mount Vernon. Guided tours of the house last about 50 minutes and include a historic-artifact scavenger hunt for kids. Families can also explore the 5.5-acre garden on their own. Every Wednesday morning at 10am, kids ages 18 months to 4 years and their caregivers can attend Tudor Tots, a 45-minute program that includes songs, crafts, stories, and movement based on a weekly theme. Tudor Place is open every day except Monday.
This Harvard University research institute, library, and museum located in the highest part of Georgetown has a 16-acre garden that's truly magical to visit with kids. A series of trails take visitors through a rose garden, an orangery greenhouse, a fountain terrace, a wisteria-covered arbor, and more. If you choose to visit the museum, known for its specialized collections of Byzantine and pre-Columbian art, download its Family Guide before you go. The museum is open Tuesdays through Sundays and is always free, while you must purchase tickets to enter the garden during its regular season from March 15 - October 31.
Built around 1766, the Old Stone House is DC's oldest standing building. Families can visit the house for free on Fridays through Mondays and explore historic exhibits in the kitchen. (As of press time, the upper floors were closed to visitors for rehabilitation.) The exterior grounds are open daily from sunrise to sunset, and kids love running around in the garden out back.
Every winter from November through March, families can ice skate daily under twinkling lights on DC's largest outdoor ice skating rink, located on the Georgetown waterfront. Penguin skate aids are available for beginners.
RELATED: Restaurants Near DC Where Kids Can Play

Make new feline friends at Crumbs and Whiskers. Photo courtesy of Crumbs and Whiskers
Cat cafes may be all the rage now, but Crumbs and Whiskers was the very first one in DC and Los Angeles. Animal lovers ages 7 and up can purchase tickets for 30- or 70-minute sessions to pet and play with the cafe's kittens and cats, all of which are up for adoption (so prepare to hear lots of begging for a new pet). Food and drinks (coffee, please!) are available for purchase in advance or during your visit.
The Georgetown location of The Escape Game (the other location is in Penn Quarter) features five themed escape rooms of varying difficulty levels. Families can work together to solve puzzles, hunt for clues, and crack codes to try to escape the room in 45 or 60 minutes. Rooms include fun themes such as mummies and pirates. While the games are best suited for ages 13 and up, kids of all ages are allowed (though anyone under 14 must be accompanied by an adult).
10. Playgrounds
There are a couple of great playgrounds in Georgetown where children can burn off some energy. Kids love the one at Montrose Park, which also has tennis/pickleball courts. Volta Park has a playground, a small public pool, tennis courts, a baseball field, and gardens.
You can find great free children's programming nearly any day of the week at the DC Public Library's Georgetown branch. From baby and toddler storytimes to LEGO builds for school-age kids to STEAM events for tweens and teens, there's something for kids of all ages.
12. Festivals and Fun Events
There are all sorts of family-friendly festivals and events happening in Georgetown. In April, soak up Parisian culture at the Georgetown French Market. In summer, watch free movies at the Georgetown Sunset Cinema at Georgetown Waterfront Park. In winter, enjoy Georgetown GLOW, the area's only free, curated outdoor public light art experience. And lots of other events pop up throughout the year, so keep an eye out for them!
RELATED: Best Baby Stores in DC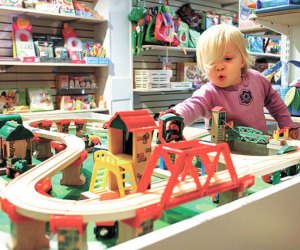 Find some fun playthings at Tugooh Toys. Photo courtesy of the shop
Best Stores in Georgetown to Shop at with Kids
This fabulous local toy store carries all sorts of great playthings for kids of all ages, including stuffed animals, LEGO and train sets, slime and fidget toys, puzzles, and so much more. If you promise your kiddos a stop at Tugooh, they may just be patient enough for you to shop at a few of the great clothing, home, or gift stores along M Street!
Older kids, tweens, and teens will go nuts in this pretty store full of all kinds of stationery, writing materials, arts and crafts supplies, gifts, and more. The grown-ups may not want to leave, either!
RELATED: Best Theme Restaurants for Families in DC, Virginia, and Maryland

Filomena Ristorante is known for its over-the-top holiday decorations. Photo courtesy of the restaurant
Great Georgetown Restaurants for Families
This famous restaurant has been serving up heaping portions of homemade pasta and other Italian favorites for over 30 years. I'm an Italian American who grew up in Brooklyn, New York, and Filomena is the best Italian eatery I've found in the DC area. My kids get a kick out of reading the long list of famous people who have dined there on the menu, from actors and musicians to presidents and other politicians. The kitschy, old-school decor makes me feel like I'm at my grandma's house. Try to visit during Christmas, Easter, or Halloween to enjoy Filomena's famous, over-the-top holiday decorations covering nearly every square inch. Be sure to make a reservation!
This popular restaurant on the Georgetown waterfront is known for its huge brunch buffet served on Saturdays, Sundays, and holidays from 9am-2pm. There, your family can indulge in a variety of breakfast foods, meats, pasta, salads, and more, as well as a dessert spread featuring homemade donuts, cinnamon rolls, and other treats. There's no kids' menu during lunch and dinner, but children will find plenty to love, including burgers, pizza, chicken tenders, and more. Farmers Fishers Bakers also serves breakfast on weekday mornings. The restaurant has a great patio where families can enjoy a meal al fresco on nice days and then check out Georgetown Waterfront Park.
Want to enjoy an afternoon or evening of bowling without the greasy bowling-alley food? Pinstripes is the place to go. It serves up surprisingly yummy Italian food including pasta, sandwiches, and flatbread pizza, as well as an extensive kids' menu. There's also a popular brunch buffet on Sundays. If bowling isn't your thing, Pinstripes also has bocce ball!
Clyde's is a popular local restaurant chain, and its Georgetown spot was the original location. It serves up delicious burgers and sandwiches, steaks, seafood, pasta, and more, with a kids' menu featuring favorites like chicken tenders and mini cheese pizza. Clyde's also serves brunch every day until 4pm.
19. Sweet Cupcake Shops
For such a small area, Georgetown has a quite a few delicious cupcake shops—but we're not complaining! Start with the famous Georgetown Cupcake, which offers about 18 varieties of cupcakes each day, from classic flavors like vanilla and red velvet to daily and monthly specials such as peanut butter fudge and cherry blossom. At Baked & Wired, you can order unique cupcakes with fun names like Razmanian Devil and Dirty Chai, as well as a variety of other treats including cookies, brownies, and blondies. Sprinkles offers a wide assortment of cupcakes and other goodies. And at Bakeshop, you can choose from a staggering number of cupcake, macaron, cookie, pie, and cake flavors. All of these places offer both gluten-free and vegan options!
20. Yummy Ice Cream Places
Georgetown also has several ice cream shops to satisfy your sweet tooth. At Thomas Sweet, kids love to create their own ice cream blend-ins. Grab a cone or cup of hand-dipped ice cream from Hershey's Ice Cream, or a gelato from Gelateria Dolce Vita, and take it to Georgetown Waterfront Park to enjoy. And then there is the good old Haagen-Dazs Ice Cream Shop!
Sign up for the Mommy Poppins Newsletter today!
i