10 Restaurants near DC Where Kids Can Play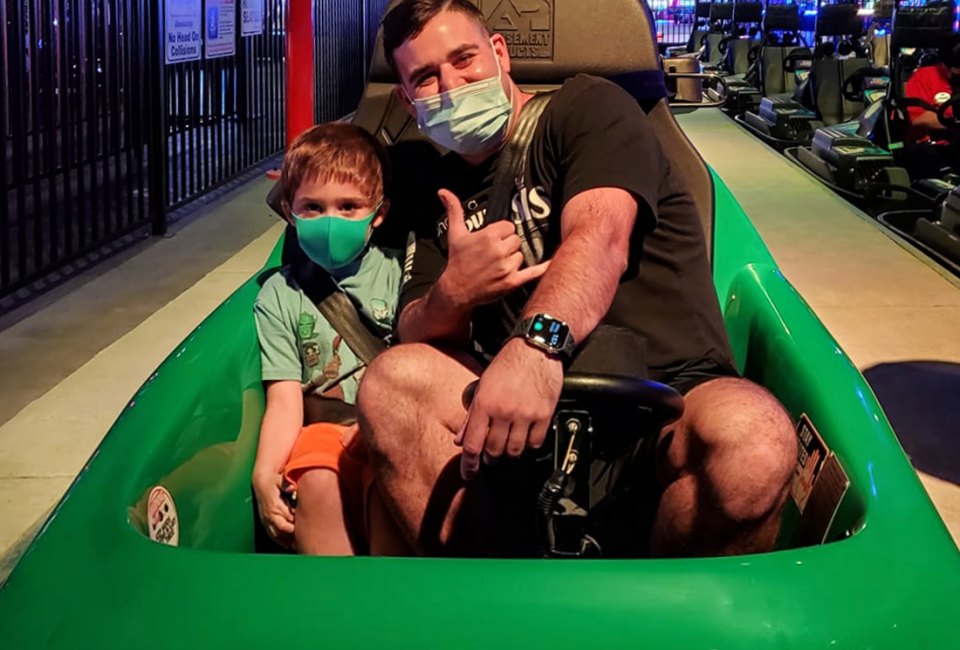 1/21/22
- By
Jamie Radoescu
When parents need a night out but don't want to book a babysitter, we've got just the solution—bring the kids along! These 10 restaurants near Washington, DC where kids can play are the answer for a fun-filled afternoon or evening for the entire family. We have also included a few places that offer brunch, to start weekend days off right.
Whether your family is into board games, arcade games, bowling, ping pong, or bumper pool, these restaurants where kids can play make the outing fun for everyone, giving kids a way to get the wiggles out while parents sit, relax, and eat actually great food.
Check out our Kid-Friendly DC Restaurant Guide for more great restaurants for kids, from Family-Friendly Beer Gardens and Breweries to Restaurants for the Whole Family Near the National Mall and Capitol Hill.
FYI, reservations are encouraged at all of these popular restaurants.
Restaurants in DC Where Kids Can Play
Comet Ping Pong is a great place to head for live music, appetizers, pizzas, salads, and most importantly, FREE PING PONG! Whether a ping pong newbie or seasoned professional (I hear that's possible), an afternoon or evening at Comet Ping Pong will make the entire family happy! The restaurant is open 7 days a week, offers indoor and outdoor seating (with a fire pit for when it's chilly), and you can check out the online schedule of live music if you are particular about what you listen to while you eat and play.
Make sure your family has a wonderful night together by heading to the Pinstripes in Georgetown (there is also a location in Bethesda, MD). Italian-American fare is the specialty, and parents can choose from pizzas, sandwiches, pastas, and salads, all made from scratch. Not particularly feeling like those choices? Pinstripes also offers baby-back ribs, salmon, steak, chicken parmesan, and Italian jambalaya. Pinstripes also has a "kids only" menu that offers a starter, entree, dessert, and beverage—all for $10, so this special outing doesn't break the bank. After dinner, families can stay to bowl in the full-sized lanes or make memories playing Bocce together.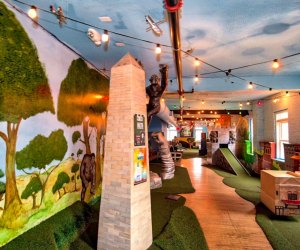 Have fun before or after your meal by playing miniature golf. Photo courtesy of H Street Country Club
Families with kids are welcome at H Street Country Club on Fridays (5pm-8pm), Saturdays (noon-4pm), and Sundays (3pm-7pm). This spot offers hand-held favorites for the whole family: tacos, burritos, sandwiches, nachos, and quesadillas, as well as fun cocktails for grown-ups. H Street Country Club also offers "Bottomless Mimosa Brunch" on Saturdays and Sundays, featuring a special brunch menu alongside the full regular menu. Have fun before or after your meal by playing miniature golf, Skee-Ball, basketball, pinball, shuffleboard, or giant Jenga.

Test your Skee-Ball skills and check out the kids' menu packed with kid favorites. Photo courtesy of The Eleanor, Facebook
The Eleanor is not just a place to stop in if you want to watch the game; it's a fun family outing restaurant where you can play miniature bowling, Skee-Ball, arcade games, or participate in trivia games. It doesn't just offer standard bar fare either, but has a full complement of tastier options such as roasted oysters, elote-style hush puppies, and po'boy sandwiches, as well as pastas, salads, and flatbread pizzas. The Eleanor also has a kids' menu offering tried-and-true kid favorites like pasta, pizza, and hot dogs, so even picky eaters can find something to fill their tummies! Happy Hour happens Wednesdays-Sundays, 4pm-7pm with food and drink specials, too.
5. Hi-Lawn — Washington, DC
This rooftop restaurant and green space offers stunning views while you partake in drinks and bites at the colorful picnic tables, on a blanket on the turf, in-a-tent couch seating, or indoor table seating. After eating, have some fun with your family playing board games, darts, bumper pool, and life-sized chess, or just relax and soak up the vibes and sunshine. Hi-Lawn offers great drinks for adults, including craft beers, wines, cocktails, and grown-up drink pouches. We do need to mention that due to safety concerns, Hi-Lawn is 21+ in the winter months, but feel free to bring the family when it's warm out!

Laser tag? Kids can play while you dine. Photo courtesy of Fun Land of Fairfax, Facebook
Restaurants in Northern Virginia Where Kids Can Play
If you are looking for a place with good eats and also get a rush of adrenaline, check out Fun Land of Fairfax and the Tailgaters Sports Grill. When you come for lunch or dinner, you can choose from favorites like burgers, sliders, sandwiches, pizzas, flatbreads, quesadillas, wings, and salads. There is a kids' menu, too, with favorites like mini corn dogs, burger sliders, and chicken tenders. Along with the meal, kids will receive a $5 play card for any of the attractions—and Fun Land of Fairfax has lots of attractions! There are go karts, laser tag, climbing walls, a sky-trail and zip-line, virtual reality games, and arcade games. It's impossible to be bored here. Bonus: kids can collect e-tickets from playing games on their play cards and turn points in for goods at the prize shop.
If you are looking for an expansive, yummy menu where everyone in the family can get just what they are looking to eat and you're looking for a fun place with numerous activities for the family, Punchbowl Social is the place for both! The menu offers handheld bites such as quesadillas, burgers, tacos, and sandwiches, but also offers steaks, fried chicken n' waffles, chile rellenos, and gourmet salads. As for activities, Punchbowl has it all: giant Scrabble, ping pong, billiards, foosball, board games, cards games, giant Jenga, mini and full-sized bowling, an arcade, and karaoke. Frankly, you would be hard-pressed not to have fun at Punchbowl.
Are board games and card games the way to fun in your family's heart? If so, Crossroads Tabletop Tavern is the place to visit for food and fun. Crossroads Tabletop Tavern has over 2,000 board and card games to choose from to add fun during or after your meal. The menu offers tavern-style American fare to include perennial kids' meal staples: chicken tenders, fun burgers with clever names, macaroni and cheese, chili, and jambalaya. There are weekly food specials and themed game nights, so feel free to check the schedule before visiting. There is also a full bar with cocktails and mocktails for grown-ups.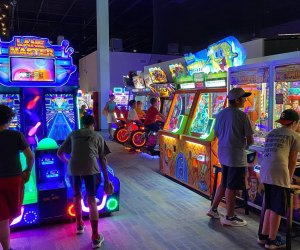 Stratosphere Social offers family activities such as arcade games. Photo courtesy of Facebook
Restaurants in Maryland Where Kids Can Play
If you are looking for a place where parents, younger, and older kids can all have fun, look no further than Stratosphere Social. Stratosphere Social offers family activities such as bowling, virtual reality games, arcade games, and trivia, but also offers axe-throwing for patrons over 16, an XD theater (a 7D experience), and trampoline dodgeball. Reservations are not accepted for the attractions but are accepted for dining. The restaurant offers burgers, hot dogs, paninis, wraps, flatbreads, salads, and appetizers, as well as a kids' menu. Stratosphere Social also has Happy Hour every Monday-Friday, from 4pm-7pm with food and drink specials.
Located in Glen Burnie, Crabtowne USA is known for its seafood, but the restaurant also offers steaks, chops, burgers, and salads, in case you are more of a land-lubber in your tastes. The kids' menu has favorites like mac and cheese, grilled cheese, chicken tenders, and fried shrimp. Does your family love crab? Crabtowne USA offers all-you-can-eat crab! After your meal, your family can have fun playing Crabtowne USA's 68 arcade games, 34 pinball machines, and claw machines. Crabtowne also offers kiddie rides for the smallest patrons.