21 Best Things To Do in Old Town Alexandria, Virginia with Kids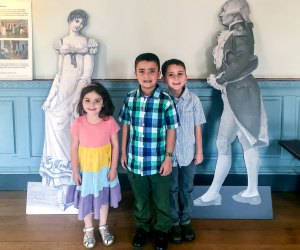 2/24/23
- By
Jennifer Marino Walters
Old Town Alexandria is one of the Washington, DC area's most historic neighborhoods. Founded in 1749 by Scottish merchants, the city of Alexandria, Virginia is best known for being the adopted hometown of George Washington. He owned a townhouse in Old Town Alexandria, and his famous Mount Vernon estate is nearby.
Indeed, walking through the cobblestone streets of Old Town Alexandria feels like stepping back into colonial times. You can dine where George Washington and other presidents did (Gadsby's Tavern), sit in his pew (number 60) at Christ Church, go on historic walking tours, and visit museums that showcase the city's history. But there are also many great modern-day things to do with kids in Old Town Alexandria, including fun festivals, shopping, and the bustling Old Town Alexandria waterfront.
Here are 21 things to do in Old Town Alexandria with kids, from the famous King Street Mile to kid-friendly Old Town Alexandria restaurants. For more great neighborhoods to explore near DC, check out our guides to visiting National Harbor; Fairfax, Virginia; and Kensington, Maryland with kids.
Fun Free Things To Do in Old Town Alexandria with Kids
1. Old Town Alexandria Waterfront
While the Old Town Alexandria waterfront is full of great restaurants, one of the best things to do there on a nice day is to simply stroll along and check out the gorgeous views of the Potomac River. See the latest art installation at Waterfront Park, watch the boats travel in and out of the harbor, picnic at Founders Park, and just soak up the sunshine.
RELATED: Visiting Smithsonian's National Museum of African American History and Culture in DC with Kids

See artists at work at Torpedo Factory Art Center. Photo by Jennifer Marino Walters
This Old Town Alexandria waterfront landmark is home to the nation's largest collection of working-artists' open studios under one roof. It's a lot of fun to stroll through the center's three floors, watch the artists at work, and see (and perhaps purchase) some of their finished products on display. Be sure to visit the Alexandria Archaeology Museum on the third floor to see artifacts from Alexandria's past.
3. King Street
With centuries-old architecture, brick-lined streets, and cobblestone alleys, the King Street Mile was named one of the "Great Streets" of America by the American Planning Association. You can stroll along and simply soak up the history and charm, but it may be difficult to resist the stores and unique boutiques, delicious restaurants, and yummy ice cream shops. Loads of twinkling lights make King Street especially beautiful during the holidays!
When little legs need a rest, hop on the old-fashioned King Street Trolley. It runs every 15 minutes from 11am-1pm between Alexandria City Hall/Market Square and the King Street - Old Town Metrorail station every day of the year, stopping every two to three blocks.
5. Spite House
Snap an Insta-worthy photo in front of 523 Queen Street, the skinniest historic house in the US at just seven feet wide. Built in 1830, the iconic blue house is said to have gotten its name because its owner had it built out of spite to keep loiterers out of his adjacent alley. Once you've taken your pic, stroll the surrounding streets to see more pretty, centuries-old rowhouses.
If you've got little ones you hope will cooperate while you do some shopping, bribe them with a visit to this small park two blocks south of King Street. With a playground, a sandbox, bucket swings, and a wood-chip surface, the gated park is perfect for kids ages 2-5.
RELATED: Free Museums Near DC to Visit with Kids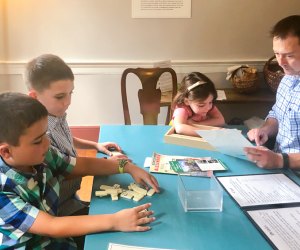 Play old-fashioned games at Gadsby's Tavern Museum. Photo by Jennifer Marino Walters
Old Town Alexandria Museums for Families
This little museum consists of two buildings: a tavern built around 1785 and the 1792 City Tavern and Hotel. Named after John Gadsby, who operated them from 1796-1808, the businesses were frequented by George and Martha Washington, Thomas Jefferson, the marquis de Lafayette, and other notable people. The museum is open on Thursdays through Sundays to visitors, who can explore the dining rooms, the ballroom, sleeping rooms, and more. My kids loved the hands-on elements, like trying out old-fashioned games, putting on a puppet show, and seeing a replica of a tavern menu from that time. Kids 4 and under are free.
This historic park is home to Carlyle House, an elegant stone mansion completed in 1753 that is now a museum. Visitors can explore the house and its beautiful gardens every day except Wednesday, and kids 5 and under get in free. There are also family-friendly tours and events available.
If you've got a Harry Potter fan in the house, this historic apothecary is a must-visit. It operated from 1792-1933, when it was preserved as a museum. Today, visitors can see over 15,000 objects including herbs, hand-blown glass bottles, and medical equipment, either on their own or as part of a guided tour. Harry Potter enthusiasts will especially love seeing ingredients that were used to make potions in the films, such as dragon's blood and castor oil. The museum is open Wednesdays through Sundays, and kids 4 and under are free.
This historic home built in 1785, listed on the National Register of Historic Places, is open to visitors on Wednesdays through Sundays. You can take a guided tour lasting 30-45 minutes or explore the home and garden on your own. Kids under 5 are free. Look out for special family events as well, such as Easter egg hunts and fall festivals.
RELATED: Fishing Lakes Near DC and More Kid-Friendly Places to Go Fishing

Tour a fully functional replica of an 18th-century ship. Photo courtesy of the Tall Ship Providence Foundation
More Fun Things To Do in Old Town Alexandria with Kids
Providence is a fully functional reproduction of the first ship authorized to serve in the Continental Navy, which was Captain John Paul Jones's first American command. Visitors can tour the ship and learn what daily life was like for the men and boys who sailed during the 18th century.
12. Potomac Cruises
Choose from a variety of sightseeing cruises and water taxis launching from the Old Town Alexandria waterfront. Through City Cruises by Hornblower, you can take a water taxi to DC or National Harbor, take a sightseeing tour of the DC monuments, view the cherry blossoms from the water, and more. It's a great way to see the city from a different perspective!
13. Old Town Walking Tours
With so much history in its streets, it's no surprise that Old Town Alexandria is home to a variety of walking tours. Alexandria Colonial Tours offers tours that focus on the overall history of Alexandria, as well as ones that specifically explore the city's African American history. Braver souls can try the company's Ghost & Graveyard Tour, as well as other ghost tours offered through companies like Alexandria Ghosts. For another great Black history tour of Alexandria, try Manumission Tour Company.
This art studio on King Street hosts weekend all-ages craft workshops where adults and kids can create wood signs, canvases, pillow covers, string art, and more in a variety of designs to suit any taste. Visit the website to browse projects, see a calendar of upcoming workshops, and reserve spots.
RELATED: 9 Things To Do in Clifton, Virginia with Kids

You may be able to catch a live performance at the Old Town Farmers' Market. Photo courtesy of the market
At over 260 years old, this is the oldest farmers' market that's continuously been held in the same spot. Even George Washington sent his produce from Mount Vernon to be sold at the Old Town Farmers' Market! It's held every Saturday from 7am-12pm, rain or shine, in the shadow of City Hall. During peak season, more than 70 vendors sell produce, meats, cheeses, poultry, pastries, fresh pasta, flowers, plants, jewelry, art, and more.
16. Festivals and Special Events
It seems like festival season never ends in Old Town Alexandria. Annual festivals and special events take place all year long. Try the Old Town Festival of Speed and Style in spring, the Portside in Old Town Summer Festival in summer, a slew of Halloween events (plus epic trick-or-treating) in fall, and festive events like the Scottish Christmas Walk Parade and the Alexandria Holiday Boat Parade of Lights in winter.
Great Old Town Alexandria Restaurants for Families
This little French cafe is known for its delicious variety of sweet and savory crepes. Kids can choose from four Kinder Crepes—Lunch Box (peanut butter and strawberry jam), Naptime (dusted with powdered sugar), Playtime (ham and cheese, made with buckwheat flour), and Tea Party (banana with chocolate sauce). Sandwiches, salads, and various entrees round out the menu.
This restaurant next to Gadsby's Tavern Museum has been serving guests including George Washington, Thomas Jefferson, John Adams, James Madison, and James Monroe since 1770. The building maintains its authentic colonial atmosphere and decor, and its fine-dining menu (complete with colonial spelling) includes the restaurant's famous peanut soup, entrees like roasted chicken and filet mignon, and appetizers such as ham biscuits and baked brie. It's the perfect theme restaurant in DC for history lovers.
Virtue was a feed and grain warehouse in the 1800s. Now it's a beautiful two-story restaurant with an exposed-wood backdrop, a dog-friendly patio, and delicious food. The menu features a variety of meats, seafood, pasta, sandwiches, and tacos. Children can order chicken strips, grilled cheese, or pasta off the kids' menu, while dogs can enjoy Pupsicles and Apples (frozen yogurt "bones" and apples), Doggie's Dream (beef, rice, and carrots), or Fit For Your Best Friend (grilled rare sirloin) from the "For the Pooch" menu. Grown-sups will love the extensive beer, wine, and cocktail list.
On a nice day, there's nothing like enjoying a meal and a cold drink on Vola's large patio on the Old Alexandria waterfront and watching the boats cruise along the Potomac River. The menu is seafood-heavy as expected, but also features a few non-fish options including fried chicken, a burger, and a chopped salad. There's also a kids' menu with chicken tenders, grilled cheese, fried or grilled shrimp, and more. Vola's is steps away from the Torpedo Factory Art Center.
21. Ice Cream Shops
Like any charming town, Old Town Alexandria has several delicious ice cream shops to satisfy any sweet tooth. There's Goodies Frozen Custard & Treats, one of our favorite Black-owned businesses in DC. There's Pop's Old-Fashioned Ice Cream, where you can grab a cone to enjoy as you walk along the Old Town Alexandria waterfront. There are tried-and-true chains like Kilwins and Jeni's. And if you wander about, you'll surely find more places to grab a cold treat!