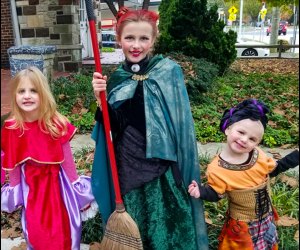 10 Great Trick-or-Treat Neighborhoods Near DC
There's nothing more exciting for kids than going trick-or-treating on Halloween. And luckily for DC-area children, there are tons of great trick-or-treat neighborhoods near DC. Residents of these neighborhoods love to do it up, from extravagant decorations and crazy costumes to haunted houses and tons of candy. And with many neighborhoods scaling back their Halloween festivities in 2020 due to the pandemic, we have a feeling some of them will return even better this Halloween.
We did some research and interviewed locals to put together this list of 10 great trick-or-treat neighborhoods near DC. In the list, While we can't guarantee that all of the usual activities will happen in 2021, we'd say that trick-or-treating in these neighborhoods is a safe bet.
And if you're looking for more Halloween fun this month, check out our Halloween events and activities guide, our list of the best pumpkin patches near DC, and our roundup of fun fall festivals near DC.
10 Great Trick-or-Treat Neighborhoods Near DC
For decades, the homes on N. Jackson Street have gone all out with Halloween decorations. There's a rusty old hearse driven by a skeleton, an entire house decorated to look like a pirate ship, a clown riding a tricycle, and lots more. And, of course, the candy flows.
With all of its ghost tours and old Colonial houses—some of which are said to be haunted—Old Town is festive enough on its own. But the homeowners on Lee Street take it up a notch with over-the-top decorations, making it one of the best places in the area for trick-or-treating. The street is closed off to traffic to make it extra safe for little ones, and the houses are close together, which means you can visit more of them in a shorter time. When you're finished on Lee Street, you can hit up the stores on King Street, many of which give out candy as well!
OUR LATEST VIDEOS
This historic neighborhood, which celebrates Baltimore's British nautical roots, is full of decorated homes that welcome trick-or-treaters. Restaurants and stores typically hand out candy as well. To find the festivities, head to the place where Fleet Street, Eastern Avenue, Aliceanna Street, and Thames Street meet.

Parents can dress up for trick-or-treating on Capitol Hill, too! Photo by Stephen Winick, Flickr
4. Capitol Hill and East Capitol Street — Washington, DC
Halloween is such a big deal in Capitol Hill that folks who live there and on East Capitol Street plan for thousands of trick-or-treaters each year. The decorations are elaborate, the owners are dressed up, and full-size candy bars abound. With the rowhouses all connected, be sure your kiddo brings a giant treat bag!
This Fairfax neighborhood off Ox Road south of George Mason University goes all out for Halloween. Festivities begin before sunset with a costume parade starting at James Haley Drive and and Broadwater Drive, where there's a big haunted house set up, and ending at Middleridge Park, where a food truck awaits. Then the trick-or-treating begins, with lots of decorated houses and fire pits setting the spooky scene.

Head to Chevy Chase to trick-or-treat and you won't be disappointed. Photo by DC Urban Turf
This historic neighborhood in northwest DC is great for trick-or-treating, especially on Rittenhouse Street NW between Broad Branch Road and Utah Avenue. All of the houses are extravagantly decorated and the homeowners love to hand out candy. The stores on Connecticut Avenue usually pass out treats as well.
Great Falls hosts an annual Halloween Spooktacular on the Village Green that will take place this year from 5-7pm. Kids age 12 and under can trick-or-treat from local merchants before hitting the neighborhoods for traditional trick-or-treating.

This Washington, DC residence is showing plenty of Halloween spirit. Photo courtesy of Mike McGuire, Flickr
Thousands of revelers flock to Georgetown on Halloween, where you're bound to see lots of crazy costumes on M Street. But for trick-or-treaters, the narrow side streets between M Street and Wisconsin Avenue are where the candy jackpot lies.
The Ponds neighborhood is full of families that create a festive atmosphere during Halloween. There are lots of decorated houses, with two in particular that compete to see which can decorate the most. Last year, one of them carved a 400-pound pumpkin into a jack o' lantern with a chainsaw, while its next-door neighbor put out a 20-foot-tall skeleton. And trick-or-treaters can amass quite the candy haul!

Alexander Hamilton was a prize-winning costume in 2018. Photo courtesy of the Rodgers Forge Community Association.
Kids come from miles away to trick-or-treat in this Towson neighborhood just north of Roland Park. Homes are decorated like crazy, and because most of them are townhouses, it's easy to hit up a lot of them in a short time. The Halloween parade that typically takes place each year is also a big draw for many families.