Best Theme Restaurants for Families in DC, Virginia, and Maryland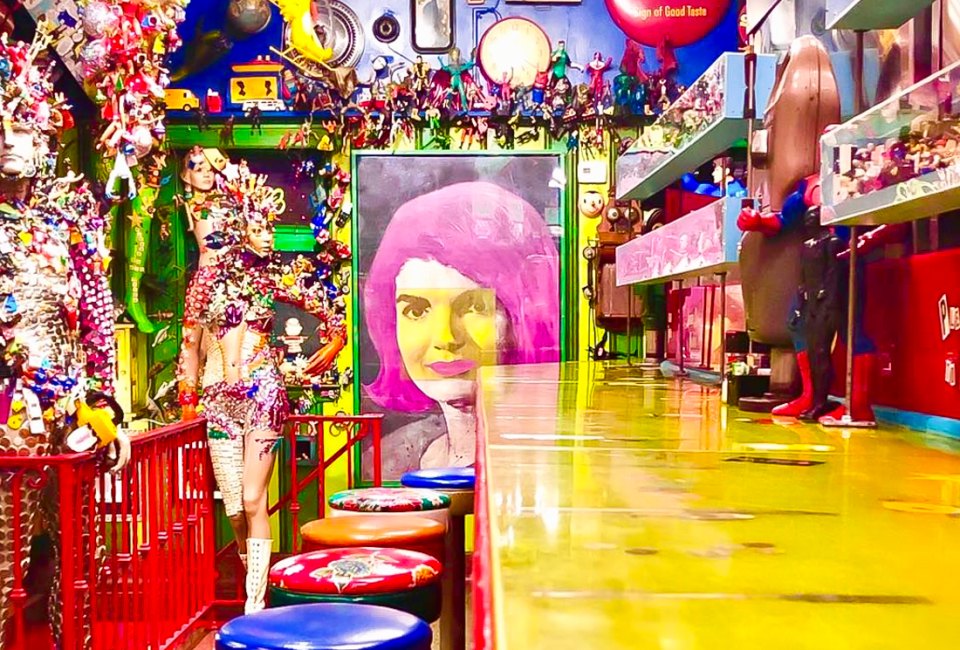 2/3/23
- By
Katie Sivinski
Eating at restaurants can be tough with kids, who may find it hard to stay in their seats without commandeering Mom's phone. But there are many theme restaurants in DC, Maryland, and Northern Virginia with built-in entertainment that will keep the kids happy so the whole family can enjoy their meal. Some of these theme restaurants even include dinner shows to watch while your family eats.
Here are 16 theme restaurants in the DC area offering unique dining experiences that are fun, interactive, and family-friendly. From dinner theaters to arcades to a pirate-themed spot, we have a restaurant that will fit your family's interests. And check out our Kid-Friendly DC Restaurants Guide for more great places to dine out with kids, including restaurants near DC where kids can play and the best coffee shops near DC to visit with kids.

You'll feel like you're dining In a swimming pool at Royal Sands Social Club.
Family-Friendly Theme Restaurants in DC
When you get to Royal Sands, you might do a double take and wonder if you should have brought your bathing suit! This restaurant is decorated to look like a swimming pool, complete with tropical decor, soothing blue-tile mosaics, porthole-shaped windows, cabana-like booths, lifeguard stands, and "changing rooms"—bathrooms, that is. The menu features popular poolside bites like burgers and salads as well as sushi and seafood. Located right across the street from Nationals Park, it's a great spot for dinner before or after a game or event (it's not open for lunch).
Dining at Stable will transport you straight to the Swiss countryside. Enjoy raclette, a Swiss specialty, with a prior reservation. Raclette is a type of cheese that is melted on special tabletop grills. Similar to fondue, you pour the melted cheese over potatoes, bread, and more. Not only is it delicious and filling, but kids love the interactive dining element. You can dine indoors or out with cozy Swiss-chalet decor, including private indoor chalets that can be reserved ahead. Other menu items include fondue and fresh baked bread.
RELATED: Where to Eat With Kids in DC Near the National Mall and Capitol Hill

Have pizza with a side of ping-pong at Comet Ping Pong.
Challenge your family to a ping-pong tournament at this DC institution. The hip warehouse setting has both outdoor and indoor dining, plus free ping-pong tables in the basement. Comet Ping Pong also features live music and a kid-friendly menu that will also please parents, complete with yummy salads, pizza, and appetizers. The desserts, including homemade ice cream and tiramisu, will leave you craving a return trip.
This fun, laid-back beach-themed restaurant has all the elements you'd find at a seaside boardwalk—hot dogs, nachos, pinball machines, and even cotton candy. Located at the Wharf, it's the largest indoor and outdoor bar in DC. Kids will love the many games available, including arcade games, shuffleboard, and Skee-Ball. It also has a great kids' menu with grilled cheese, macaroni and cheese, and more.
Pinstripes is an Italian restaurant in Georgetown with a fun twist—bocce ball and bowling! If your family has ever thought, "Bowling would be fun, but we'd still like a nice sit-down dinner," Pinstripes has settled that problem once and for all. With delicious Italian food and an extensive kids' menu (for $10 your child will get an appetizer, entree, dessert, and drink), there are many options for everyone, including pasta, sandwiches, and flatbread pizza. There's also a popular brunch buffet on Sundays. Pinstripes also has a location in Bethesda, Maryland.
RELATED: 10 Great Breakfast Restaurants Near DC for Kids and Families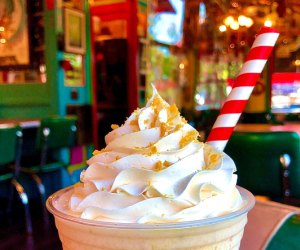 Save room for a decadent milkshake at Papermoon Diner.
Family-Friendly Theme Restaurants in Maryland
This unique spot takes recycling to a new level. At Papermoon Diner, you'll find colorful, upcycled materials made into art. Kids will love looking at the various collections of vintage toys and retro collectibles, often grouped together to create something new. It's almost like a vintage toy shop or museum where you can eat. Papermoon Diner has a large menu with burgers, pasta, sandwiches, wraps, quesadillas, breakfast, and milkshakes.
Ahoy, mateys! Bring your landlubber to this pirate-themed restaurant that serves (what else?) seafood! With indoor and outdoor seating, palm trees, pirate maps, shipwrecks, salt-sprayed chandeliers, and fishing nets, this delicious spot will delight any little swashbuckler. (Maybe you can even find out what "swashbuckler" means!) The menu includes lots of great seafood options, a raw oyster bar, tropical cocktails, soups, salads, and a kids' menu.
Families can enjoy a dueling piano show and a buffet lunch during the monthly all-ages shows at Bobby McKey's . Kids and grown-ups alike can request songs for the piano players, from Disney songs and Baby Shark to pop hits to old favorites from the likes of the Beatles and Billy Joel. The performance is very interactive, and everyone is encouraged to dance. The menu includes chicken tenders, pizza, and other kid favorites that the adults will also love.
RELATED: Best Children's Theaters in the US: Why Bringing Young Kids to the Theater is So Important

Bring your little lords and ladies to Medieval Times.
Family-Friendly Dinner Shows in Maryland
Do you have a child interested in knights and horses? Then Medieval Times, located at the Arundel Mills mall, is a must-do! Knights will sword-fight and joust on horseback to protect the queen while your family watches, eats, and cheers them on. Performances, which also include falconry, take place inside a castle complete with a Hall of Arms (and a gift shop!). You'll be assigned a team to cheer for—and receive an appropriately colored paper crown to wear—while you dine on a four-course feast of roasted chicken, garlic bread, tomato bisque soup, corn, and herbed potatoes. There are options for dietary restrictions.
This popular dinner theater offers eight shows weekly with evening and matinee performances. Each of the dinner shows includes a buffet-style dinner with a large salad bar, a carving station, sides, and desserts. Toby's also offers weekend brunch buffets. Shows include family favorites such as Grease, Sister Act, and Miracle on 34th Street.
This family-friendly dinner theater has shows on Fridays, Saturdays, and Sundays. Tickets include a three-course meal with items like meatloaf and battered whitefish, along with a performance of a Broadway-style show such as Grease, Xanadu, Clue, and The Hunchback of Notre Dame.
Way Off Broadway's lineup includes special hour-long family dinner shows geared for ages 3-12, such as holiday favorites like A Charlie Brown Christmas and Jingle All the Way. Dinner and dessert are served buffet-style, so everyone can pick and choose what they'd like to eat.
RELATED: 10 Family-Friendly Washington, DC Vegan Restaurants

Enjoy a meal where George Washington ate at Gadsby's Tavern.
Family-Friendly Theme Restaurants in Virginia
Gadsby's Tavern is the oldest of the theme restaurants on our list, having been around since 1770. If your kids are into history, come enjoy brunch, lunch, or dinner where George Washington also sat and ate! The fine-dining menu (complete with colonial spelling) includes the restaurant's famous peanut soup, entrees like roasted chicken and filet mignon, and appetizers such as ham biscuits and baked brie. The authentic colonial building and decor would really bring to life your child's next report on presidents!
If your child is an American Girl fanatic, this is the place of their dreams. Kids will love eating a fancy (but child-friendly) meal for tea time, lunch, or dinner. The café even provides special seats for American Girl dolls so they can join the fun. Tea at the American Girl Café includes finger sandwiches, assorted sweet treats, a pot of tea, and a craft activity. For dinner or lunch, you can get a three-course meal with drinks and dessert included.
The beach vibe is so strong at Clare and Don's Beach Shack, you'll wish you'd worn flip-flops. This laid-back restaurant serves Florida-inspired seafood fare including blackened, grilled, and fried fish dinners, plus other favorites like pasta, sandwiches, burgers, and key lime pie. The large kids' menu is sure to please even the pickiest eater. There's indoor and outdoor seating, and even well-behaved dogs are welcome on the patio.
This unique Shirlington restaurant resembling an artist's loft has colorful art for sale all over its walls and artists working on site. Watch the artists paint, sculpt, and even make jewelry while you enjoy a tapas-style menu featuring globally inspired dishes like butter chicken tikka masala, pan pizzas, and pork bao buns. Brunch is also popular with waffles, French toast sticks, and more. If everyone in your family is hungry, go for the bottomless brunch: for one price, you can order as many dishes as you'd like!
All photos are courtesy of the theme restaurants.
Sign up for the Mommy Poppins Newsletter today!