12 Must-Try Ice Cream Shops Near DC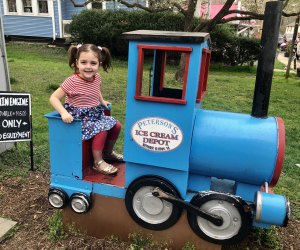 Although summer break is ending for DC-area kids, the famous DC heat and humidity often lasts into October. And while many pools, water parks, and spraygrounds may be closed, plenty of ice cream shops near DC remain open and ready to serve some cold treats. And while we've got plenty of love for the nationwide ice cream chains, sometimes you just want to go somewhere more local and special.
Read on for our list of 12 great ice cream shops near DC, many of which are near other attractions like parks and playgrounds. Some of them stick with what they do best—ice cream—while others offer extra goodies such as cookies and cakes. Be sure to check the websites or call the locations for operating hours, as some of them are closed on certain days or don't open until the afternoon.
Ice Cream Shops in Washington, DC

Here's the Scoop in DC serves hand-dipped ice cream and other treats. Photo courtesy of Here's the Sccop
This Black-owned ice cream shop in northwest DC serves hand-dipped ice cream in a variety of fun flavors such as cinnamon churro, salted caramel pretzel, and birthday cake. There are also freshly baked goods by up-and-coming local bakers, as well as cookie sandwiches, milkshakes, sundaes, and even vegan ice cream flavors.
Since 1985, this Dupont Circle shop has been serving up ice cream, baklava, and cookies that are all homemade on-site. The ice cream is made using pure sweet cream and all natural ingredients, with no corn syrups, eggs, or sugar added. Among the more than 30 flavors are some truly unique signature ones like Key West chocolate fever (orange chocolate) and Fred & Ginger (peach, brandy, and ginger). Larry's also offers ice cream cakes and ice cream sandwiches.
Mt. Desert Island began with three shops in Maine before opening this location in DC's Mount Pleasant neighborhood, which has been visited by White House residents. There's also a fifth location in Japan. Mt. Desert Island serves up nearly 20 creative flavors of small-batch ice cream, including cinnamon cardamom, lemon curd coriander streusel, and something called Girl Scouts Gone Wild. There are also two non-dairy flavors—kulfi and vegan maple pecan—and a couple of sorbets.
This popular Georgetown spot is the only Thomas Sweet location in DC (the other four are in New Jersey). In addition to Thomas Sweet's variety of delicious handcrafted ice cream flavors and "blend-ins," you can also get all kinds of decadent chocolates and gourmet coffee.
Ice Cream Shops in Maryland
Build your dream ice cream sandwich at this Bethesda shop. First, choose your top and bottom (you can mix and match) from nearly a dozen cookie and brownie options including Funfetti, snickerdoodle, and the classic chocolate chip cookie. Next choose your center from over a dozen ice cream flavors, from simple vanilla to unique options like blackberry crumble and toasted s'mores. Last, pick from 12 toppings including brownie bits, Fruity Pebbles, sprinkles, and more. You can even get your sanwich warmed up. Gluten-free ice cream flavors are available, and you can also order ice cream by the scoop.

Moorenko's offers roughly 30 flavors of small-batch ice cream. Photo courtesy of alexandriava.com
Moorenko's makes its ice cream by hand in small batches, using milk from grass-fed cows raised on small, family-owned farms. The ice cream's blend of all-natural ingredients forms a base of 17 percent milk fat, which is considered "ultra-premium". There are about 30 flavors, from classic vanilla and Swiss chocolate to more imaginative choices like cotton candy gummy bear and cherry stracciatella. Moorenko's also offers about a dozen flavors of sorbet. There are three Maryland locations—in Bethesda, Old Ellicott City, and Silver Spring—as well as one in DC.
Sarah's, which has two locations in Bethesda, was created by Bethesda mother-daughter team Sarah and Annie Park. Sarah uses her original small-batch, all-natural recipes using local ingredients whenever possible. Over 30 ice cream flavors range from the classics to more creative choices like maple peach ricotta, Cuban Mojito, and sweet cornbread. There are also vegan flavors, loads of topping choices, and additional treats like ice cream sandwiches, sundaes, and floats.
Ice Cream Shops in Virginia
This family-owned shop, founded in 1984, is the oldest continually operated ice cream shop in downtown Alexandria. It serves up 32 flavors of handcrafted, small-batch ice cream, custard, and sorbet, as well as ice-cream cookies. The Creamery is especially proud of its Southern regional flavors including lemon custard, banana pudding, and orange chocolate chip.

The Dairy Godmother in Alexandria, Virginia is known for its frozen custard. Photo courtesy of The Dairy Godmother.
This Alexandria shop specializes in creamy, freshly made Wisconsin-style frozen custard. You can choose between traditional vanilla and the flavor of the day, which could be anything from mint Oreo and chocolate peanut butter swirl to rice krispy treat and lemon meringue pie. See the daily flavor ahead of time by checking out the website's flavor forecast. The Dairy Godmother also offers fat-, dairy-, and egg-free sorbets and homemade marshmallows in various colors and flavors.

Peterson's Ice Cream Depot serves up delicious homemade ice cream in historic Clifton, Virginia. Photo courtesy of Jennifer Marino Walters
This family-owned ice cream shop, located in an old carriage house in the historic town of Clifton, serves up a dozen homemade ice cream flavors daily from its total of over 30 flavors. Depot favorites including cookies n' cream, chocolate drama, and Strawberry Fields are always on the menu, while the other flavors rotate. The on-site Dog Pound offers hot dogs, homemade Carolina barbecue, hand-cut fries, and more, and the outdoor patio has games such as checkers. You can even bring your dog for a Pup Cup! Head to the cute little playground next door when you're finished with your ice cream.
Ray "Pop" Giovanni started out in the ice cream and dessert business in the 1940s and spent much of his career catering White House events, where he'd serve Eleanor Roosevelt her favorite ice cream. In 1998, he left behind his "little black book" of recipes, which are offered at this Alexandria ice cream shop. There are over 30 ice cream flavors, with the more unique ones including Kahlua chocolate chip and Butterfinger coffee. Pop's also offers lactose-free soft serve, five kinds of pie, and some fun specialty sundaes like the Johnny Appleseed (vanilla ice cream, apple pie chunks, butterscotch, caramel, and whipped cream).

Woody's Ice Cream in Fairfax, Virginia offers more than 30 flavors of hand-dipped ice cream, including cherry chocolate-chip. Photo courtesy of Woody's Ice Cream
This mom-and-pop shop in the heart of downtown Fairfax serves up more than 30 flavors of hand-dipped ice cream from a local creamery, as well as soft serve, sundaes, milkshakes, and more. Some of the more unique flavors include apple pie and coconut chocolate crunch, and Woody's also offers seasonal flavors like pumpkin and cinnamon. Enjoy your ice cream on the large patio, then head across the street to the splash pad or the public library to continue the fun.
Don't want to venture out to one of these ice cream shops near DC, but still want something sweet? These cake, cupcake, and cookie delivery services will deliver yummy treats directly to your house!