DC Area Playgrounds That Received Upgrades in 2020-21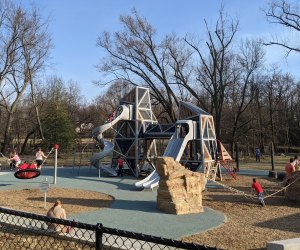 As spring weather arrives in DC, families are no doubt eager to enjoy the fresh air and let their kids play outside. Parks and playgrounds are great gathering spots for neighbors, and these parks and playgrounds in the DC area all received upgrades in 2020 or will be upgraded by early 2021.
From splash pads to street hockey courts to fun, new playground equipment, these parks have lots of new features for your kids to enjoy. If you're looking for more spring fun in DC, see our rundowns of the best mini-golf courses and family-friendly campgrounds in the area.
Newly Upgraded DC-Area Parks and Playgrounds, 2021
Petworth Playground and Splashpad​
The upgraded park and playground at Petworth Recreation Center includes different play areas for 2-5 year olds, 5-12 year olds, and teens. There's also now a splash pad and spray park, a basketball hoop for younger kids, and an outdoor ping-pong table. One of several unique new amenities is a baby swing that allows parents to swing with their children and have a place to put your phone to take pictures and video.
Alethia Tanner Park
This new park in the NoMa neighborhood ncludes a playground, dog park, gardens, a meadow, and a plaza. There is also a café kiosk and a stage area, where concerts and other community events can be held in the future. The playground, constructed out of wood and rope, includes climbing structures designed for both little and big kids. The park is named after a formerly enslaved woman who helped open DC's first school for Black children.
Franklin Park
A major renovation of downtown Franklin Park began in summer 2020 with a projected completion date of July 2021. This historic 200-year-old park was last renovated in the 1970s and had fallen into disrepair. The redesigned park will include an outdoor café with seating and restrooms, a children's play area, a repaired and interactive historic fountain, new seating, and enhanced landscaping.
Eastern Market Metro Park
The Eastern Market Metro Park playground area opened in July 2020. Features include separate playgrounds for 2- to 5-year-old children and 5- to 13-year-olds, a splash pad, shaded seating area, and lots of greenspace. Construction on Phase 2, closer to the Eastern Market Metro entrance, is ongoing through spring 2021. This section will include a lighted pavilion for neighborhood events and performances.
Newly Upgraded Maryland Parks and Playgrounds, 2021
Dewey Local Park — Silver Spring
Completed in fall 2020, Dewey Local Park has a new larger playground with a "trike track" around the perimeter, an outdoor fitness station, a soccer field, and a street hockey/Futsal court built in collaboration with the Washington Capitals. There is also a new lighted dog park, improvements to the Rock Creek Trail running through the park, and beautiful new murals installed.
Damascus Recreational Park — Damascus
Damascus Recreational Park in Montgomery County is part of the Playground Renovation Program. A new park playground is currently under construction and slated to open in summer 2021. The park also includes lighted tennis courts, a soccer field, picnic shelters, and a dog park.
Horsepen Park — Bowie
This brand-new parkm completed in winter 2020, includes two playgrounds for different ages, a picnic pavilion, and trails to explore the surrounding wetlands. The park also includes bicycle training areas, including two pump tracks for beginning and intermediate level riders, a bicycle skills area, and a bicycle repair station.
Utica District Park — Frederick
Completed in early 2020, this large new park includes four playgrounds, many different athletic fields with lights and seating, and picnic areas. The park also has plenty of paved walking trails and a nature trail through wooded areas. In June 2021, Phase 2 of this project will include constructing another picnic shelter, additional restrooms, and renovating the park's historic farmhouse structures.
Newly Upgraded Northern Virginia Parks and Playgrounds, 2021
Zitkala-Ša Park — Arlington
Newly renamed Zitkala-Ša Park in Arlington has a new basketball court, playground equipment, a gazebo, and a picnic area. There is also upgraded landscaping and improvements to the turf field. Most of the construction is complete, but parking might be limited until work is completed in early 2021.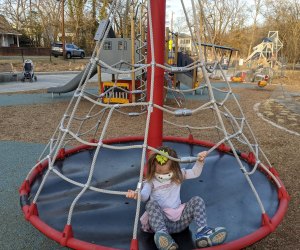 Spin, swing, slide, and climb on the new play equipment at Banneker Park. Photo by the author
Benjamin Banneker Park — Arlington
This newly renovated grassy park has playgrounds for ages 2-5 and 5-12 that feature an obstacle balance course, rock climbing, and play towers with slides. The park also has a multiuse field, a dog park, picnic areas with seating, and nearby access to Four Mile Run, W&OD and Custis Trails. You can also check out the original District of Columbia boundary marker in the park.
Annandale Community Park and Hidden Oaks Nature Center — Annandale
The Annandale Community Park and Hidden Oaks Nature Center have long been a favorite of families in the area with beautiful wooded trails and a unique natural play area in the woods where children can use their imagination and natural materials to build and play. Recently completed projects include a larger, fully accessible playground, a renovated shelter with accessible picnic and toilet facilities, accessible trails near the picnic shelter and playground, and an accessible trail between the parking lot and the Hidden Oaks Nature Center. In August 2020, a new butterfly-themed playground opened at Hidden Oaks Nature Center for kids 3 to 12 to play and learn about the life cycle of caterpillars and butterflies. Additional renovations are planned, including an expansion of the Hidden Oaks Nature Center that should be completed by 2022.
Waterfront Park — Alexandria
As part of a planned redevelopment of the Old Town Alexandria waterfront along the Potomac River, a newly redesigned Waterfront Park opened in 2020, merging the old Waterfront Park and King Street Park along the riverfront. The new park space includes an open plaza, a waterfront promenade, shade structures, and a modular space that can adapt to different purposes throughout the year. Rotating public art installations have been coming to the park. The latest "Groundswell" installation opens in March and gives visitors a glimpse at what the floor of the Potomac River looks like. There is a small playground, docks, and walking paths along the waterfront with beautiful views. The current interim park will be further improved over the next few years to add flood mitigation and additional amenities.