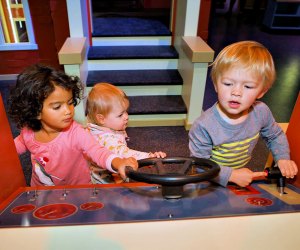 25 Things to Do with Preschoolers in DC Before They Turn 5
Parents have just a few short years before their little ones head to kindergarten. These years are marked by rapid growth and development, so, while the days are long, moms and dads know the time speeds by, and so they're more than happy to spend precious quality time with their kiddos. That means heading to play spaces, enjoying kid-friendly museums (many with free admission!), getting outside, and everything else our nation's capital and surrounding areas have to offer.
For more can't-miss DC family fun, check out 50 Things to Do in DC with Kids Before They Grow Up.
1. Explore everyday American life at Wegmans Wonderplace at the National Museum of American History. This exhibit is specially designed for kids aged six and under.
2. Go au naturel at the children's garden in the U.S. Botanical Garden.
OUR LATEST VIDEOS
3. Get up close to insects and butterflies at the National Museum of Natural History (and the newly renovated Fossil Hall reopens on June 8, 2019, including its massive t. Rex centerpiece. What little kid doesn't like dinosaurs?)
4. Check out the animals at the National Zoo. Little ones will love the Kids Farm and the American Trail Tidal Pool.
5. Strap on the life vests and rent a motorized swan boat for a tour of DC from the water. Kids aged 18 months and older can join in the fun.
6. During the spring and summer, ride the carousel at Glen Echo Park, or see a show at its children's theater.
7. Introduce them to other cultures with a trip to imagiNATIONS Activity Center at the National Museum of the American Indian.
8. Explore the science of flight at the How Things Fly exhibit at the National Air and Space Museum on the Mall.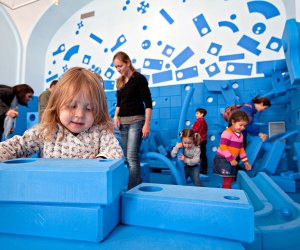 Play-Work-Build at the National Building Museum. Photo by Anne McDonough
9. Head to the National Building Museum for a chance to construct with blocks and other kid-friendly building materials at the ongoing Play, Work, Build exhibit.
10. For children of all abilities, a trip to Clemyjontri Park is a must.
11. Stroll through one of Old Town Alexandria's farmers markets.
12. Enjoy walking around George Washington's boyhood home at Ferry Farm and join in on some of the kid-friendly special events that pop up on the event calendar every so often.
13. Head to SplashDown on a hot day to have some waterpark fun.
14. Already enjoying Old Town Alexandria? Stop by the third floor of the Torpedo Factory for a visit to the small but fun Alexandria Archaeology Museum for some hands-on archaeological activities.
15. Get the wiggles out at Flight Trampoline Park.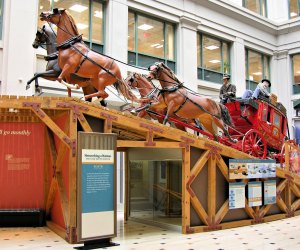 In the Atrium, you'll find this Concord, New Hampshire-built stagecoach from 1851. Photo courtesy of Smithsonian National Postal Museum
16. Head on over to the National Postal Museum and teach little ones that snail mail doesn't equal boring.
17. Cultivate an early appreciation of art, and watch your kids' eyes light up on the moving walkway at the entrance of the new East Building at the National Gallery of Art.
18. Want to enjoy art firsthand? Take little ones to the Explore! exhibit at the National Portrait Gallery.
19. Have a little engineer on your hands? Head to KID Museum on the weekends for a chance to participate in Open Explore activities.
20. Explore the natural world within or just outside the city limits.
21. Get up close to sea life and join in a weekly story time at the Glen Echo Park Aquarium.
22. Stretch the legs with an easy half mile wooded trail walk with aspiring hikers at Rock Creek Park.
23. Share a memorable meal at a kid-friendly restaurant on the Mall.
24. Sign up for a mommy and me class and learn and play together.
25. Hop into a gondola on National Harbor's Capitol Wheel and check out the DC skyline like you haven't seen it before.