New LEGO Discovery Center Opens Near Washington, DC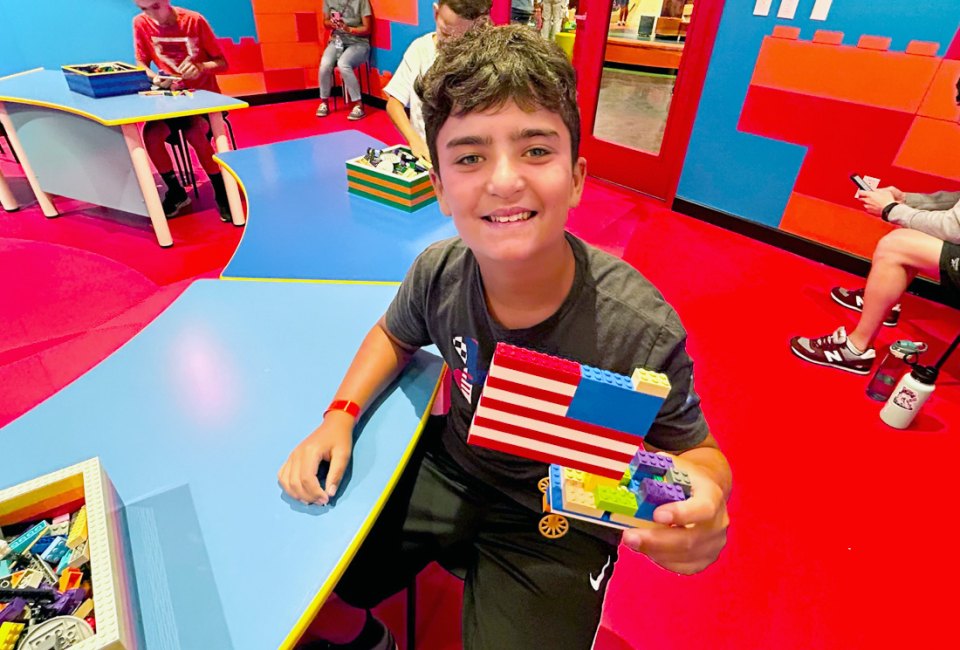 8/18/23
- By
Jennifer Marino Walters
DC LEGO lovers have a big reason to celebrate: The new LEGO Discovery Center Washington, DC officially opened to the public on August 14, 2023 at Springfield Town Center in Springfield, Virginia. The 32,000-square-foot indoor attraction features 12 immersive zones, including a Mini World made with over 1.5 million bricks, a train ride, a 4D Cinema, DUPLO Park for the youngest builders, and so much more. There are also LEGO character appearances and plenty of opportunities for creative building.
I had the chance to visit LEGO Discovery Center Washington, DC with my 12-year-old twin sons and my 8-year-old daughter. We had an absolute blast, and we can't wait to return!
Read on for my review of LEGO Discovery Center, including tips and tricks on how to maximize your family's visit. Then visit our Guide to Indoor Playgrounds and Play Spaces for even more indoor fun for DC-area kids.

Each guest can make their own LEGO minifigure to take home.
1. Make Your Minifigure
Your visit to LEGO Discovery Center Washington, DC starts with building your own minifigure to take home. Choose a LEGO head, body, legs, and hair or hat from huge bins of pieces. You can then use your minifigure in various photo ops throughout the attraction.

Several DC landmarks are part of the spectacular Mini World.
2. Mini World
For us, this was the most awe-inspiring area in LEGO Discovery Center that we kept returning to. This giant city made of over 1.5 million LEGO bricks combines DC landmarks such as the White House, the Capitol Building, and the Washington Monument with imaginary buildings to create an enchanting world. It shifts from day to night, so you can see the little lights in the buildings turn on when the lights in the room dim.
Guests can also push buttons to make various parts of the display move or make noise. My kids especially enjoyed playing a pinball-style baseball game in the replica of Nationals Park and seeing the moving Metro train pass below the city.
3. Imagination Express
This is a fun train ride on which you travel through an oversized LEGO world and use provided wands to aim at things and collect points. We all really enjoyed this ride, though I'm still bitter about my son earning nearly double the points that I did!
4. 4D Cinema
The cinema shows 15-minute animated LEGO movies with fun 4D effects, such as "snow". We saw a NINJAGO-themed movie that especially delighted the younger kids in the theater.
RELATED: 100+ Fun Things To Do with LEGO Bricks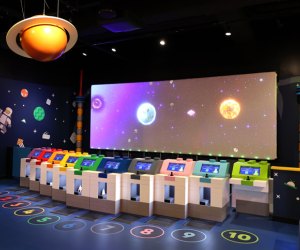 Build a spaceship, then virtually launch it into space. Photo courtesy of LEGO Discovery Center Washington, DC
5. Space Mission
My 8-year-old daughter loved this zone, where she got to build her own LEGO spaceship, scan it, and watch it launch into space on a giant screen. She then got to guide her digital spaceship through the galaxies and take it on little adventures. I saw everyone from small children to adults enjoying this zone.
6. The Workshop
Throughout the day, Master Model Builders guide kids through special LEGO builds in the workshop, where they share tips, tricks, and ideas. My kids did a workshop in which they built parade floats, and they really enjoyed talking to the Master Model Builders and asking them questions.
7. Building Adventure
My boys spent a lot of time in this zone, which challenges guests to build vehicles that can roll down ramps, spin through loops, and jump over obstacles.

The building possibilities are endless in the Creative Club.
8. Creative Club
In this area, Playmakers give guests a hand as they work on creative building activities that they can then display on a shelf for other guests to admire. My daughter built a cow in honor of her favorite stuffed animal.
9. DUPLO Park
In this area especially for babies, toddlers, and preschoolers, little ones can ride a mini dinosaur carousel, fish for DUPLO ducklings, build with LEGO DUPLO bricks, and more. I'm not gonna lie—my 8-year-old even enjoyed a few minutes of fun in this space!
10. Hero Zone
This area includes a laser maze and an indoor playground with a slide and a mini climbing wall. I enjoyed watching my kids tackle the laser maze from the video screen just outside of it!
11. LEGO Tree of Imagination
This colorful tree in the center of LEGO Discovery Center is not only gorgeous to look at, guests can also "plant" their ideas on its trunk or branches.
RELATED: Legoland Florida: Everything You Need to Know for a Great Visit

The on-site cafe is a great stop for a refreshment.
12. The LEGO Cafe
There's a limited menu here, but it's the perfect place to grab a burger, pizza, a snack such as a granola bar or chips, or a drink when you need refreshment. There are even Starbucks drinks for parents who need an energy boost!
What to Know About Visiting LEGO Discovery Center Washington, DC
Tickets
Tickets are available for purchase on LEGO Discovery Center Washington, DC's website. You must buy a ticket for a specific date and time slot, but then you can stay as long as you'd like.
Tickets start at nearly $30 per person for everyone age 3 and older. Kids 2 and under are FREE. There is also a ticket option that includes a LEGO collectible and one that includes both a collectible and digital photos.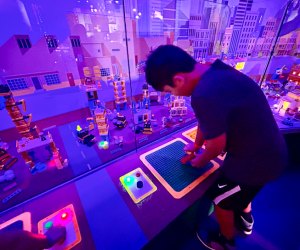 Kids of all ages enjoy the hands-on opportunities at LEGO Discovery Center Washington, DC.
Ages
The activities at LEGO Discovery Center Washington, DC are geared for ages 3-12, but I saw teenagers there enjoying the building challenges, and the grown-ups (including myself) also had a great time. Note that adults are not admitted unless accompanied by a child under 18, and kids under 18 cannot enter without an adult.
Location
LEGO Discovery Center Washington, DC is located in Springfield Town Center in Springfield, Virginia. It's on the first floor, right off the main entrance to the mall in Grand Court. Look for the giant LEGO DUPLO giraffe in the parking lot in front of the mall!
Accessibility
Most of LEGO Discovery Center Washington, DC is stroller- and wheelchair-accessible, with the exception of a few areas such as the laser maze.
RELATED: Legoland New York Brings Mega Theme Park Fun to the Hudson Valley

Even the restrooms fit the LEGO theme.
Bathrooms
There are LEGO-themed bathrooms on-site, which are cool in and of themselves. Family bathrooms with diaper-changing facilities are also available.
Length of Visit
According to the website, the average visit is about two hours. However, we were there three hours and my kids still weren't ready to leave. So I'd say to expect to be there for two to four hours, depending on your kids' ages and interest levels.

The colorful Tree of Imagination is a sight to behold.
More LEGO Discovery Center Washington, DC Tips and Tricks
Check the Daily Schedule
TV monitors throughout the attraction show the times for 4D movies, workshops, LEGO character appearances, and other events. Keep an eye on the monitors to make sure you don't miss anything your child really wants to do. The LEGO Playmakers and Master Model Builders are also very friendly and helpful, so you can ask them for times as well.
Bring a Sweater or Hoodie
We visited on a hot summer day and my daughter and I were freezing by the time we left the attraction, especially in the cafe. Bring a sweater or hoodie!
Beware of the Gift Shop
Of course, the only way to exit LEGO Discovery Center Washington, DC is through the gift shop, which is basically the same as any LEGO Store. Be sure to manage your kids' expectations ahead of time.
All photos courtesy of the author unless otherwise indicated
Places featured in this article:
---
LEGO Discovery Center Washington, DC
Sign up for the Mommy Poppins Newsletter today!
i