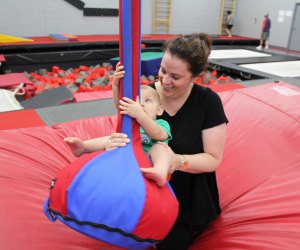 Top Mommy & Me Classes in the DC Area
DC families know just how precious time is when children are still little and they want to make the most of it. It can be fun, but also challenging to find age- and lifestage-appropriate activities that moms, dads, and caregivers can do with their babies, toddlers, and preschoolers to make these short years as memorable as possible. A bonus: Many of these "mommy & me" class offerings do more for families than meet the eye - from getting postpartum moms feeling strong and fit again, to getting a head-start on foreign language learning and motor skill development, to finding friends who are in the thick of parenting right alongside you.
No matter which class sounds interesting to you, your little ones will be thrilled just to be with you. Enjoy this time together because as the saying goes: "The days are long, but the years are short." Check out our list of great Mommy & Me classes in the DC area that will create lasting memories for you and your kiddos during these formative and fleeting years.
The Top Mommy & Me Classes in Washington, DC
Little Steps Music
Also various Virginia locations
Little Steps Music follows the Music Together program, designed to introduce newborns through 5 year olds to song, movement, and musical instruments alongside their caregivers. The classes optimizes the mixed ages to foster "family learning" — young ones learning from watching and imitating older kids and older children learning by leading the younger ones. These 45-minute classes are offered seasonally in 10-week blocks. Prices for the season vary by location.
Child-Caregiver Classes at Edlavitch Center at DCJCC
Children from newborns to age 4 and their caregivers are invited to the DCJCC to take part in music classes, gymnastics, or baby signs. Classes incorporate play, movement, dance, and instruments. For families interested in bilingual learning, the DCJCC also offers Spanish music classes. The Child-Caregiver program are broken up into seasonal sessions of seven or eight classes . The cost varies, depending on the number of classes within the session and whether families are members of the DCJCC.
Alliance Française
For families looking to expand their linguistic abilities from an early age, parents will say oui, oui! to Alliance Française's classes geared towards babies and toddlers. Alongside their caregivers and through song, dance, movement, and play, the youngest members of the family will broaden their ever-expanding minds by learning another language through a gentle immersion into French language and culture. Classes are available for all ages, but for participants aged 12 months to 5 years, one-hour classes are held weekly.
Fit4Mom
Fit4Mom specializes in prenatal to postnatal exercise programming, creating a community so moms feel supported as they get moving on the fitness journey before and after baby. Offerings such as Stroller Strides, Stroller Barre, and Run Club all get moms outside with their kiddos during the nice weather. There are also indoor mommy & me class offerings during the colder months. Pricing varies depending on which program you'd like to join, but for instance, the Stroller Strides and Stroller Barre combination membership costs $89 per month for unlimited classes and requires a minimum three-month commitment.
Breathing Space
Breathing Space offers yoga classes for parents and their little ones through its Early Childhood Yoga program. With the help of games, breathing exercises, yoga, and meditation, families can enjoy yoga practice together. Offerings such as Baby Yoga & Play are a great way to incorporate mobilizing yoga movements with music, play, and fun for pre-crawlers. There are also classes specific to toddlers, young preschoolers, and family yoga appropriate for school-aged children. Baby sign language and infant massage classes are also offered. Sessions run anywhere from just one class to 10 weeks.
Petite DC
Petite DC offers weekly meetings for mom/dad and baby each season in the heart of the city. Each week's event has a different theme, from mastering baby sleep, to testing out a Fit4Mom class, to making mementos for the nursery. There is something new to discover with each event alongside parents with little ones in the same life stage as you.
Smithsonian Early Enrichment Center
The SEEC, housed within the Smithsonian Institution, offers its Family Workshop program with varying course offerings depending on age group. Bring Your Open Baby gets caregivers of infants a chance to meet over coffee and then explore the museum. Other courses, such as the Toddler Trailblazers workshops, give little ones a chance to explore new topics and themes each month, from painting in February, to clouds in March, and rain in April. In Twos Travelers (ages 24-36 months), children and parents learn about everything ranging from quilting, to bones and waterfalls. Prices vary depending on workshop.
Tiny Fingers
Using American sign language for early communication and long term learning, the Tiny Fingers' Baby and Me Workshop introduces more than 35 practical signs for general use and some specific to mealtime, in addition to songs and activities that reinforce the signs. Classes meet monthly.
The Best Mommy & Me Locations in Maryland
The Agility Center
North Bethesda
Parents who are fans of America Ninja Warrior might want to check out The Agility Center where little ones aged 18 months to 3 years can sign up for Baby Ninja classes. These parent-led classes focus on fundamental movements, coordination, focus, and social skills in a really fun environment. Kids get to climb, play, and tackle the preschool obstacle course, climbing wall, and various other activities.
Nook
Bethesda (also Fairfax, VA)
Making it onto our top indoor play spaces list, Nook offers not only free play for little ones, but caregiver/child classes that are fun for both grownups and kids. Choose from music and movement classes, to fruit and veggie-themed sensory playtime. There is also a Babble Buddies class (ages 0-12 months), a facilitated playgroup that gets parents together while infants roll, crawl, and play. Children ages 13-24 months and their caregivers will enjoy the Social Climber class, which inspires freedom of movement, socialization, and practicing gross motor skills. The Bethesda location opens January 22, 2020.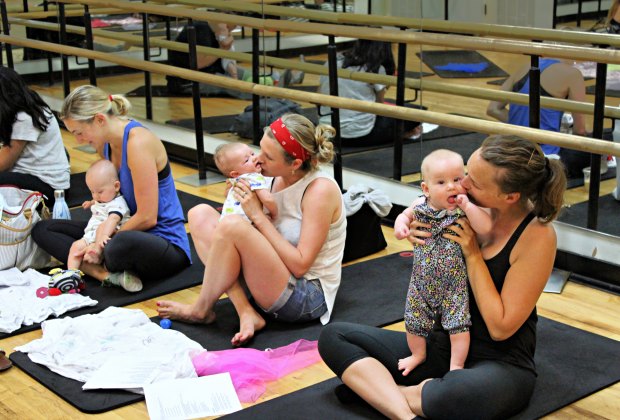 Musical Infants class for newborns through almost crawling babies. Photo by Molly Winston courtesy of Edlavitch DCJCC
Tiny Chefs
Various locations in Maryland (also Virginia, and Washington, DC)
Pies, Korean BBQ, cupcakes, tacos, and Star Wars Galaxy snacks - oh my! Surprise the kids with fun and delicious mommy and me cooking lessons. Tiny Chefs run their own boot camps and classes that teach kiddos (and parents!) how to measure, combine, calculate, and follow recipes so that you can have your own adorable little chef at home. Designed for children ages 3-6.
The Best Mommy & Me Locations in Northern Virginia
Metamorphosis Art Enrichment Center
Alexandria
Swirl colors around a palette, squish paper mache between your fingers, blacken your hands with charcoal, all while watching your children's imagination come alive. CryBaby Art Studio offers a child-friendly activity for new moms, allowing them to exercise their creativity with their babies by their side. My Art Mom's Art Playground allows parents and children to enjoy the process of art together, while learning about a master artist during each session.
Don't miss out! Sign up for our free newsletter and stay up-to-date on the best things to do in Washington DC with kids.