10 Fall Train Rides for Washington, DC Families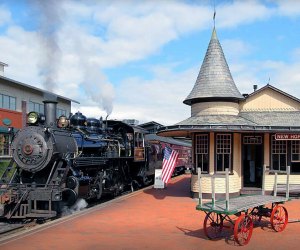 As the leaves begin to burst into color each fall, families across the DC area pull on their hiking shoes or hop in their cars to view the spectacular fall foliage. But several fall train rides, all within a roughly four-hour drive of Washington, DC, offer a particularly fun way to see the fall colors. Some of these fall train rides also offer extra autumn or Halloween activities such as pumpkin picking and trick or treating. And, many of them have a great deal of history behind them!
Here are 10 fall train rides to add to your bucket list of fall activities. Before heading out on any of them, call or check the websites to find out their latest COVID policies. You'll also want to double check whether they have bathrooms or food available on the trains. All aboard!
10 Fall Train Rides for Washington, DC Families

Explore the historic Secret Valley aboard the Colebrookdale Railroad. Photo courtesy of the railroad
Board a restored century-old rail car for a nearly two-hour ride into the Secret Valley, one of the northeast's most historic and scenic regions. During the Fall Foliage excursion, offered on Saturdays and Sundays from October 2 through November 21, you'll be treated to spectacular views of the autumn leaves. Tickets start at $56 for ages 13 and up, $46 for kids ages 2-12, and $10 for children under 2. There's also an Autumn Splendor excursion on Saturdays and Sundays from September 5-26 for the same price (except kids under 2 can ride for only $6), where you won't see all the colors, but you'll still get a fantastic view.

Travel through scenic fall foliage aboard the Durbin and Greenbriar Family Railroad. Photo courtesy of mtrailvw.com
This railroad company offers several scenic train rides, but the Cass Scenic Railroad is especially great for kids. It's a steam train on which many of the passenger cars are old logging cars that have been refurbished. During the two-hour, eight-mile round trip, you'll climb lower slopes of Cheat Mountain along the beautiful Leatherbark Creek. The trip includes a 30-minute layover at Whittaker Station, where riders can enjoy views of the countryside. Rides are available Fridays, Saturdays, and Sundays and start at $56 for adults and $40 for kids ages 4-11. Children 3 and under ride free.

Ride along the Lehigh River on the Lehigh Gorge Scenic Railway. Photo by Abhilash Udayashankar
Take a narrated ride in a coach built as early as 1917 and pulled by a diesel engine. You'll ride along the Lehigh River over bridges, through Glen Onoko, and into the Lehigh Gorge State Park, which is bursting with color in the fall. You'll also see cliffs, mountain scenery, and a variety of wildlife. The ride, typically 70 minutes round-trip, is 45 minutes long in October due to increased popularity. Tickets start at $17 for adults and $9 for kids ages 3-12, while kids 2 and under ride free. Trains run daily throughout October, and tickets are only available at the ticket booth on the day of your trip.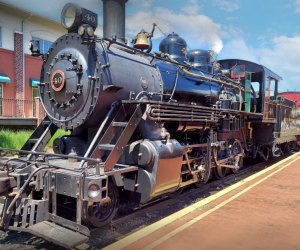 Climb aboard the New Hope Railroad at the New Hope Railroad Station. Photo by Robert Young Jr.
New Hope Railroad's Fall Excursion includes a two-hour round-trip ride through scenic Bucks County aboard a restored passenger coach from the early 1900s. While you take in the fall foliage, a narrator will provide historical facts and stories about significant locations along the route. The steam train rides along a route that was originally part of the North-East Pennsylvania Railroad, which eventually became the Reading Railroad. Fall Excursion rides are offered on Saturdays and Sundays from October 2 through November 7. Ticket prices start at $62.99 for ages 12 and up, $61.99 for kids ages 3-12, and $9.99 for children under 3. On 16 dates in October, New Hope Railroad also offers a one-hour Trick or Treat Train ride, for which children are encouraged to wear costumes. Kids can hear a live reading of Spookley the Square Pumpkin and listen to seasonal songs performed by a musician, then receive treats from costumed characters back at the station. Trick or Treat Train tickets start at $37.99 for ages 12 and up, $36.99 for kids ages 3-11, and $9.99 for children 2 and under.
On this railway, you'll travel along the same route that carried President Abraham Lincoln from DC to Gettysburg, Pennsylvania, where he delivered the Gettysburg Address. You can choose between two Fall Foliage rides—a one-hour ride on the Glen Rock Express or a 2.5-hour trip on the Hanover Junction Flyer, which includes a 20- to 30-minute layover at Hanover Junction. The Glen Rock Express ride will be offered on Saturdays and Sundays from October 16-31, while Hanover Junction rides will be on October 16, 23, and 31. Glen Rock Express tickets cost $32 for adults, $20 for kids ages 3-12, and $10 for kids 2 and under sitting in a lap. The Hanover Junction ride costs $3 more for adults. On October 30, Northern Central Railway will also offer two 45-minute Trunk or Treat Flyer train rides, for which riders are encouraged to wear costumes and kids can participate in a trunk or treat at the end of the ride. Tickets for the Trunk or Treat Flyer cost $25 for adults, $18 for kids ages 3-12, and $10 for children 2 and under in a lap.
Celebrate the Potomac Eagle's 30th anniversary with a ride through West Virginia's South Branch Valley to see American bald eagles and spectacular fall colors. You can take a three-hour ride through a gorge called the Trough, a 90-minute trip to Green Spring along the South Branch of the Potomac River, or an eight-hour trip with a layover in the quaint town of Petersburg on the last Saturday of the month through October. Ticket prices start at $35 for adults, $30 for seniors 60 and up, and $20 for children ages 4-12 for the Green Spring trip, while the Trough and Petersburg trips cost more. Kids 3 and under ride free for all trips!
Chartered in 1884, this railroad is one of the oldest continuously running common-carrier railroad companies. On two weekends in October (October 9-10 and 16-17) it offers a scenic ride to a pumpkin patch, where each child can choose a pumpkin to take home. The ride takes 45 to 55 minutes in total. Tickets cost $14 for adults, $13 for seniors 65 and up, and $12 for children ages 2-12.
Take an authentic steam-train ride on America's oldest continuously operating railroad through 2,500 acres of Amish Country in Lancaster County, Pennsylvania. You'll see lots of fall foliage during the 45-minute ride. Tickets start at $16.50 for ages 12 and up and $9.50 for kids ages 2-11 to ride in a coach or open-air car. You can also choose to ride in a first-class or dining car for an extra fee.
A ride on the Walkersville Southern Railroad is like taking a trip back in time as you travel over track originally built by the Pennsylvania Railroad in 1872. After checking out the turn-of-the-century railroad station and tool house, you'll ride on a 1920s passenger car or an open flatcar past a 100-year-old lime kiln and through Maryland farm country, which bursts with color in the fall. The ride takes about one hour and 10 minutes. Trains run on Saturdays and Sundays through October, and tickets start at $14 for adults, $12 for seniors 55 and up, and $10 for kids ages 2-12. Children under 2 can ride free on a lap.

Ride a vintage train through Allegany County on the Western Maryland Scenic Railroad. Photo courtesy of wmsr.com
Ride on a restored vintage passenger car powered by a historic diesel-electric locomotive through Allegany County to the historic village of Frostburg. During your 90-minute layover in Frostburg, you can explore the shops and restaurants on Main Street or explore the Frostburg Depot and Carriage Museum. The entire trip takes 4.5 hours round-trip, and you'll see plenty of colorful foliage in the fall. Tickets start at $40 for adults, $35 for seniors 65+, and $25 for children ages 3-12. Kids under 2 can ride free on a lap.