Fun Fall Train Rides and Halloween Train Rides for DC Families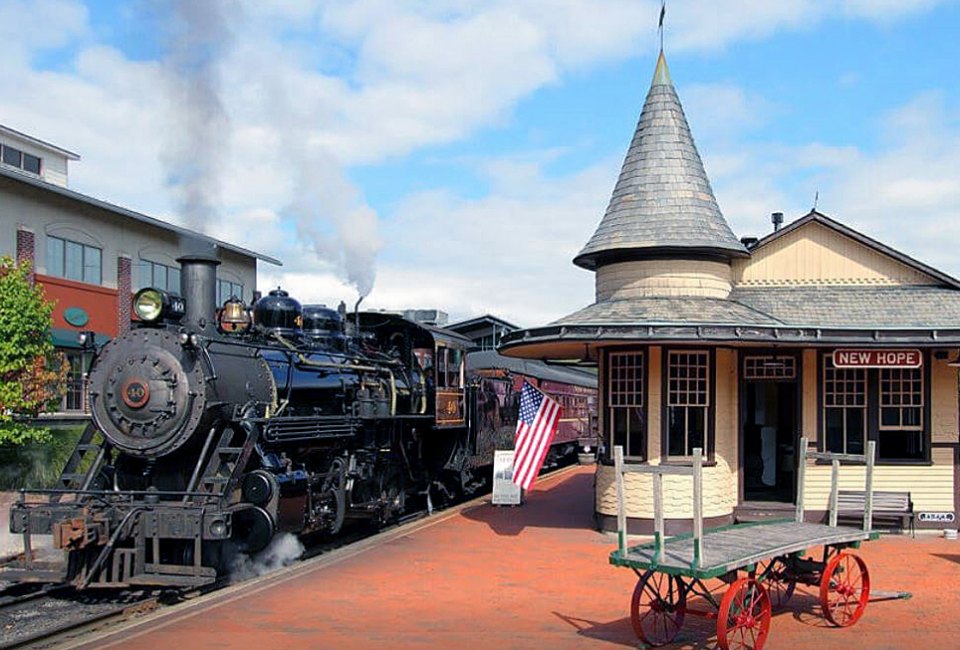 9/3/21
- By
Jennifer Marino Walters
All aboard! Fall train rides are a fun way for DC families to soak up the autumn spirit and see the gorgeous fall foliage.
Some fall train rides offer a festive way to see the fall colors in all their glory. There are also Halloween train rides that offer both spooky and not-so-spooky activities such as pumpkin picking, trick-or-treating, ghost stories, and costumed characters. Whatever your family is looking for, there's a fall train ride for every age and interest level within a four-hour drive of DC.
Here are 18 fall train rides and Halloween train rides to add to your fall bucket list. Find even more autumn fun, including our lists of the best harvest and pumpkin festivals and the best pumpkin patches near DC, in our Fall Fun Guide for Washington, DC Families.

Explore the historic Secret Valley aboard the Colebrookdale Railroad. Photo courtesy of the railroad
Fun Fall Train Rides for DC Families
Board a restored century-old rail car for a two-hour round-trip ride into the Secret Valley, one of the northeast's most historic and scenic regions. Offered on select dates from September 13 through October 26, 2023, the Autumn Splendor Fall Foliage Excursion treats passengers to spectacular views of the colorful fall leaves. On October 7 and 15, passengers can also enjoy cider and donuts during the ride.
Ride the Colebrookdale Railroad to a pumpkin field, where families can take photos and each child gets a pumpkin to take home. Dining-class and first-class passengers also receive free cider and donuts during the 90-minute excursion, which takes place on Saturday, September 30 and Saturday, October 14, 2023. Note: The pumpkin field does not have a ramp and is thus not wheelchair-accessible.
On this railway, you'll travel along the same route that carried President Abraham Lincoln from DC to Gettysburg, Pennsylvania, where he delivered the Gettysburg Address. You can choose between three Fall Foliage rides—a one-hour ride on the Glen Rock Express, a 2.5-hour trip on the Hanover Junction Flyer, or a three-hour ride on the Howard Tunnel Special. The rides are offered on select dates between October 1 and November 29, 2023.

Ride along the Lehigh River on the Lehigh Gorge Scenic Railway. Photo by Abhilash Udayashankar
Take a narrated ride in a coach built as early as 1917 and pulled by a diesel engine. The 45-minute Autumn Leaf Train ride takes passengers along the Lehigh River over bridges, through Glen Onoko, and into the Lehigh Gorge State Park, which is bursting with color in the fall. The ride is offered multiple times daily from September 30 through November 5, 2023, and tickets are only available at the ticket booth on the day of your trip.
Chartered in 1884, this railroad is one of the oldest continuously running common-carrier railroad companies. On two weekends in October (October 7-8 and 14-15, 2023) it offers a scenic ride to a pumpkin patch, where each passenger can choose a pumpkin to take home. The ride is about 90 minutes long.
On November 4 and 5, 2023, families can ride Stewartstown Railroad's Fall Foliage Express, during which they'll see dazzling autumn colors in the Deer Creek Valley.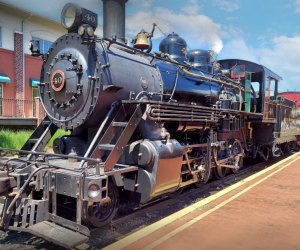 Climb aboard the New Hope Railroad at the New Hope Railroad Station. Photo by Robert Young Jr.
New Hope Railroad's Fall Excursion includes a two-hour round-trip ride through scenic Bucks County aboard a restored passenger coach from the early 1900s. While you take in the fall foliage, a narrator provides historical facts and stories about significant locations along the route. The steam train rides along a route that was originally part of the North-East Pennsylvania Railroad, which eventually became the Reading Railroad. Fall Excursion rides are offered on Saturdays and Sundays from September 30 through November 5, 2023.
This 90-minute train ride takes riders through the picturesque Chester Creek Valley to the village of Glen Mills and back. There are plenty of brilliant fall colors to see along the way. The ride is offered every Sunday from October 1 through November 5, 2023, plus Saturday, October 21.
A ride on the this railroad is like taking a trip back in time as you travel over track originally built by the Pennsylvania Railroad in 1872. You'll ride on a 1920s passenger car or an open flat car past a 100-year-old lime kiln and through Maryland farm country, which bursts with color in the fall. The ride takes about one hour and 10 minutes. Trains run on Saturdays and Sundays from September 24 through November 12, 2023 (minus October 14 and 28).
Halloween Train Rides for DC Families
Kids are encouraged to wear costumes for this festive 45-minute train ride, on which they'll hear the tale of Spookley the Square Pumpkin and enjoy live music. On the return to New Hope, they can trick-or-treat around the station platform and meet Halloween characters. Each child receives an official railroad trick-or-treat bag. Trick or Treat Trains run on Fridays, Saturdays, and Sundays from September 30 through October 29, plus Monday, October 30 and Tuesday, October 31.
Ride an authentic steam-train ride on America's oldest continuously operating railroad and see the story of Ichabod Crane and Sleepy Hollow brought to life. Filled with special effects like fog, strobe lights, and loud music, the one-hour show features professional actors, live horses, sword fights, and more. Due to its scary nature, this train ride is recommended for ages 8 and up. It's offered Fridays, Saturdays, and Sundays from October 6 through November 5, 2023, plus Thursday, October 19 and 26.
This hair-raising Halloween train ride includes a live show and a sing-along with favorite villains such as the Sea Witch and Maleficent. The ride features laughs, sneers, and trickery and takes place on Saturday, October 21.
Put on your favorite costume and board the Stewartstown Railroad's 1920 passenger coach, all decorated for Halloween. Braver souls can ride in the open-air car and try to spot the spooks living in the woods. Prizes are awarded to the best costume for children under 2, kids ages 2-12, and adults and big kids over 12. The ride is 50 to 60 minutes long, and every child receives a treat.
Enjoy kid-friendly ghost stories as you voyage through the woods to Seitzland, Pennyslvania aboard the Ghost Tracks train. On the way back, the train stops at Railroad Park for an evening campfire (weather permitting), where passengers can make hot dogs, roast s'mores, and listen to more spooky tales. The excursion lasts 2.5 hours and is offered on two Saturdays—October 21 and 28, 2023.
Dress in your Halloween costume and enjoy a ride to Glen Rock. Upon the train's return to the New Freedom station, children can trunk-or-treat in the station or in the parking lot, depending on the weather. The Halloween Express runs at 10am and 12pm on Saturday, October 28, 2023.
Passengers are invited to wear their costumes on this heated, family-friendly train ride through the beautiful Chester Creek Valley. The journey includes a 20-minute stop at the Glen Mills station, where riders can explore the historic station and picnic grove. Each passenger receives a few treats while aboard the train. The Halloween Special is offered on October 28 and 29 and November 5, 2023.
Take a ride through "Trainsylvania" aboard Cabin John Regional Park's and Wheaton Regional Park's Halloween Eye Spy Trains. Each rider receives an "Eye Spy" card with seasonal items to look for along the tracks. The rides are offered every Saturday and Sunday in October.
Take a ride on the B&O Railroad Museum's Pumpkin Patch Express to the First Mile Stable, where kids can decorate pumpkins, make scarecrows, play games, take photos, enjoy autumn snacks, and meet the horses. The ride is offered on Saturday and Sunday, October 28 and 29, 2023 at 11:30am, and the total excursion lasts two hours.
Sign up for the Mommy Poppins Newsletter today!
i