DC's National Zoo: Things to Know Before You Go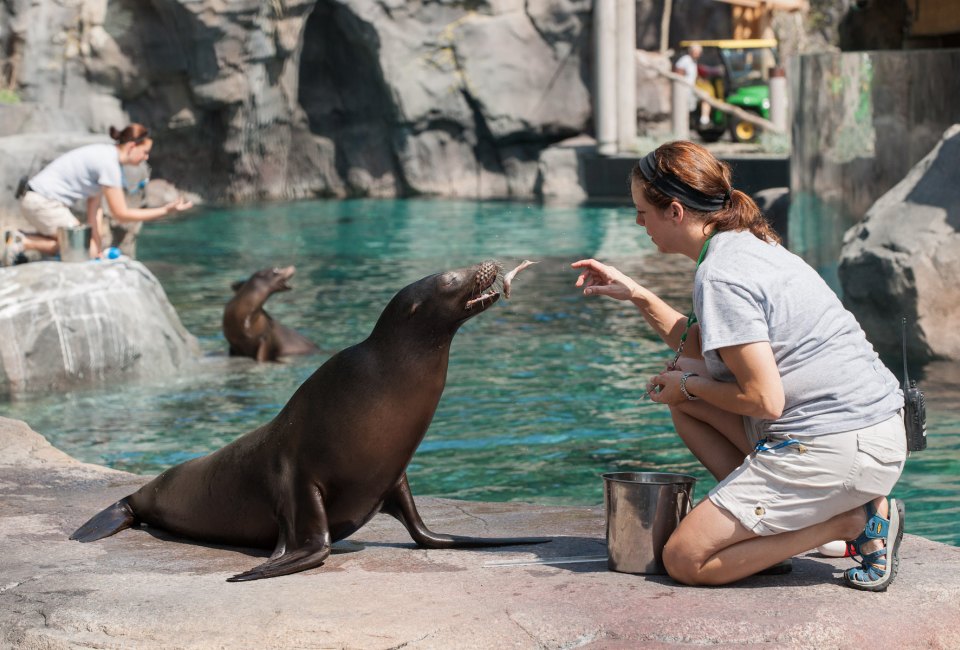 10/20/19
- By
Christine Mooney
Any parent knows that taking the kids to the zoo is a win. Burning up energy outside, seeing favorite and exotic animals up close, and maybe picking up a souvenir on the way out is a recipe for a great day. The DC Zoo, officially known as Smithsonian's National Zoo, is no exception and a must-visit for families, whether they're local or just visiting the nation's capitol. And the best part is, it's one of the many free things to do in DC!
Read on for everything you need to know before you visit the National Zoo, including our top tips for making the most out of your visit. If you're looking for more free things to do in DC, check out our list of free museums in DC to visit with kids.
How to Visit the National Zoo
The National Zoo currently requires all visitors to reserve free timed-entry passes online. The hours and days open vary by season, so be sure to check the hours on the website before you go.
When to Visit the National Zoo
The animals are typically most active in the morning, so plan to arrive early. You'll get the added benefit of thinner crowds, making you more likely to get an up-close look at the zoo's most popular animals, including the lions, tigers, and gorillas.
Getting To the National Zoo
As is common in all of DC, parking at the National Zoo is extremely limited and costs $30 per car. If you plan to drive, you'll need to purchase a parking pass on the zoo's website, which includes zoo admission for everyone in your vehicle (so you won't need to reserve entry passes). You can also take the Metro or use nearby bike paths, if you're touring DC on wheels.
Click here for more information on how to get to the National Zoo. Do note that the zoo is not within easy walking distance of the popular DC monuments.
What to Wear to the National Zoo
The zoo is large and on a hilltop, which means you'll be doing a lot of uphill walking. Therefore, comfy shoes are a must. It can get hot in the summer and cold in the winter, so be sure to dress for the weather. Some of the exhibits, such as the Reptile Discovery Center and the Small Mammal House, are indoors and great places to go to cool off or warm up, but they can get crowded.
Eating and Drinking at the National Zoo
Visitors are permitted to bring their own food and non-alcoholic beverages to the zoo, and with food prices so high, that is definitely your best bet. Bring plenty of water on hot days as well as lots of snacks, as your family will be doing a lot of walking. If you don't want to carry food and drinks, there are plenty of food trucks and stands available, serving everything from burgers and chicken fingers to pizza and ice cream.
Shopping at the National Zoo
There are gift shops inside the Visitor Center, at Panda Plaza, and near the Great Cats exhibit, so avoid those areas if you don't want to buy souvenirs. However, note that there are outdoor gift kiosks scattered throughout the zoo, so you can't avoid them entirely!
Stroller and Wheelchair Rentals
Single and double strollers and electronic convenience vehicles are available to rent at the Visitor Center on a first-come, first-served basis for a small fee. Members get a slight discount on stroller rentals, as well. Wheelchairs can also be rented for free.
Other Attractions at the National Zoo
There's more to do at the zoo than just visit with the animals. Some are free, like the bee-themed playground. Others, including the Speedwell Conservation Carousel, cost a small fee.
Places featured in this article:
Sign up for the Mommy Poppins Newsletter today!