Visiting ZavaZone Trampoline Park with Kids: What to Know Before You Go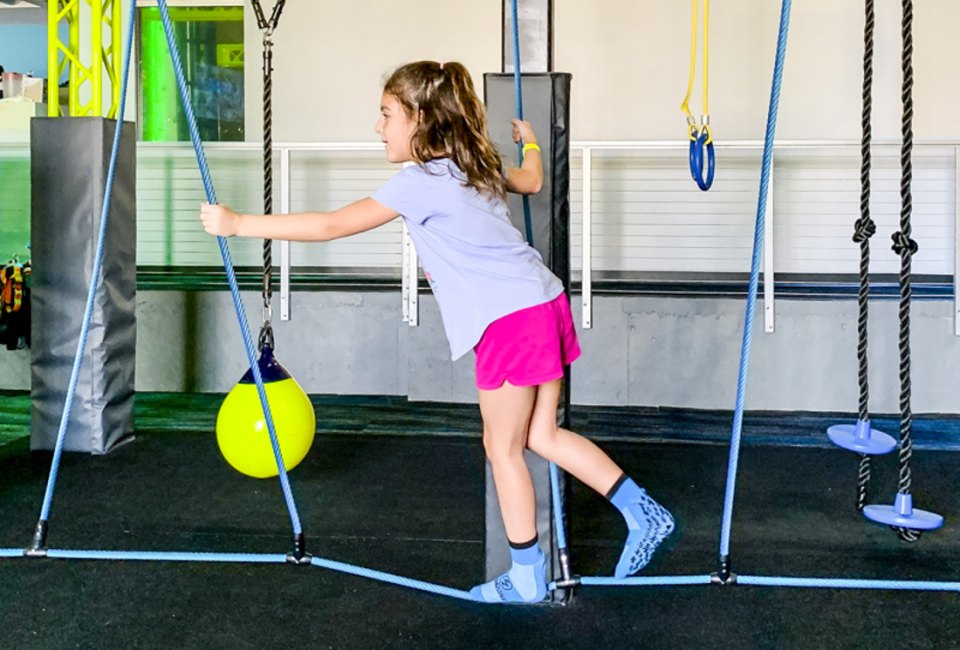 9/23/22
- By
Jennifer Marino Walters
When the weather isn't great and your kids just need to burn some energy, a trampoline park is the perfect indoor activity. Luckily, there are plenty of fun trampoline parks near DC where kids can bounce, jump, and climb their wiggles away.
My family recently had a chance to visit ZavaZone Trampoline Park at the Potomac Mills shopping center in Woodbridge, Virginia (there are also locations in Sterling, Virginia, and Rockville, Maryland). All three of my kids—11-year-old twin boys and an 8-year-old girl—had a blast. They had so much fun, in fact, that we added more time after our hour of play was over!
Everyone from kindergartners to teens to adults can find fun things to do at ZavaZone. Here's what to expect when visiting ZavaZone Trampoline Park with kids. For more indoor family fun near DC, check out our Guide to Indoor Playgrounds and Play Spaces for Kids in DC.
Note: ZavaZone Trampoline Park's Woodbridge location has now become Healthy Fun One Adventure Park. Many of the features are the same, and ZavaZone's Sterling and Rockville locations remain open.
Though trampolines are one of its main attractions, ZavaZone is more than just a trampoline park. Each ZavaZone location also features a variety of other attractions such as ninja warrior courses, high ropes courses, inflatables, warped walls, climbing walls, and more.
RELATED: 7 Awesome Trampoline Parks Near DC for Indoor Family Fun

The high ropes course sits 20 feet above the ground.
What to Know Before You Go
The equipment at ZavaZone Trampoline Park is designed for ages 5 and up. Tickets can be purchased online for one hour, 90 minutes, two hours, three hours, or even unlimited play. Admission includes access to every attraction (except a couple of arcade-style games). All participants must wear jump socks with grips on the bottom, which can be brought from home or purchased on site. Adults accompanying kids do not need to pay if they're not participating in any activities. To save time, fill out an online waiver ahead of time for every visitor.
Note that there are some attractions, including the high ropes course, that require closed-toe athletic shoes. So if you your kids are wearing flip-flops or any other open footwear, be sure to bring sneakers for them if they want to do these activities. Guests must be 52 inches or taller to use the high ropes course.
Check the website for operating hours before you go. While ZavaZone is open daily in the summer, all three locations have shorter hours and are closed on certain days during the school year.
RELATED: 15 Fun Indoor Birthday Party Places Near DC

The trampolines make a simple game of dodgeball even more fun.
Our Experience at ZavaZone Trampoline Park
My kids tried almost all of the attractions at ZavaZone Trampoline Park, but couldn't do the high ropes course because they didn't have closed-toe shoes (though I'm not sure they would have been brave enough to tackle it, anyway). We did see several children do it and have a blast, and it seemed very safe—the kids wore secure harnesses as they crossed bridges, rope walls, and other obstacles 20 feet above the ground.
My children spent the most time by far on the trampoline dodgeball court, where they gleefully played bouncy dodgeball with each other and with many other kids. There was also a trampoline volleyball court that my boys probably would have used more if there'd been more kids to play with.
RELATED: 21 Teen Birthday Party Ideas in DC: Cool Party Places for Teens

This is not your typical backyard bounce house!
Another attraction all three kids enjoyed was the huge inflatable bounce house in the back, complete with a climbing wall, an obstacle course, and a slide. I saw kids of all ages come out of it with big smiles on their faces.
The ninja warrior course was fun for all as well. It included five courses of various difficulty levels. Obstacles included floating balance beams, tightropes, rings, rope walls, and other challenges. There are also eight-foot and 10-foot warped walls and a climbing wall.
RELATED: Top Kids' Birthday Party Spots Near DC

Jump to touch the lit targets on the Trampoline Reactionators.
One thing we really loved that we haven't seen at any other trampoline park was the Trampoline Reactionators, a combination of a trampoline and an arcade game. Players have to jump and hit various targets as they light up, scoring points along the way. My kids enjoyed going head-to-head and trying to reach the highest targets. There's also a fun video-game pad on the floor on which kids can play various video games with their feet.
RELATED: Where to Play Indoor Mini Golf Near DC with Kids

My kids were blown away by the hurricane simulator.
My kids did convince me to give them a few dollars so they could play an arcade-style basketball game and step inside a hurricane simulator, complete with strong winds. They got a huge kick out of it!
Eating at ZavaZone Trampoline Park
No outside food is allowed in ZavaZone Trampoline Park (other than cakes or cupcakes for birthday parties). There is a small snack bar inside with snacks like chips and granola bars, as well as drinks such as bottled water and Gatorade. There are also vending machines with ice cream bars in the back. If your kids work up a real appetite during their play time—and trust me, they will—ZavaZone Rockville is about a 10-minute drive from Rockville Town Square and its various restaurants, and ZavaZone Sterling is near plenty of food options as well.
Safety at ZavaZone Trampoline Park
I feel that ZavaZone does a great job of keeping kids safe. When my kids played dodgeball, a staff member was on the court at all times to help enforce rules and ensure no one got too rough. There were also multiple staffers in the large inflatable structure and monitoring the high ropes and ninja obstacle courses.
Is ZavaZone Trampoline Park Worth a Visit?
My answer is a resounding yes! I loved that ZavaZone didn't have an arcade like many other trampoline parks and indoor sports centers do, meaning my kids spent the entire time getting exercise and burning off energy. Plus, I didn't have to listen to them beg me for more money to play video games.
RELATED: The Best Indoor Play Spaces for DC Kids

Tackle rings, tightropes, floating balance beams, and other obstacles on the ninja warrior course.
Overall, ZavaZone Trampoline Park is a great place to visit with kids ages 5 and up on a hot, cold, or rainy day. It's especially great for families with kids of multiple ages, because everyone from kindergartners to teens can have fun. And with multiple birthday party packages and private rooms, it's the perfect place to have an indoor birthday party near DC.
All photos are courtesy of the author
Places featured in this article:
---
ZavaZone Potomac Mills
---
ZavaZone Sterling
---
ZavaZone Rockville
Sign up for the Mommy Poppins Newsletter today!