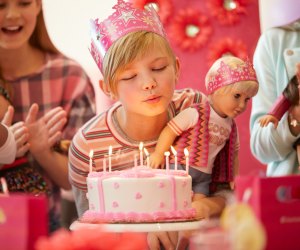 Top Kids' Birthday Party Spots Near DC
Our kids have been through plenty this year, from virtual learning to separation from family and friends. After all that, they deserve an amazing birthday celebration.
If you are looking for a special way to celebrate your kid's birthday right now, check out our roundup of fun, unique birthday party venues in the DC area that are available for private parties. Whether your child wants to be a ninja for a day, host a fancy tea, or is a budding master chef, there's a party venue in the area that will make your kid's day even more special.
Need more inspiration? Take a look at Mommy Poppins DC's list of the best indoor birthday venues and best indoor play places. As always, check venue websites or call to make sure they are currently open and what COVID safety policies are in place.
If your family feels safer holding a virtual birthday celebration this year, check out our list of the best virtual party performers and socially distant or virtual birthday celebrations.
As COVID circumstances unfold, check directly with party venue websites for updates. Keep your family and others safe by wearing masks and maintaining social distancing measures. Note: Photos in this post are from prior to the pandemic.
Birthday Party Destinations in DC Open for Kids Now
Washington, DC and Bethesda, MD
For your creative budding artist, All Fired Up in Bethesda or Cleveland Park can host a pottery painting or mosaic-making party. Each party guest gets to paint or add mosaic tiles to a preselected piece of pottery of your choice. You can also purchase a special birthday plate with the guest of honor's name that can be signed by each guest. Zoom pottery painting parties are also available. A piece of pottery and paint colors are provided to each guest and an instructor from All Fired Up joins on Zoom for one hour to help lead kids through the painting process.
RELATED: Outdoor Party Games for Kids' Birthdays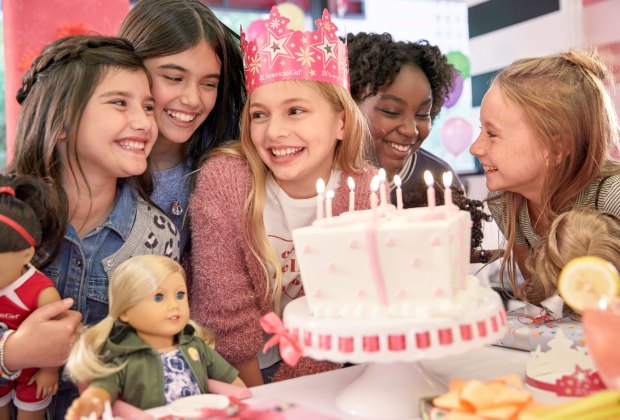 American Girl Store parties include its signature pink and white cake and ice cream. Photo courtesy of American Girl
Tyson's Corner, VA
For doll lovers of all ages, a birthday party at the American Girl Store and Café in Tyson's Corner is a dream come true. Parties start at $36 per child with different themes available, including a baking-themed Sweet Sprinkles party and a Bitty Baby-themed party. Party packages include cake and ice cream, a meal from the café, decorations, a craft or activity, goody bags, and doll tiaras for each guest, and a special gift for the birthday girl. If you're not comfortable hosting a party in the store, American Girl is also offering at-home celebration kits, including its signature cake, an American Girl-themed goody bag for each guest, a doll crown and cup and saucer for each party guest, and a special gift for the birthday girl.
Annapolis, MD
The Playseum in Annapolis is open for parties with three different packages and 24 different rooms where partygoers can safely social distance. The party packages include two hours of time for kids to explore different areas of the Playseum, a visit with a live animal in the Pet Shop, and pizza and cupcakes, which kids get to help decorate with candy and sprinkles. Each party guest also gets Playseum dollars that they can "spend" to make a project of their choice, like slime at the Science Bar or homemade soap. The party size can range from seven kids to renting out the entire space for 34 kids, and you can add on extras like a goody bag for each guest and extra food like fruit and veggie platters. If you'd prefer to celebrate a birthday virtually, you can order Playseum Birthday Boxes for $45 each to be sent to your child and each of his or her friends. The Birthday Box includes party decorations, a party hat for each friend, and a crown for the birthday boy or girl, two undecorated cupcakes and sprinkles, a tube of slime, an activity to make together, a goody bag, and admissions pass to the Playseum. You can even add a pirate or princess costume in each box for an additional cost.
Arlington, VA
Flip your way into fun with a birthday party at Dynamic Gymnastics led by USA Gymnastics-certified coaches. Party packages start at $299 for an hour in the gym practicing with the coaches and 30 minutes in a party room (decorations and outside food and cake to be provided by the host). Staff will assist with setup and cleanup afterwards and provide a special surprise for the birthday guest. Currently, birthday parties are limited to eight guests. Only the host parents are allowed inside during the party. Kids are required to wear masks while entering and exiting the facility, but masks are optional during the party. Kids not in the same family are required to stay at least six feet apart while in the gym.
RELATED: 30-Plus Free Ways to Celebrate Your Kid's Birthday Party at Home

Slide you way into a good time at Jolly Yolly Kids. Photo courtesy of Jolly Yolly Kids
Fairfax, VA
Jolly Yolly Kids indoor play area in Fairfax offers three different party options, starting at just $175 on weekdays. All packages include one hour and 45 minutes of playtime in an indoor, ocean-themed playspace; a private party room you can decorate as you wish; pizza and juice for the kids, your choice of solid color decorations; and a fun, happy birthday song celebration on the LED dance floor with a bubble machine. A Jolly Yolly party host helps ensure everything goes smoothly. You can provide your own cake, but no other outside food is allowed. Currently, all parties are private: You book the entire playspace. Call Jolly Yolly Kids to confirm the latest price information for the private party room. Each family gets its own table spaced six feet apart. All adults and kids older than 5 must wear masks, and temperatures are checked at the entrance.
Leesburg, VA
Go wild at the Leesburg Animal Park with a Safari Birthday. Packages start at $359 for 10 children and 10 adults and include two hours of party time, including pony rides, animal petting and feeding, and admission to any other park activities happening that day. Guests must follow COVID-19 protocols, including wearing a mask and social distancing. Pony rides are still included, but each person must use hand sanitizer before the ride, and parents must put each child on the pony without assistance from staff. During the animal encounter, children are not allowed pet the animals. Leesburg Animal Park also brings the zoo to you, delivering animals and a handler to your home for a birthday party. Options include a barnyard zoo with four small animals, such as bunnies, chicks, lambs and goats, or an exotic zoo with four animals, including reptiles, parrots, tortoises or a chinchilla.
North Bethesda, MD and Georgetown
For an upscale twist on the classic bowling birthday party, check out Pinstripes, with locations in Georgetown and North Bethesda. Birthday parties include two hours of bowling or bocce and a kid-friendly menu with dessert in a private party room. For teen parties, Pinstripes offers an upgraded menu for more sophisticated palates. Currently, its location in Georgetown cannot offer bowling or bocce, only dining in a private party room. At the North Bethesda location, you can enjoy a bowling or bocce party and reserve a heated outdoor patio space for dining after the party.

Customize a party to fit any theme at Scramble. Photo courtesy of Scramble
Alexandria, VA
Scramble's large European-style indoor playspace is designed for kids ranging from 5 months to 10 years old with a dedicated soft infant/toddler play area, imaginative role-play areas, and a large play structure with a giant slide for bigger kids. Starting at $350, birthday party packages include play time and a private party room for 2 hours for 10 children and 2 adults, personal pizzas with a drink and chips, cookies or apple slices, and an Usbourne book party favor for each child. You can provide your own decorations for the party room, but no outside food is allowed except for the birthday cake. All children ages 5 and older and adults are required to wear masks and have their temperatures checked at the entrance. Tables have been spaced in the party rooms to allow for social distancing. Currently, Scramble is not providing a party host for birthday parties to minimize adult exposure.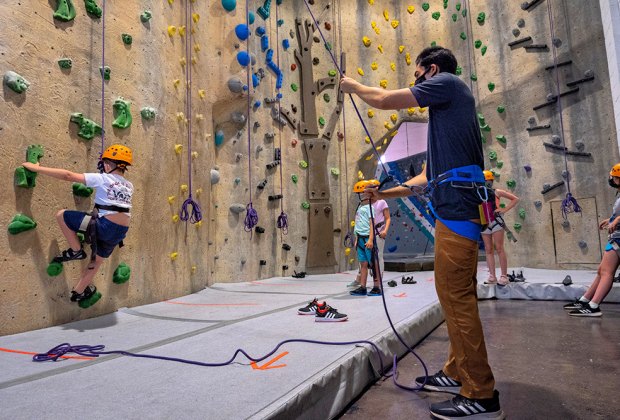 Scale the wall at Sportrock's dedicated party area. Photo courtesy of Sportrock Climbing Centers
Alexandria and Sterling, VA
Kids and teens can belay on for their birthdays at Sportrock. Parties are capped at 10 participants and include 90 minutes of climbing with a dedicated instructor and all the necessary equipment. Participants not from the same household are spaced out on the climbing wall, and masks are required for all participants and spectators. Instructors have a contactless clipping system for climbers as well.
Springfield, VA
The Super, Awesome and Amazing site at the St. James has something for everyone. You can have an adventure and obstacle course party with climbing and trampolines and add on time in the VR gaming zone or Esports video game arena; an indoor water park party; or an ice skating party including a skating lesson and rentals. For the sports lover, it offers gymnastics, basketball, volleyball, soccer, football, baseball, softball, or golf parties with a dedicated coach offering lessons and game setup. If your child would rather relax, spa pampering party packages include a mini manicure, pedicure or facial and spa robes for the birthday kid and guests. For any of the parties, you can add on catering and dessert, including a custom cake or cupcakes.The interactive water park and the gymnastics center are currently closed due to COVID-19.
RELATED: 10 Great Birthday Party Favor Ideas for Kids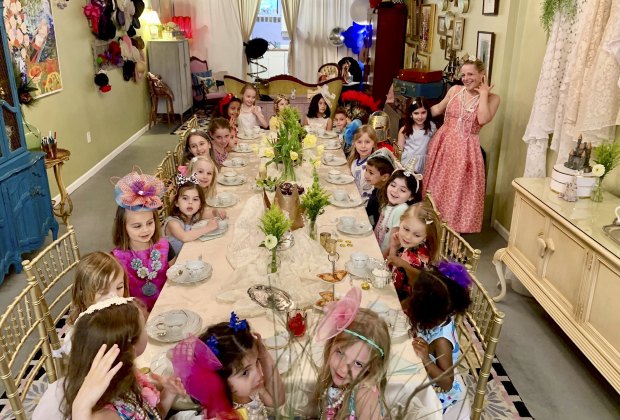 Enjoy a formal tea party, complete with china and fine linens, at Tea with Mrs. B. Photo courtesy of Tea with Mrs. B
Falls Church, VA
Your little prince or princess will love hosting a high tea party with their friends at the beautiful Falls Church tea room of Tea with Mrs B. Bonus for the parents – age-appropriate instruction in manners and etiquette are sprinkled in!.The basic birthday package is an hour and a half party with Mrs. B as the hostess. Party guests get to do some dress-up with costume jewelry (dresses and head pieces are currently not provided for health reasons). A caterer provided the menu of your choice with tea all served on the finest linen and china. You can also add on all kinds of magical party options, including a visit from a pony or a glittering unicorn, custom-themed décor, personalized hand-made invitations, professional photography, and a real Mrs. B fairy, who will stop by the party. Mrs. B is also currently offering virtual tea parties. It provides the catering and tea supplies to go and Mrs. B joins via Zoom. You can also purchase a tea party to go box in a variety of themes and host the party yourself.
Rockville, MD, Sterling, VA, Potomac Mills, VA
Let your child unleash his or her ninja warrior with a birthday party at Zavazone, a multi-attraction indoor play space that includes trampolines, a ninja course, zip lines and other challenges. Parties start at $25 per guest for up to 30 guests with 90 minutes of play time and a private party room. To keep visitors safe, capacity has been reduced at all locations and seating has been spaced six feet apart. Routes are marked throughout the play area to reduce traffic and remind players to social distance. All guests must wear masks and temperatures are checked at the door.