Top Kids' Birthday Party Places Near Washington, DC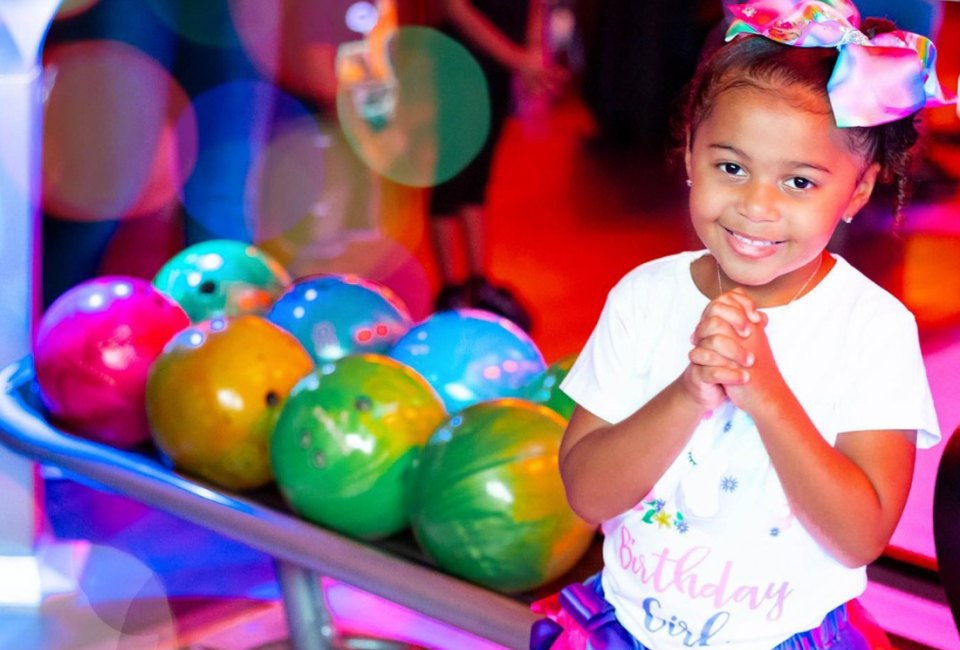 4/16/23
- By
Jennifer Marino Walters
Throwing a kids' birthday party can be surprisingly stressful for parents. You need to choose a theme, narrow down the guest list, figure out food, etc. And if you have the party at home, you also need to provide entertainment for all of those kids... not to mention the setup and cleanup. That's why you should consider one of the many great children's birthday party venues near DC. By taking the birthday party outside the home, you can just show up and have fun with your kid and their friends while someone else does the work!
Here are 25 awesome kids' birthday party venues in DC, Maryland, and Northern Virginia. From sports centers, indoor playgrounds, and bowling alleys to escape rooms, zoos, and art studios, you're sure to find a great fit on this list for toddlers, kids, and teens of any interest.
Need more inspiration? Check out our Kids' Birthday Party Places Guide for DC, including our lists of great party venues for preschoolers and for teens.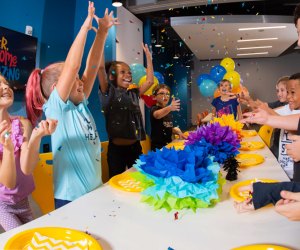 The St. James offers a slew of birthday party options. Photo courtesy of The St. James
Top Kids' Birthday Party Places Near DC: Sports Centers and Indoor Playgrounds
This massive indoor sports complex has a birthday party option for everyone. At Super, Awesome & Amazing, The St. James' indoor play center, kids and their party guests can battle it out in the Nerf Battle Zone, jump on trampolines, and tackle the ninja warrior obstacle course, ropes course, and climbing walls. You can also add on time in the VR gaming zone or Esports video-game arena. Or, opt for a birthday party at Super, Awesome & Amazing's indoor water park. The St. James also offers soccer, flag football, basketball, and ice skating parties with a dedicated coach offering lessons and game setup. All of the parties include one hour of play and one hour in a private party room. All food except the cake must be provided by The St. James.
This ocean-themed indoor playground features a multi-level climbing structure with tunnels and slides, a ball pit, and a special play area for ages 2-7. All four birthday party packages include 45 minutes of playtime, 45 minutes of party-room time, pizza and a drink for each child, and your choice of paper goods and decorations. If you want the whole place to yourself, choose the private package. A Jolly Yolly party host helps ensure everything goes smoothly. You can provide your own cake, but no other outside food is allowed.
3. The Lane — Washington, DC
Ivy City's huge two-story indoor play space, The Lane, includes multiple play areas for babies and young children with slides, climbing walls and nets, toys, games, and more. Birthday parties include two hours of play and use of a party space (either a private party room or a semi-private space in the upstairs bar area). Bring your own food or order a pizza package from the on-site cafe. Decorations and goody bags are available as add-ons. Adults can even order alcoholic beverages from the on-site bar.
4. ZavaZone — Rockville, MD and Sterling, VA
Let your child unleash their inner ninja warrior with a birthday party at ZavaZone, a multi-attraction indoor play space that includes trampolines, ninja obstacle courses, zip lines, climbing structures, and other fun challenges. Several birthday party packages are available at each location, some of which include food and use of a private party room.
5. Scramble — Alexandria and Falls Church, VA
Scramble's large European-style indoor play space is designed for infants to 10-year-olds, with a dedicated soft infant/toddler play area, imaginative role-play spaces, and a huge play structure with a giant slide for bigger kids. Two birthday party packages are available, both of which include an Usborne Book party favor for each guest. A Birthday Bash Table Party for up to 10 kids comes with two hours of play, three large pizzas, a fruit bowl, and bottled water. A Deluxe Birthday Party includes use of a private party room for 2.5 hours for 12 to 36 kids, plus additional food.
This hands-on, exploratory museum encourages imaginative play for kids ages 6 months to 8 through 16 exhibits set up to resemble an urban neighborhood. They include a grocery store, a fire station, a veterinary hospital, a post office, a restaurant, and more. Choose a birthday party theme from seven choices including Bugs & Bonfires, Butterflies & Blooms, Pet-a-Palooza, Little Builders, Kidchella, Sweet Tooth Celebration, and Hometown Heroes. All parties are two hours and include a dedicated host who will handle setup and cleanup, party supplies, digital photography, and premium party favors. Bring your own food!
At this outdoor golf and sports center, kids can mix and match up to three activities for a choose-your-own-adventure birthday party—mini golf, a driving range, batting cages, basketball, beach volleyball, and gem mining. Each two-hour party includes a dedicated party attendant and use of a party pavilion. You provide the food; Dulles Golf Center provides the utensils and paper goods.
8. Hyper Kidz! — Baltimore and Columbia, MD; Ashburn, VA
This ocean-themed indoor playground offers five birthday party packages for up to 30 kids. The two-hour parties include 75 minutes of open play followed by 45 minutes in a private party room for pizza and cake. Packages include two slices of pizza and a juice box or bottle of water for each child, paper or electronic invitations, and party supplies. You can also choose a private party, during which the entire facility is closed to the public.
RELATED: Fun Indoor Birthday Party Places Near DC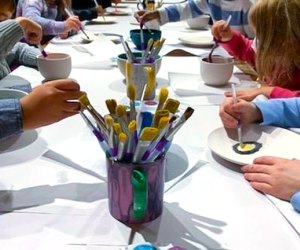 All Fired Up is the perfect birthday party location for creative kids. Photo courtesy of All Fired Up
Top Kids' Birthday Party Places Near DC: Art and Science
For your budding artist, All Fired Up in Cleveland Park can host a pottery-painting or mosaic-making party. Each party guest gets to paint or add mosaic tiles to a preselected piece of pottery of their choice. You can also purchase a special birthday plate with the guest-of-honor's name that can be signed by each guest. Outside food and cake are permitted (All Fired Up provides the plates, forks, and napkins), but pizza is not allowed because the grease can stain the pottery.
The National Children's Museum offers two types of birthday parties on Saturdays and Sundays. The Dream Factory party includes a two-hour rental of a semi-private lounge near the top of the Dream Machine, the museum's three-story climbing structure. The Tinkerers Treat party includes a two-hour rental of the Tinkerers Studio. Both parties come with a dedicated party facilitator, but the Tinkerers Treat party also includes a hands-on activity with a take-home craft for each child and a special shirt for the birthday kid. You can bring your own snacks and birthday treats.
11. Kidcreate Studio — Alexandria, Fairfax Station, and Ashburn, VA
At Kidcreate Studio, birthday party guests get to create an individual art project under the guidance of enthusiastic art teachers. With hundreds of projects to choose from, your child will find the perfect one that's tailored to their interests and party theme. The studio provides the space, art materials, paper plates, and utensils; you provide the food and drinks. Every partygoer gets to take home their art project, and you can add on an art-themed favor bag. Birthday parties at Kidcreate Studio are 90 minutes long.
RELATED: Great Birthday Cake Ideas for a Kids' Birthday Party

A Bowlero birthday party is perfect for both kids and teens. Photo by @ I_Be_Gabby, courtesy of the Bowlero Facebook page
Top Kids' Birthday Party Places Near DC: Bowling Alleys and Escape Rooms
12. Bowlero — several locations in MD and VA
Kids and teens are treated like VIPs at this upscale bowling chain where the fun doesn't stop on the lanes. Each location also features an arcade so party guests can challenge each other to video games, Skee-Ball, and other classic games. Party packages are customizable with food and drink options. For teens, birthday parties are punched up a notch with blacklight bowling, HD video walls, and more Instagram-worthy touches.
13. Pinstripes — North Bethesda, MD and Washington, DC
For an upscale twist on the classic bowling party, check out Pinstripes, which has locations in Georgetown and North Bethesda. Birthday parties include two hours of bowling or bocce and a kid-friendly menu with dessert in a private party room. For teen parties, Pinstripes offers an upgraded menu for more sophisticated palates.
This Fairfax Corner escape room offers two-hour birthday parties that include one hour of game play followed by one hour of party time—right in the room the kids just escaped from! Pizza, cupcakes, juice boxes or soda, and board games to play are all included. The best part is that kids ages 7-14 can choose to play any of the rooms in Kid Mode, meaning they'll receive unlimited clues from staffers via walkie-talkie. Escapology's Bethesda, Maryland location does not offer birthday party packages or Kid Mode, but has four great rooms that tweens and teens will enjoy.
Located in Ballston Quarter, 5 Wits is not a traditional escape room, but a high-tech adventure that places guests in physically immersive sets. Groups must solve puzzles and challenges and perform hands-on tasks to successfully complete the adventure. The three sets—Drago's Castle, Espionage, and Tomb—are extremely detailed and feature synchronized sound and lighting, elaborate special effects, and characters that respond to guests' presence. Birthday party packages include two adventures for up to 12 guests, a decorated party room, a party host, pizza, and paper goods. You can add on cake or cupcakes and a goody bag or t-shirt for each guest.
RELATED: Best Theme Restaurants for Families in DC, Virginia, and Maryland

An American Girl Cafe birthday party includes a signature pink-and-white cake. Photo courtesy of American Girl
Top Kids' Birthday Party Places Near DC: Food and Tea Time
For doll lovers, a birthday party at the American Girl Store and Cafe in Tysons Corner Center is a dream come true. Two party packages are available for age 18 months and up, two for age 4 and up, and six for age 6 and up. The most basic package includes cake and ice cream, beverages, decorations, digital invitations, goody bags and doll tiaras for each guest, and a crown for the birthday child. All other packages also include a meal, and private packages include use of a private party room, a table activity and take-home craft, and an extra gift for the birthday child. Special rainbow, baking, and WellieWishers themes are available.
Your little prince or princess will love hosting high tea for their friends at this beautiful tea room. Bonus for the parents: Age-appropriate instruction in manners and etiquette are sprinkled in! The basic 90-minute party package includes tea time run by staff, with a beverage served in china with fine linens. You can add on food, baked goods, and all kinds of other magical things, including pony or unicorn rides, a fairy visit, professional photography, online or handmade invitations, balloons, favors, a parent's buffet tea table, and customized themes such as LEGO or dance parties.
18. Cookology — Arlington, VA
Throw your budding chef a birthday party at this cooking school in Ballston Quarter, where chefs guide partygoers in making appetizers, entrees, and desserts that they can then enjoy together. Birthday parties, geared toward kids ages 3-17, are fully customizable and can include themes like cupcake wars, pasta- or sushi-making, and more. You can even add on appetizers, wine, beer, and other beverages for adults.
RELATED: Great Animal Farms and Petting Zoos Near Washington, DC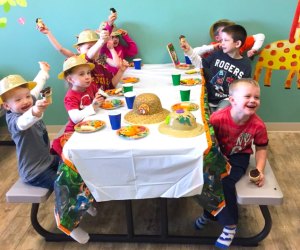 Have a safari-themed birthday party at Leesburg Animal Park. Photo courtesy of the venue
Top Kids' Birthday Party Places Near DC: Zoos
Go wild at Leesburg Animal Park with a safari birthday party. Packages offer two hours of party time including pony rides, animal petting and feeding, an up-close animal encounter, and admission to any other park activities happening that day. Plates, cups, napkins, forks, and table covers are also included, and you can supply your own food.
If your kiddo loves animals, you can't get much better than a birthday party at the Maryland Zoo. Two-hour parties include zoo admission for up to 30 guests, plus a party area under a tent at Celebration Hill, zoo-themed paper goods, and a gift for the birthday child. You can bring your own food and drinks or order them directly from the zoo. Note that balloons, confetti, straws, and glass containers are prohibited.
Formerly Roer's Zoofari and, before that, Reston Zoo, Nova Wild offers 90-minute birthday parties for little animal lovers. Parties include a private pavilion, animal feed, and a safari ride in the zoo's 20-foot hay wagon. You may bring your own food and decorations (the zoo is happy to keep cake or cupcakes in its fridge), and the birthday child receives a prize from the gift shop.
RELATED: Ninja Warrior Gyms, Obstacle Courses, and Parkour Near DC for Kids



Low-impact paintball is great for kids and paintball newbies. Photo courtesy of Pev's Paintball
Unique Kids' Birthday Party Places Near DC
This paintball park offers hosted birthday parties for ages 10 and up that include one to two hours of play times on private fields, a private instructor, and all necessary paintball and safety equipment. Low-impact paintball parties are available for kids ages 8-9. You can add on a tent or indoor party room and food from the on-site concession stand, and outside dessert and drinks are permitted.
The 36-foot Americana-themed carousel at National Harbor is a photo-friendly place to host a unique and memorable birthday party for a young child. A two-hour standard party includes a reserved space, a party host, balloons, and unlimited use of the carousel and playground for guests. The deluxe package includes all of that plus Dippin' Dots ice cream, goody bags, and beverages. You can bring your own food.
This indoor go-kart facility offers high-speed birthday parties for tweens and teens ages 8 and up. Parties include a reserved party area and an event captain, and the birthday kid receives a video of their race. You can also add on a medal package and VIP lanyards. The Dulles location has an arcade, too.
Little yogis ages 5 and up and their friends can recharge with a birthday party at Circle Yoga Cooperative in northwest DC. A trained yoga teacher leads guests through 60 minutes of yoga, followed by 30 minutes for cake and gifts. Parties can be coordinated around almost any theme, from space travel to animals to a beach theme. Bring your own cake, drinks, paper goods, and party favors. Due to space limitations, parties are drop-off only (except for the host parents) and can only accommodate a maximum of 15 kids.
Sign up for the Mommy Poppins Newsletter today!
i