Fun Indoor Birthday Party Places for Preschoolers in DC, Maryland, and Northern Virginia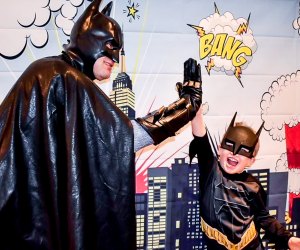 2/17/23
- By
Katie Sivinski
With cold winters, hot and humid summers, and unpredictable rain and snow, finding the right venue for a children's birthday party near DC can be tricky. Finding a spot that's appropriate and fun for preschoolers? Even harder. But DC, Maryland, and Northern Virginia are home to several great indoor birthday party places for preschoolers that are perfect in any weather. Whether your preschooler is into science, art, superheroes, or sports, there is a great indoor birthday party spot for them.
Here are some awesome indoor birthday party places for preschoolers near DC that allow you to join the fun and celebrate with your kid without stressing over the setup and cleanup. We've also thrown in a few birthday party entertainers that will come to your home or rental space for a unique and fun indoor birthday party.
Check out our Kids' Birthday Party Places Guide for DC for more fun birthday party ideas for kids of all ages, from cool birthday party places for teens to free ways to celebrate your kid's birthday at home.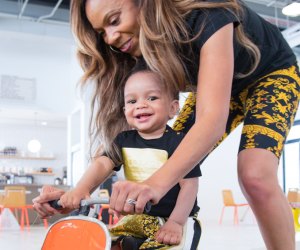 Both kids and grown-ups will enjoy a birthday party at The Lane.
Indoor Birthday Party Places for Preschoolers: Indoor Playgrounds
1. The Lane — Washington, DC
This massive two-story indoor play space in Ivy City includes multiple play areas for babies, toddlers, and preschoolers with slides big and small, climbing walls and nets, ride-on toys, a ball pit, and a book nook. For birthday parties, you can choose from a private party room or a semi-private party in the upstairs bar area. Both parties include two hours of play and use of the party space. Bring your own food or order a pizza and drink package from the on-site cafe, with the option to add themed decorations and goody bags. You can even pre-order discounted alcoholic beverages for the grown-ups from the on-site bar!
Gymboree's indoor play gyms specialize in birthday parties for ages 1-5, where your child will love being the center of attention. With a party at Gymboree, you'll get private or semi-private use of the play gym and a trained Gymboree teacher as your guide for 90 minutes or two hours. Choose from several themes including Farmyard Fun, Ocean Adventure, Princess Playhouse, Construction Zone, and more. You bring the food and Gymboree will provide the climbing equipment, the soft play areas, and the fun.
At this ocean-themed indoor playground, your birthday child and their friends will enjoy climbing, running, sliding, and swinging in a multi-level climbing structure with tunnels and slides, a ball pit, and a special play area for ages 2-7. Standard party packages include 45 minutes of playtime, 45 minutes of party-room time, pizza and a drink for each child, and your choice of paper goods and decorations. If you want the whole place to yourself, opt for the private package. A second Jolly Yolly Kids location is coming soon to Bethesda, Maryland.
RELATED: Top Indoor Playgrounds in DC, Maryland, and Northern Virginia for Kids

A birthday party at The Wiggle Room includes time for food and cake in a designated party area.
The Wiggle Room offers four birthday party packages for ages 1-5. Each includes 105 minutes of playtime in a 3,800-square-foot play space filled with interactive toys and play structures, plus time for food in the party area. You can add on pizza and juice boxes, paper plates, balloons, and additional activities such as a bounce house, temporary tattoos, face painting, and a photo booth.
Little Ivies offers fully customizable birthday parties that implement whatever ideas you bring, whether it's having a magician come and perform, a pretend nail salon, a construction zone, or anything else the birthday child will enjoy. You will have the whole play space to yourself for two hours, plus two party leaders to guide the fun. Little Ivies will do all the setup and cleanup, so no need to stress. The deluxe package also includes paper goods and themed favor bags.
The Wonder is a sensory-friendly indoor play space that's perfect for toddlers and preschoolers. Birthday parties include 90 minutes of private use of the facility, two leaders to guide and monitor play, pizza and cake, and no setup or cleanup necessary. Additional activities such as crafts, a bubbles and disco party, temporary tattoos, play dough, and sensory bins can be added on for an additional charge.
RELATED: Ninja Warrior Gyms, Obstacle Courses, and Parkour Near DC for Kids

Have a birthday party full of climbing, tumbling, acrobatics, and more at emPOWER Kids.
Indoor Birthday Party Places for Preschoolers: Dance and Gymnastics
Does your preschooler love tumbling and gymnastics? At emPOWER Kids, they and their friends can test their skills during a birthday party in the Wellness Studio, which provides a foam pit, balance beams, an acrobatics space, and more for ages 1-6. The entire space is reserved for your party. A coach will lead the playtime for 45 minutes, followed by 45 minutes in a party room or under an outdoor covered pergola. You provide the food, drinks, and decorations .
8. Tiny Dancers — Alexandria, Fairfax City, and Fairfax, VA
With three locations in Northern Virginia, Tiny Dancers offers magical fairy-tale birthday parties complete with costumes, dancing, tutus and tiaras, and a dedicated dance teacher to guide your party. Choose from over 50 ballet stories and customize your child's party with popular themes like Frozen, The Little Mermaid, and Beauty and the Beast. Parties are 90 minutes long, and you can bring your own cake and treats to celebrate.
RELATED: Free Museums Near DC to Visit with Kids

With so many fun exhibits to explore, the National Children's Museum is one of the best indoor birthday party places for preschoolers in DC.
Indoor Birthday Party Places for Preschoolers: Children's Museums
When you host your child's birthday party at the National Children's Museum, their party guests get to explore the museum for your entire two-hour time slot, plus have access to a semi-private lounge. Enjoy interactive exhibits like the Climber and Slide, the Little Dreamers Cloud and Flight area, Art + Tech, Engineering Games and Play, the Tinkerer's Studio, and more. You can also add on a special hands-on activity. Bring your own snacks and special treats to make the party your own.
This hands-on, exploratory museum encourages kids' imaginative play through 16 exhibits that are set up to resemble an urban neighborhood. A grocery store, a fire station, a veterinary hospital, a post office, and a restaurant are just some of the places your child and their friends can play in. Choose a party theme from seven choices including Bugs & Bonfires, Butterflies & Blooms, Pet-a-Palooza, Little Builders, Kidchella, Sweet Tooth Celebration, and Hometown Heroes. Within your two-hour party window, you'll get a dedicated party host who will handle setup and cleanup, party supplies, digital photography, and premium party favors. Bring your own food!
RELATED: Best Art Classes for Kids in DC

Each guest can create their own masterpiece at a Kidcreate Studio birthday party.
Indoor Birthday Party Places for Preschoolers: Art and Science
11. Kidcreate Studio — Alexandria, Fairfax Station, and Ashburn, VA
At Kidcreate Studio, birthday party guests get to create an individual art project under the guidance of enthusiastic art teachers. With hundreds of art projects to choose from, your child will find the perfect project tailored to their interests and party theme. The studio provides the space, art materials, paper plates, and utensils, and you provide the food and drinks. Every partygoer will get to take home their art project, and you can add on an art-themed favor bag. Birthday parties at Kidcreate Studio are 90 minutes long.
Birthday parties at the Children's Science Center Lab in the Fair Oaks Mall include private use of the entire facility for two hours for up to 50 people. The birthday child and their guests can build, play, observe, experiment, and tinker to their hearts' delight. Choose a special STEM demonstration or activity, and the lab's STEM educators will help facilitate. Children's Science Center Lab parties are recommended for ages 4 and up, and you're welcome to bring your own nut-free food.
Birthday Party Entertainers for Preschoolers That Come to You
Choose your child's favorite superhero or princess and they'll be your guide as your party guests learn to battle villains, have a princess sing-a-long, practice archery, or hone other skills. Your choice of character guides the theme such as Bat Training (Batman theme), Ninja Training, School of Magic, Knight Training, Treasure Hunt, and more. The basic birthday party package includes a one-hour guided party and 30 minutes of setup.
Fundamentals Academy provides birthday parties that focus on the fundamentals of sports in fun ways through games, dance, and aerobics. They provide all of the equipment and you provide the location, whether it's your home, a rec center, a local gym, or another rented space. Your child can choose a theme and specific activities to make it personal. The Fundamentals Academy coaches will make sure the party is fun, safe, and memorable.
If your child likes experiments and slime (and you're tired of the mess they make), check out Mad Science Birthday Parties. You choose a theme from choices like Slime Party, Things that Go Boom, Fire and Ice, and more. Then they bring everything to your house or rented space for a fun, hands-on demonstration and show. Preschool parties last 45 minutes with an option to add on cotton candy, rocket launches, bubbling potions, and others. A make-and-take activity is included in every party, and Mad Science handles the setup and cleanup.
All photos courtesy of the venues