Ninja Warrior Gyms, Obstacle Courses, and Parkour Near DC for Kids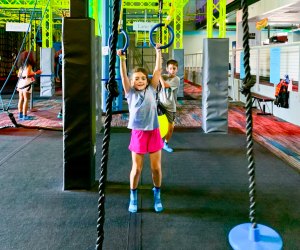 2/10/23
- By
meredith-kiryakov
Ninja warrior gyms, obstacle courses, and parkour classes are the perfect places for kids to burn off energy when it's cold or rainy outside—or when they just need something a little different than a playground or indoor play space. At ninja warrior gyms and obstacle courses, kids can safely channel their inner ninja without doing flips off the couch or climbing the furniture. And when you've got children of multiple ages—including tweens or teens—they will all have a blast jumping, climbing, and swinging through the various obstacles.
Here are 11 great ninja warrior gyms, obstacle courses, and places to do parkour near DC for kids. These include both indoor and outdoor obstacle courses and ninja warrior gyms where even grown-ups can get in on the fun. For more things to do indoors near DC, check out our Guide to Indoor Playgrounds and Play Spaces for Kids in DC, which includes our lists of free indoor places to play and awesome trampoline parks near DC. Who knows? Maybe you'll have the next American Ninja Warrior on your hands!

Kids can do a mix of ninja warrior training and gymnastics at The Agility Center.
Ninja Warrior Gyms and Parkour Near DC for Kids
The Agility Center combines ninja warrior training with gymnastics techniques to teach kids to overcome any obstacle. In its 10,000 square feet of space across two conjoined gyms, it offers a variety of classes and day camps, which then put students to the test during quarterly ninja warrior competitions. Kids progress from foam-based blocks, obstacles, and mats to more challenging equipment such as a state-of-the-art suspended ninja warrior course. The Agility Center also offers open gym time for ages 1 and over, with adult supervision required for children under 10.
Located within the St. James sports complex, Super, Awesome, & Amazing is an interactive water park, eSports and VR gaming facility, rock-climbing gym, trampoline park, and obstacle course all in one. A pass to its Active Entertainment Center gives kids access to the trampoline jump, Nerf Battle Zone, climbing structures, ropes course, and ninja warrior course. With over 30,000 square feet to explore, expect to spend several hours here.
3. ZavaZone Trampoline Park — Rockville, MD; Sterling and Potomac Mills, VA
ZavaZone is more than just a trampoline park. Each location also features a variety of other attractions such as ninja warrior courses, high ropes courses, inflatables, warped walls, climbing walls, and more. The ninja warrior course includes a variety of obstacles like floating balance beams, tightropes, rings, rope walls, and other challenges. The equipment at ZavaZone is designed for ages 5 and up.
RELATED: 21 Teen Birthday Party Ideas in DC: Cool Party Places for Teens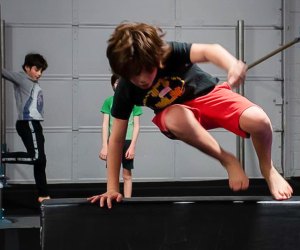 Bolt Parkour offers both parkour and freerunning classes.
Bolt Parkour offers classes on the fundamentals of parkour and freerunning—including vaulting, swinging, jumping, rolling, and climbing—for kids ages 5 and up. Soft equipment and padded floors and mats keep students safe as they learn new skills. Bolt also offers open gym time on Sunday evenings for children not registered in classes. Kids can attend camps, have a birthday party, or schedule a Nerf war with their friends at Bolt as well.
Urban Evolution provides classes in nontraditional sports like parkour, freerunning, aerial acrobatics, circus skills, and more for kids and adults. There are also summer camps and a variety of special events and workshops. Plus, kids can have birthday parties on the gym's ninja warrior obstacle course or host an aerial silks birthday party.
RELATED: Where to Play Indoor Mini Golf Near DC with Kids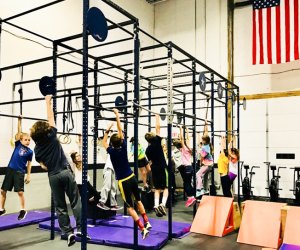 At Nova Ninja, kids can train to become the next American Ninja Warrior.
6. Nova Ninja — Ashburn and Sterling, VA
Nova Ninja, founded by two-time American Ninja Warrior competitor Casey Passafaro, is the real deal when it comes to ninja warrior gyms. Its two United Ninja Athlete Association-certified gyms have trained many athletes that have appeared on American Ninja Warrior and American Ninja Warrior Junior. They offer a variety of classes for adults and kids ages 3 and up, such as ninja training 101 and youth parkour. On Family Ninja Night, the whole family can get in with a single gym pass and train together.
7. Sky Zone — Various locations in MD and VA
Sky Zone offers all kinds of challenges at its 11 DC-area locations, including ninja warrior courses, zip lines, warped walls, ultimate dodgeball, and more. The Hagerstown, Maryland location also offers special programs such as Little Leapers (designed for kids and parents to play together) and GLOW, an after-dark party with lasers, music, and blacklight.
RELATED: Best Amusement Parks Near Washington, DC for Kids and Families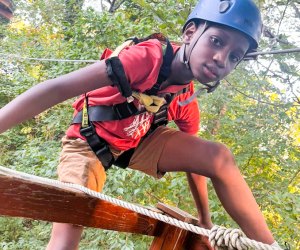 Tackle sky-high obstacles at Terrapin Adventures.
Obstacle Courses Near DC for Kids
This outdoor adventure park offers four different thrilling outdoor obstacle-course experiences: a climbing tower with all kinds of obstacles, a high ropes course, a 330-foot zip line, and a giant swing. There are a variety of passes for kids as young as 5 at different prices, depending on the time you visit and the activities you choose. Terrapin Adventures also offers camps, teen nights, and parents' nights out where kids can conquer obstacles under glowing disco lights.
9. Go Ape — Springfield, VA and Derwood, MD
Go Ape offers multiple levels of outdoor obstacle-course adventures in the trees. Its Treetop Adventure includes 50-foot-high tree-to-tree crossings, super-long zip lines, and Tarzan swings for 2 for bigger kids over 4 feet, 7 inches tall. The Springfield location also offers the Treetop Journey, a good introduction to outdoor adventure with shorter zip lines, suspended bridges, and obstacles for kids at least 3 feet, 3 inches tall. For extra thrills, you can even tackle the Treetop Journey after dark!
Looking for an indoor obstacle-course adventure? On a not-so-nice day, head to Summit Ropes, the largest indoor ropes course in the US. Book a pass and your kids can spend up to two hours exploring over 120 obstacles including ropes, bridges, climbing walls, and more. Climbers ages 4-7 or shorter than 4 feet, 2 inches tall are required to climb with an adult on the course.
Sandy Spring Adventure Park offers family fun for ages 5 and up with 15 separate trails of varying levels of difficulty. Each trail has zip lines and high ropes "bridges" made of rope, cable, or wood. Children ages 5 and 6 must climb with an adult. Nighttime Glow in the Park events include neon lights, music, and fun themes. The park is generally open mid March through early December.
All photos courtesy of the venues unless otherwise noted