3 Days in DC with Kids: Ultimate Itinerary by a Local Mom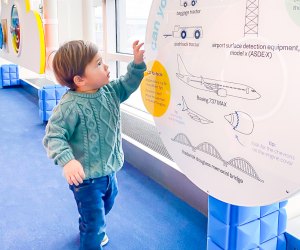 1/27/23
- By
Jennifer Marino Walters
Visiting DC with kids can be very overwhelming, especially if you're only here for a long weekend. After all, DC is home to the iconic monuments and memorials of the National Mall, loads of free museums (including the incredible Smithsonian institutions), government buildings to tour, and historic neighborhoods to explore. So how can you narrow down all of these great things to do in DC if you only have three days?
If this is your first trip to Washington, DC, here is a three-day itinerary that will help you visit some of the city's top attractions. I've saved neighborhoods and attractions outside the city itself—like Arlington National Cemetery, Old Town Alexandria, and National Harbor—for a later trip. The best part? Other than the restaurants and shopping, every single attraction on this itinerary is absolutely FREE! Yes—you can spend a long weekend in our nation's capital without breaking the bank.
Read on for a three-day itinerary of 21 fun (and mostly free) things to do in DC with kids. If you have more than three days to fill, check out our Guide to Free Things To Do in DC with Kids or our list of 100 things to do in DC with kids for more fun ideas.
Subscribe to our newsletters to get stories like this delivered directly to your inbox.
Day 1: Things To Do at the National Mall with Kids
Any visit to DC should, of course, start at its most famous area—the National Mall and Memorial Parks. You'll be doing a lot of walking, so pack plenty of water and snacks and bring a stroller if you have a toddler or preschooler. You can also rent bicycles from Thompson Boat Center or from several nearby Capital Bikeshare stations, but remember that bikes are not permitted within the memorials themselves. Luckily, there are plenty of biking-parking stations along the Mall.
The National Mall is home to over 100 unique monuments and memorials, so you obviously won't be able to see them all in a day. However, I can offer a rough plan that will allow you to visit almost all of the most popular and iconic ones. (If you have extra time during your trip, try to visit the Thomas Jefferson Memorial as well.)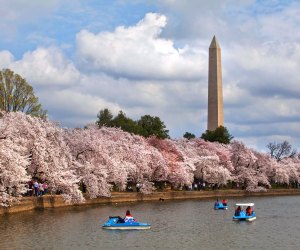 The Washington Monument is the perfect place to start. Photo courtesy of the National Park Service
Start at the famous Washington Monument, a 555-foot marble obelisk towering over DC. Each day at 8:45am, the monument releases same-day, timed-entry tickets to go inside and ride the elevator to the 500-foot observation deck for breathtaking city views. Have a quick breakfast at your hotel and get to the monument early to try to snag these free tickets. You can also try to secure online tickets 30 days or 24 hours in advance of your visit. But even if you can't get inside the monument, seeing it up close is unforgettable.
Note: If you are able to get tickets, you'll need to adjust the rest of the day-one itinerary to make time for your Washington Monument visit.
From the Washington Monument, walk less than half a mile to the World War II Memorial, which honors the more than 16 million US service members that served in World War II. Granite columns representing each US state and territory ring a large pool with water shooting into the air. Throughout the memorial you'll also find quotes, two huge victory pavilions, a wall of 4,048 gold stars, and more. I cannot begin to describe how moving it is to spend time at this memorial, especially if you're lucky enough to run into World War II veterans who were brought in on an Honor Flight. My family once met a group of Japanese American World War II vets at the memorial, and being among those heroes was indescribable.
Continue along the iconic Lincoln Memorial Reflecting Pool until you get to the Vietnam Veterans Memorial, less than a half-mile walk from the World War II Memorial. Its giant stone wall lists the names of over 58,000 Americans who died in the Vietnam War. If you know someone who was killed in the war, you can search online to find the exact location of their name. Many visitors like to make pencil rubbings of the names of friends and family members.
RELATED: Top Attractions in DC: The Best Things to See and Do with Kids

In person, this iconic monument is truly breathtaking. Photo courtesy of the National Park Service
Just a two-minute walk from the Vietnam Veterans Memorial is the Lincoln Memorial, located at the opposite end of the Reflecting Pool from the World War II Memorial. This is one of the most iconic monuments in the country, and it is truly breathtaking. Climb the 87 steps to the chamber (or ride the elevator from the monument's southeast corner) to see the 19-foot-tall statue of America's 16th president. Be sure to read the inscriptions on the walls quoting Lincoln's Second Inaugural Address and Gettysburg Address. Then, spend some time on the steps to enjoy the view of the Reflecting Pool and soak up the history. After all, these were the steps from which Martin Luther King Jr. delivered his famous "I Have A Dream" speech in 1963.
From the Lincoln Memorial, walk another two minutes to the other side of the Reflecting Pool (opposite the Vietnam Veterans Memorial). There you'll find the Korean War Veterans Memorial, which includes 19 statues of soldiers alongside a mural wall featuring over 2,400 photos of men, women, and dogs who served in the Korean War.
Walk another third of a mile to get to the Martin Luther King Jr. Memorial, located on the edge of the iconic Tidal Basin. The memorial includes a 30-foot statue of Dr. King carved into the Stone of Hope, which emerges from two large boulders known as the Mountain of Despair. Carved into the stone are powerful words from Dr. King's "I Have A Dream" speech: "Out of the mountain of despair, a stone of hope."
RELATED: Free Museums Near DC to Visit with Kids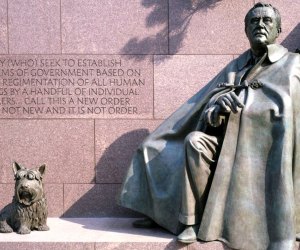 Don't skip the statue of FDR, because kids love to play here. Photo courtesy of the National Park Service
Adjacent to the Martin Luther King Jr. Memorial is this sprawling, unique memorial to FDR. Kids especially love this memorial because it's divided into five outdoor "rooms" to explore, with fountains, pools, statues, and more throughout.
At this point, everyone is going to be quite tired and hungry—even if you bought drinks and snacks from the various food stands scattered throughout the Mall. I suggest heading back to 17th Street NW between the World War II Memorial and the Washington Monument (about a half-mile walk from the FDR Memorial). There you'll find a long line of food trucks featuring all types of cuisine. Grab some food and find a spot on a bench or on the lawn of the Washington Monument to enjoy a picnic and rest your legs.
Now that everyone is rested up, it's time to spend the afternoon exploring one of my family's favorite Smithsonian museums.
At this spectacular Smithsonian museum, families can see gowns worn by First Ladies, the actual American flag that inspired the national anthem, all sorts of pop-culture memorabilia in the new Entertainment Nation exhibit, and so much more. There are also two great spaces just for kids: Spark!Lab, where children ages 6-12 can enjoy hands-on STEM activities; and Wegmans Wonderplace, which offers plenty of interactive fun for the under-6 crowd.
Note: I included this museum because it's one of my family's favorites, it has plenty of hands-on activities for kids, and it's close to the Washington Monument. But there are also several other fantastic Smithsonian museums nearby that you can substitute, including the National Museum of African American History and Culture, the National Museum of Natural History, and the National Air and Space Museum. You really can't go wrong with any of them!
RELATED: A Guide to Free Things To Do in DC with Kids

One of our favorite spots to eat near the National Mall is The Hamilton. Photo courtesy of The Hamilton
Though there are a variety of great restaurants near the National Mall, The Hamilton is one of our favorites. It's huge (making it easy to get a table even without a reservation), the atmosphere is festive, the food is varied and delicious, and there's a kids' menu with favorites like chicken tenders and mini cheese pizzas. Plus, it's only about a half-mile from the Museum of American History. Consider walking one block over (along 15th Street NW) to get a glimpse of the White House!
Day 2: Things To Do on Capitol Hill with Kids
In the Capitol Hill area, you'll find another treasure trove of things to do in DC with kids. Here are some of the best to choose from on day two of your DC family vacation:
Take a free guided tour of the US Capitol, which can be scheduled in advance on the Capitol website. The tour includes visits to the Crypt, the Rotunda, and National Statuary Hall. The Senate and House Galleries are also open to visitors when either legislative body is in session, but those require separate passes that can be obtained from your senators or representatives.
Portions of the Supreme Court building, including the Courtroom, are open to the public to explore. Thirty-minute Courtroom Lectures introduce visitors of all ages to the functions of the Supreme Court, the building's history, and the Courtroom's architecture. You can even attend court sessions, though it's recommended that you don't bring young children.
Founded in 1800, the Library of Congress is the largest library in the world and the oldest federal cultural institution in the country. It has more than 170 million books, newspapers, maps, photographs, and more in its collection. Be sure to reserve free timed-entry passes to the Thomas Jefferson Building, where you can explore Jefferson's personal library, see the Gutenberg Bible, and much more.
RELATED: 100 Things To Do in DC with Kids Before They Grow Up

Immerse yourself in nature you can touch and smell. Photo courtesy of the US Botanic Garden
Immerse yourself in nature in this glass-enclosed living plant museum and its gorgeous outdoor gardens. The US Botanic Garden also hosts some fabulous seasonal events, including Season's Greenings during the holidays.
This popular local chain serves breakfast all day, as well as a variety of burgers, sandwiches, meats, seafood, and more after 11am. There's also a great kids' menu. Be sure to try a famous Ted's Tart, the restaurant's homemade version of a Pop-Tart (it comes in several flavors). You might also want to save room for a decadent milkshake—there are even boozy versions for grown-ups!
This tasty pizza joint serves up everything from a simple cheese pizza to more adventurous pies with fun names like Bacon Me Crazy (Applewood and Canadian bacon, DC Mambo sauce, tomato sauce, and mozzarella) and Forest Shroomin' (wild forest mushrooms, truffles, mozzarella, fresh thyme, béchamel, and parmesan). Unlike many pizza places in DC, you can order by the slice, making We, The Pizza a convenient spot for a quick lunch in between sightseeing. There are also wings, salads, and cinnamon and garlic knots on the menu.
Day 3: Things To Do in Woodley Park and Georgetown with Kids
Day three involves driving or taking a cab from one neighborhood (Woodley Park) to another (Georgetown), which is a roughly 15-minute ride. But, it's the only way to see Smithsonian's National Zoo—one of the top attractions in DC for families—and Georgetown, one of the city's most historic neighborhoods.

Visit the Emperor Tamarin at the Smithsonian National Zoo. Photo courtesy of the zoo
Start your day at Smithsonian's National Zoo in Woodley Park. It's home to more than 2,700 animals, including gorillas, orangutans, lions, tigers, and elephants. The giant panda family of Tian Tian, Mei Xiang, and two-year-old Xiao Qi Ji are local celebrities. There's also a Kids' Farm where children can meet barnyard friends, a bee-themed playground, and a gorgeous carousel that costs a small fee. Be sure to secure free timed-entry passes online ahead of time, as well as a $30 parking pass if you're driving. The zoo opens at 8am, and we recommend arriving as early as possible because the animals are most active in the morning (plus, it's cooler in the summer).
After you've worked up an appetite at the zoo, walk the half-mile to Open City, which we've named one of the best coffee shops in DC to visit with kids. In addition to craft specialty coffee (trust me—you'll need the caffeine), Open City serves all-day brunch, pizzas, burgers, and more. Grab a seat inside or on the outdoor patio.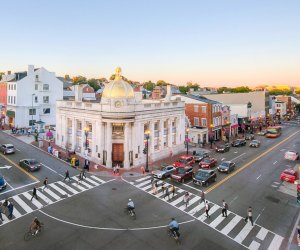 You'll feel like you've stepped back in time in Georgetown. Photo courtesy of Georgetown DC
18. M Street in Georgetown
After your lunch at Open City, drive or take a cab over to Georgetown, which was founded in 1751—40 years before the nation's capital. You'll see plenty of federalist architecture, historic brick and frame row houses, and cobblestone streets. M Street has been recognized as one of the best shopping streets in the country, and there are plenty of great stores to please the whole family. Be sure to stop by the Old Stone House (DC's oldest standing building).

Try the Coquito cupcake, which is one of our favorites. Photo courtesy of Sprinkles
As you stroll along M Street toward the Potomac River you'll happen upon this popular cupcake shop, the perfect place to grab a sweet treat. Enjoy delicious cupcakes in a variety of flavors, including gluten-free, vegan, and sugar-free options. Sprinkles also carries yummy cookies, brownies, and chocolate bars.
This riverfront park features gorgeous views of the Potomac River, Key Bridge, and the Kennedy Center. Sit on the waterfront steps and feed the ducks, splash in the fountain in the summertime, wind your way through the labyrinth, and stroll among the beautiful rain gardens. The park is also a great place to sit and enjoy those Sprinkles cupcakes!

Lobster pasta makes for a special treat. Photo courtesy of Filomena
This famous Italian restaurant has been serving up heaping portions of homemade pasta and other Italian favorites for over 30 years. As an Italian American who grew up in Brooklyn, New York, I can attest that this place is phenomenal. The kitschy, old-school decor will make you feel like you're dining at your grandma's house. Be sure to read the long list of famous people who have dined there on the menu, from actors and musicians to presidents and other politicians. And if you're visiting during Christmas, Easter, or Halloween, you're in for an even bigger treat—Filomena is well-known for its over-the-top holiday decorations covering nearly every square inch of the restaurant. Be sure to make a reservation!