Family Trees at Concord Museum: Celebrating Children's Literature and Creating New Holiday Traditions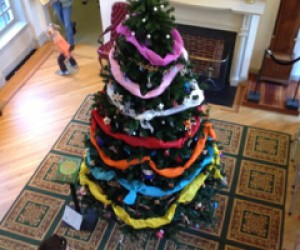 After visiting Concord Museum's annual exhibition Family Trees: A Celebration of Children's Literature for the first time last year, my family now has a new holiday tradition. Concord Museum celebrates the town of Concord's rich literary heritage year-round with exhibits featuring literary giants, and during the holidays, the presentation becomes even grander. For almost two decades, the museum has celebrated classic and contemporary children's books with Christmas trees and wreaths inspired by those books. Each tree pays tribute to or brings a story to life in its own unique way. Here's more about the exhibition and what's happening at the museum during the holidays, plus some tips for getting the most out of your visit with kids.
As we made our way through Concord Museum's Family Trees, we were greeted by a happy surprise around every corner. Many trees are small, some are tall, and others aren't trees at all, but they all help to tell a story. We picked up a scavenger hunt sheet for the kids when we entered the museum, and we were glad we did. Well thought out, it is simple enough for young children but intriguing for older ones, and it requires no writing utensils. My kids used the hunt as their guide through the exhibition. While we searched, we enjoyed stopping to read books together and discover the ornaments on each tree, some that looked just like the artwork in the books. A couple of the trees were actually decorated by the book's illustrator. A few of the trees taught us things we never knew about local history, and some featured their own micro scavenger hunts. And there were several decorated trees that were just downright entertaining. If you're curious about the books that inspired this year's trees, take a look at the full list (pdf).
If you have a kid who gravitates toward hands-on activities, there are a few, like writing poetry to hang on the poet-tree. We were lucky to visit during Thanksgiving weekend, when they had a couple of really nice craft projects. There's also a Morning with Santa at the museum on December 13 that's full of hands-on, interactive family fun. (Registration is required and there is a significant extra cost for the event.)
For a chance to talk with some of the authors and illustrators featured in the exhibit, visit during An Afternoon with Local Authors & Illustrators on December 7, 2014. On December 20 and 21, fans of Pat the Bunny will have the chance to visit with a larger-than-life version of the bunny.
Family Trees runs through January 4. Whenever you decide to go, be sure to head down the road to Concord Center after your visit to the museum. The Toy Shop of Concord and Priscilla Candy Shop on Walden Street are favorite stops for kids (and parents or grandparents who just want to feel like kids again). There are also eateries and lots of other wonderful little shops to explore. In keeping with the literary theme, you may want to visit the Concord Free Public Library (the library's Holiday Book Sale is in early December), or head to Louisa May Alcott's Orchard House on Lexington Road to see the place decked out for Christmas, Little Women-style.
After our first visit to Family Trees: A Celebration of Children's Literature, my kids are still talking about the books we read and the stories that were celebrated in Christmas tree form. We're looking forward to our next visit and wondering what wonderful new creations will await us.
Tips
If you do not have a membership, I recommend springing for one. With a one-year membership, you could go to the Family Trees exhibition for two holiday seasons (if you time it right), plus they have lots of other cool events for families and special exhibits during the year.
Go on a weekday if you can. If the weekend is the only time you are able to visit, get there early. The experience is much nicer when you can take the time to read the books and fully appreciate the nuances of the tree decorations without feeling like someone behind you is waiting for you to hurry up and move on, already.
The museum is collecting mittens to donate to kids in need. You may want to bring a pair with you to place in the basket next to the grand A Mountain of Mittens tree.
Location, Hours, Admission, etc
What: Family Trees: A Celebration of Children's Literature
Where: Concord Museum, 53 Cambridge Turnpike, 
Concord, MA 01742
Hours: Through December, Monday through Saturday 9am – 5pm; Sunday 12pm – 5pm
How Much: During this benefit event, admission is $15 adults, $10 seniors, $6 children (4-18); children under 4 and members get in free. Family Trees admission includes all of the Museum galleries.
Contact: 978-369-9763
---
Originally published November 26, 2012; Updated November 2013 & 2014