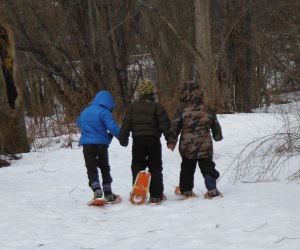 9 Places for Family-Friendly Snowshoeing Near Boston
When temperatures start to drop in Boston, it's tempting to want to hibernate inside with the kids. But that almost always leads to a bad case of cabin fever. So when winter strikes, we try to embrace it. This means getting out for activities like wintertime walks, skiing, and ice skating. And our other favorite winter activity, that's perfect for the whole family: snowshoeing. Whether you have your own snowshoes or need to rent them, there are plenty of options for where to try snowshoeing near Boston.
Places With Rentals
If you need to rent snowshoes and want to do it on-site, try one of these four locations.
Gore Place- Waltham
Explore the beautiful 50-acre Gore Place estate on snowshoes this winter from now through March 31. The estate has set paths to snowshoe on as well as open space to romp. Kids under 12 pay just $5 per hour for snowshoes and adult snowshoes are $10 per hour. Rentals are available Monday through Saturday.
Weston Ski Track- Weston
In addition to cross-country skiing, the Weston Ski Track also offers snowshoeing. The facility has great snowmaking capabilities so even when there's no natural snow, you can still head to Weston for winter fun. Daily snowshoe rentals are $8 for children ages 2-12, $11 for ages 13-16, $16 for adults and $13 for seniors/military. You can also do multi-day and off-site rentals or take a lesson.
Blue Hills Reservation- Milton
Most Bostonians know that Blue Hills Reservation is one of the best places to go hiking near the city. And all those hiking trails make great snowshoeing paths in the winter. There are ample routes to choose from, whether you're looking for a short, easy path or a more challenging trek. Snowshoes for kids and adults can be rented at the Blue Hills Trailside Museum from Thursday through Sunday. The rentals are $12 per pair for two hours for non-members or $16 per pair per day.
Boston Nature Center- Mattapan
You don't have to go far outside of the city center at all to find great snowshoeing when you head to the Boston Nature Center in Mattapan. This urban sanctuary has trails and boardwalks that wind through meadows and wetlands. The Boston Nature Center now has kid and adult snowshoe rentals every day of the week. Rentals are $8 per hour for members and $10 per hour for non-members.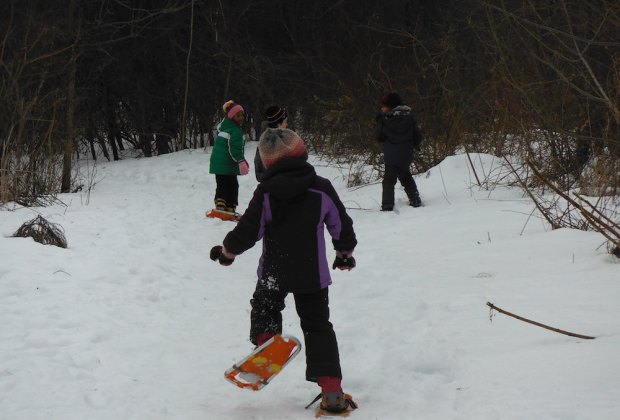 Kids snowshoeing in a winter wonderland. Image courtesy of Mass Audubon/Boston Nature Center.
Bring Your Own
If you already own snowshoes, then you're all set to hit up these local nature areas. And if not, you can rent them at several local Eastern Mountain Sports (Boston, Newton, Lynnfield, Acton, Salem) or at the REI in Reading. Prices and availability vary by location.
Harold Parker State Forest- Andover
Just north of Boston lies 3,000-acre Harold Parker State Forest. This is a great place for families to snowshoe because of its 35 miles of marked trails. Harold Parker's trails are wide with gentle rolling hills, so they're perfect for beginners. Take in the beautiful scenery of the forest as you trek through the woods.
Noanet Woods- Dover
Take to the 17 miles of trails at Noanet ​Woods for a fun day of family snowshoeing. There are ample easy paths that work well when snowshoeing with kids. And if you're feeling more ambitious, you can trek to the top of Noanet Peak for spectacular views of Boston.
World's End- Hingham
There are 251 acres and 4.5 miles of trails to explore at World's End in Hingham. The Frederick Law Olmsted-designed carriage paths make great snowshoe paths. Plus you can't beat the views of Boston from this park, which is only 15 miles from the city.
Ravenswood Park- Gloucester
If you'd rather head north of Boston than South, then you'll love Ravenswood Park. This 600-acre nature area offers 10 miles of carriage trails that were made for snowshoeing. There are plenty of paths that are easy enough for kids, like Ledge Hill Trail, which is especially popular with little ones.
Weir Hill- North Andover
Weir Hill is consistently named one of the top places for families to snowshoe near Boston. There are four miles of trails to explore, with difficulty ranging from easy to strenuous. Take the paths along Lake Cochichewick for a family-friendly route. Or tackle the hill itself for more of a workout that'll be rewarded with gorgeous views.
---
Top image of children snowshoeing courtesy of Mass Audubon/Boston Nature Center.