25 Reasons Boston Is the Best Place to Raise Kids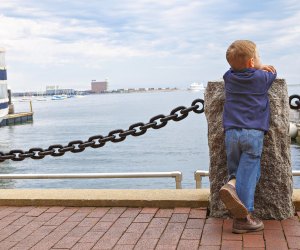 10/25/20
- By
Kelley Heyworth
Out-of-town friends often ask me if Boston is a kid-friendly city. I love this question, because there are endless reasons that make this city a great place for kids to grow up in. I know I'm not alone; Bostonians love their town and aren't afraid to tell you why. This passion gets passed down to each generation with gusto, and makes the top of my list of 25 reasons Boston (including the surrounding 'burbs) is the perfect place to raise children.
1. City pride: We are Boston Strong! Kids learn the importance of what it means to have "roots" at a very young age. See our reading list of children's books that make kids proud to be Bostonians.
2. Top schools: There are nearly 120 colleges within a 25-mile radius of the city, but our great education system starts with schools for our youngest kids. Our Boston Schools and Preschools Guide gives a flavor of the cool curricula happening in area early childhood programs.
3. World-class healthcare: From Boston Children's Hospital to Brigham & Women's, Mass General to Mass Eye and Ear: Boston is a lucky place to find yourself when a doctor's care is needed.
4. Rich local history: Getting kids connected with early history can be tricky, but with the Freedom Trail and landmarks like Bunker Hill and the U.S.S. Constitution right in city limits, our children can get a first-hand account. (Plus, it's largely thanks to our local history that kids and many parents have a random day in April—Patriots Day—off from work and school!)
5. Delicious restaurants (with food kids will actually eat): Boston kids are spoiled at a young age by having access to the best lobsters, clams, cranberries, apples, blueberries, baked beans, and more. We are particularly enamored with these restaurants where kids can play as you eat, these brunch places that know how to deal with mid-morning hanger, and 25 places where kids eat free.
6. Friendly farms—as far as the eye can see: There are countless farms within a close proximity to Boston. Kids can pick apples, pumpkins, and berries, visit and feed animals, and sample farm-fresh ice cream made from the milk of the sweet New England cows they visit.
7. Gorgeous, well-maintained parks around every corner: Our children can enjoy 2,100 acres* of clean, green, safe, and accessible parkland in driving distance of the city, from the famous Boston Common and Public Garden to fantastic, kid-friendly hiking spots all over the 'burbs.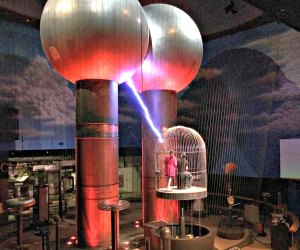 Theater of Electricity. Photo courtesy of Museum of Science Boston
8. Interactive, hands-on science museums: In the city, world-class institutions like the Boston Children's Museum and the Museum of Science can keep kids entertained for hours on end. Just outside Boston, the indoor/outdoor, kid-centric EcoTarium and Discovery Museums of Acton are both perfect destinations for an enriching day trip.
9. Sports teams to be proud of (and inspired by): Patriots, Red Sox, Revolution, Celtics and Bruins: Our kids can watch some of the best athletes in the world compete, and then try out their own moves in one of our great local learn-to-play sports' programs.
10. The best skiing in the East, doable in a day trip: No need to schlep west to find quality ski trails, with plenty of great slopes with top-notch instruction within a three-hour drive (or much less). See our favorite kid-friendly New England ski resorts and best spots for Boston kids to learn how to ski or snowboard.
11. Spectacular beaches - Cape, etc.: Even out-of-towners know about Cape Cod, but what about the glorious beaches of the North Shore, South Shore, and Rhode Island? No overnight stay is required to find a great patch of sand to play on and waves to cool off in.
12. The inner 'burbs: Our city houses 600,000 people and our metro area consists of almost 5 million. Cambridge, Brookline, and Somerville are just a few of the many places where you can raise a family outside busy downtown while still having access to everything the city has to offer.
13. The outer 'burbs: Boston is surrounded by affordable, safe and charming towns to raise a family in surround our city, with excellent school systems to boot. You'll find spots to pick apples, get lost in a corn maze, snowshoe, eat fried clams, frolic at America's oldest state fair, cut down your own Christmas tree, and more.
Photo courtesy of Boston Harbor Islands National and State Park
14. Islands—within reach: Right here in Boston, our kids can enjoy access to Castle Island, Spectacle Island, and other Harbor Islands, while Martha's Vineyard and Nantucket are reachable in the course of a morning.
15. Fine art: Places like the Museum of Fine Arts, The Institute of Contemporary Art, and the Isabella Stewart Gardner Museum allow children to witness some of the word's most prized artistic pieces, often with free admission. Outdoorsy kids will love to roam the grounds of the deCordova Sculpture Park, where admission for kids under 12 is always free!
16. Kid-friendly theater:The Boston Children's Theatre (BCT) and Wheelock Family Theatre in Boston and many theater companies outside the city offer family-friendly shows, classes, and theater summer camps for children starting at a young age.
17. More awesome playgrounds than you'd ever be able to visit: From destination playgrounds to spraygrounds, imagination boosting playgrounds to brain boosting playgrounds, Boston and surrounding towns are filled with outdoor spots to get energy out!
18. Dance: There are endless opportunities for Boston kids to see and learn a variety of dance styles. The Urban Nutcracker is a tribute to the city's diversity and has become a holiday tradition in Boston, along with other local productions of The Nutcracker. The Boston Ballet Children's Program is considered by many to be one of the best in the country.
19. Fitness: With the Boston Marathon, Head of The Charles, walks, foot races and countless hiking and biking trails, we have the ability to infuse a passion for fitness in our kids at a very young age.
20. Spots to observe amazing animals: Kids can immerse themselves in learning about fish, mammals, and other animals at the New England Aquarium, Franklin Park Zoo, and several other excellent zoos in the Boston area.
21. Easy waterfront access: From Charles River kayak and canoe trips to harbor cruises and whale watches, it's easy to get the family out on the water for an adventure.
22. The Esplanade/Hatch Shell: This outdoor park offers a concert venue with free programs for kids in the summer months and a wonderful place to play and explore. (Not to mention, one of the best 4th of July celebrations in the country.)
23. Gardens galore:- Even though it's a city, Boston still has access to beautiful nature hikes in the Fellsway, botanical gardens at the Arnold Arboretum, and even gorgeous, balmy indoor gardens for escaping the cold.
24. Children's bookstores: There is one thing you can say about Bostonians: We love our books. And independent bookstores like The World's Only Curious George Bookstore in Harvard Square, Barefoot Books in Concord, and An Unlikely Story in Plainville help to instill that love in our kids, too.
25. Our town has heart: It's no surprise that thousands of families show up to cheer on our Boston Marathoners or gather to volunteer for the less fortunate: Bostonians care for the city and one another, and show it.
An earlier version of this post was written by Kristin Quinn