An Unlikely Story: Day Trip to Wimpy Kid Author's Bookstore Near Boston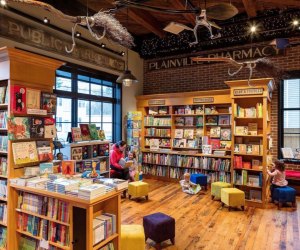 Home to Robert McCloskey's Ducklings and the "world's only" Curious George store, the Boston area is known for its kid lit connections. One local children's author is Diary of a Wimpy Kid creator Jeff Kinney, who's built an incredibly special bookstore called An Unlikely Story in Plainville, MA. With readings from famous authors, kids' workshops, and cozy spots to read and enjoy a snack, this literary hangout is more than just a shop.
Parents of Boston-area bookworm kids, take note: Not only is the Boston Book Festival in October, with free events and readings, but any day of the week, you could go to An Unlikely Story Bookstore and Cafe to indulge your littlest literati. Here are some more of our favorite Boston children's bookstores, and 12 books that make kids proud to be Bostonians.

The bookstore is the centerpiece of quaint Plainville, MA. Photo courtesy of An Unlikely Story via Facebook
Highlights of An Unlikely Story Visit with Kids
Think it's unlikely you can have a productive bookstore visit with children under four? You don't have to be too brave to bring your little one to this family-friendly, spacious spot, with offerings from yoga classes to writing workshops to kids' ukulele groups to delicious snacks—all in the store! It's easy to spend hours at An Unlikely Story, so make a day trip of it. The store is about an hour from Boston, close to the Rhode Island border.
When arriving, easily park in one of two lots for the bookstore in quaint Plainville, MA. With an inspiring range of books for all ages, An Unlikely Story is an award-winning, environmentally conscious Colonial-style building with reclaimed wood and local photography on the walls. The three-story structure is the centerpiece of the small town center, and was built as an homage to the historical building which stood in this space since the 1800s. Enter from the front where an old-fashioned porch with chairs and benches welcomes you, or from the back where a large cartoon sign of a reading elephant greets visitors. Plan to park for awhile; after you visit the store, you may even take a short walk down the sidewalk to Telford Park, where there's a playground, a new basketball court, a public pool in summer months, and a water view anytime.
Your child will likely find his or her favorite section quickly, but the youngest readers will like the back of the store where a colorful children's corner is lined with chunky books, some toys, and colorful stools and benches. Don't forget to look up and around to see whimsical surprises hanging from the ceiling and walls, like antique signs and seasonal decorations, that delight and inspire the smallest guests. On the other side of the store, grab a grilled cheese at the cafe, and hunker down in a comfortable chair with a book.
For a more interactive visit, take advantage of the extensive programming for Unlikely Story and Second Story, one of the biggest draws for families visiting this gem. Take the elevator up to Second Story for some creative offerings like weekly storytime, Music & Movement with Ms. Marsha, or a kids yoga series on Saturdays. Also, sign up for the newsletter on the store's website to get ideas for when you might want to coordinate your trip.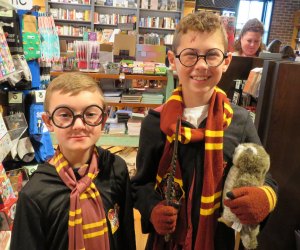 Special events include gatherings of like-minded readers! Photo courtesy of An Unlikely Story via Facebook
Special Events and Activities
As fall moves to winter, and parents look for more indoor activities for kids, see the full Unlikely Story events calendar online: It invites you to join for free author's readings (including holiday-themed books), a craft fair in October, and even festive seasonal events the store coordinates with the community. For tots ages 5 and under, storytime is typically on Friday mornings, and is an interactive favorite among local families. It's free, and often includes a craft and songs for the children. Little ones can sit on the storytime rug or stay on your lap on a chair or couch. Grown-ups can also catch open mic nights and workshops in the gorgeous Second Story space upstairs.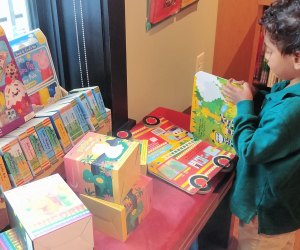 Browsing books is not only allowed, but encouraged! Photo courtesy of the author
Know Before You Go
An Unlikely Story is at the intersection of Route 106 and Route 1A, across from the Plainville House of Pizza. North on 1A is a large Cumberland Farms nearby for food and gas, and also Wrentham Outlets for shopping and larger chain food offerings.
On Monday, December 16th, 2019, there will be a ticketed celebration event for the new Diary of a Wimpy Kid book with Jeff Kinney.
With the exception of major holidays listed on their website, the store is open seven days a week.
Unlikely Story closes at 9pm Monday through Saturday, and at 6pm on Sundays, with occasional changes listed on the website for minor holidays. Of particular note, the Kitchen at the Cafe closes at 3pm each day, which may affect your plans for grabbing a snack or meal with the little ones.