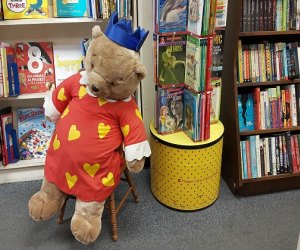 5 Children's Bookstores You Can Only Find in Boston
My family and I love books, and luckily for us, Boston is a great city for bookish fans. Both libraries and bookstores appear among the top 100 Things to Do with Boston Kids Before They Grow Up, and there's no debating the wonderful options for book lovers in the Boston area. With children's bookstores from Faneuil Hall to Harvard Square to farther afield, families can keep even the youngest of readers happy at any of these fantastic spots.
---
1. The Children's Book Shop is a lovely little store right around the corner from the Puppet Showplace Theater in Brookline Village, making it the perfect place to visit with little ones before or after a show. Highlights include extensive collections of picture books, novels, nonfiction, and poetry for children, as well as a fun Maisy play house, a ginormous teddy bear, and a huge stuffed Maisy herself. The shop is too small for most author events and storytimes, but the staff works closely with the Brookline Public Library just a five-minute walk down Washington Street to bring in authors for signings.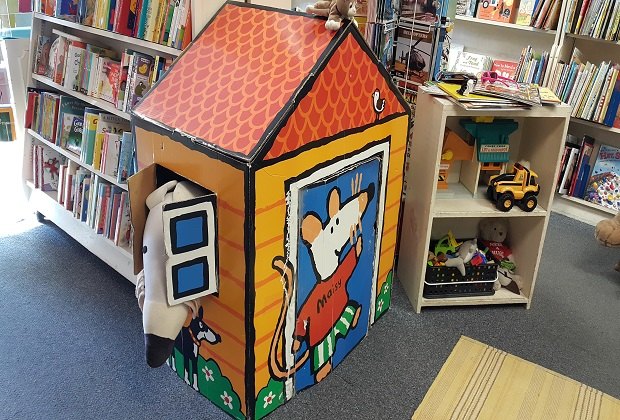 Logistics: Parking can be tight in the area, but there are metered spots on Station Street, and of course the Green Line stops right around the corner at Brookline Village. Families can find several tasty spots to grab a bite nearby, including the kid-friendly Clover Food Lab.
Unique tidbit about the shop: it runs an annual poetry contest during National Poetry Month (April).
---
2. The Blue Bunny is another cute little shop with an adorable mascot out front—a blue bunny, of course! The shop recently gave up some of its indoor space to welcome local coffee shop, Mocha Java, which means parents can enjoy a cup of joe while the kids browse. Along with tons of great books – for audiences from the smallest babies to young adults and beyond – kids can also find oodles of games and other fun toys for sale. The Blue Bunny excels in offering great events, with everything from weekly storytimes, author panels and signings, and creativity workshops for kids.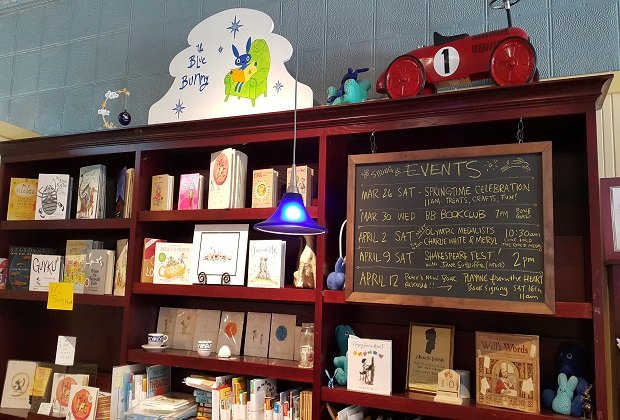 Logistics: Dedham is not far off route 128, so it's an easy jaunt by car for anyone in the suburbs southwest of town and has plenty of on-street parking. While Mocha Java is right inside the shop, other nearby options include a pizzeria, bagel bakery, and the tempting sweets of La Luce Pastry Shop.
Unique tidbit about the shop: Owner (and author/illustrator) Peter Reynolds directs the publication of Hutch, a literary and creativity magazine for and by kids, which celebrates its young contributors with a publication party for each new issue.
---
3. Roomy and chock full of piles of books, An Unlikely Story is the granddaddy of children's bookstores. A relative newcomer on the book scene, the shop is owned by Julie and Jeff Kinney (aka the author of The Wimpy Kid series), so it's especially perfect for elementary school kids. The shelves are packed with kid-friendly options that tempt from the moment visitors walk through the door, and upstairs, Second Story offers a huge event space where everything from private parties to yoga classes to author book signing events. The store also boasts a roomy café serving drinks, sandwiches, and salads.
Logistics: Plainville is definitely a hike for city dwellers, but it's a good location for those who live farther south of town or anyone heading south on 495 for a road trip. There's plenty of parking both behind the shop and in a big lot across the street. As far as local amenities go, a diner and a convenience store down the block should have whatever you can't find in the bookstore's café.
Unique tidbit about the shop: The store offers great workshops for kids during school vacation weeks.
---
4. The World's Only Curious George Store sits just upstairs from one of the coolest Boston T Stations on the Red Line right in the center of Harvard Square. Savvy parents can plan out a route around the square for their own errands that ends up at Curious George as a reward. Although the store can get crowded, it's easy to see why. They offer a great selection of books, toys, and Curious George merchandise to delight kids of all ages, and the shop's weekly storytime is hugely popular with preschoolers and their caregivers.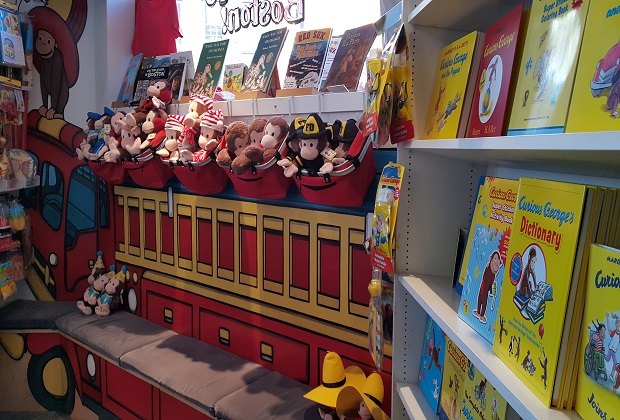 Logistics: Parking can be tricky in Harvard Square, and since it's easily reached by public transportation, taking the T is your best bet. Once there, you'll find plenty of other activities to keep the whole family busy, including the Harvard Museums and our favorite local burger joint.
Unique tidbit about the shop: Everyone's favorite monkey makes an appearance at the store at times, joining in at holiday storytimes or other special events.
---
Editor's note: Since publication, this store has closed.
5. The Make Way for Ducklings Store is a children's delight, with all kinds of duckling-centered merchandise to celebrate the acclaimed picture book and keep little ones entertained. With its prime location in Faneuil Hall, it's the perfect stop during a fun-filled day in town, especially if you're entertaining any out-of-towners looking for local souveniers. Even older kids can find the perfect book or game while on a break from the Freedom Trail.
Logistics: In April, 2016, the store moved from its previous location at 8 North Market Building to its new location at 6 North Market Building, so keep that in mind if it's been a while since your last visit. Both locations are of course right in the heart of Faneuil Hall, down the block from the Haymarket stop on the Orange Line, and since parking is at a premium in this part of time, the T is highly recommended.
Unique tidbit about the shop: The store offers several fun annual events, including Halloween and Valentine's Day celebrations.