Coolest Boston T Stations for Kids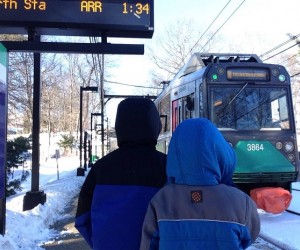 For many kids, hearing a train rumble through a tunnel as it enters a station can be a moment of excitement, inspiring cries of, "I see the train!" Certain subway and trolley stops on the T exhibit a bit more charm than others, whether it be an interesting station design, convenient vendors, or appealing artwork. With that in mind, below is brief rundown of eight kid-tested stations in Boston's rapid transit system.
North Station (Orange and Green lines). The station has been a thumbs up for kids ever since the T refurbished it back in 2005 to create an inbound transfer between the two lines on the same platform, which is a unique setup for an MBTA station. In other words, on one side of passengers is the Orange Line track, and on the other side is the Green Line track. Upstairs at street level is the TD Garden, which is convenient for families heading to an event at the arena or checking out the sports apparel at the 6,000-square-foot Proshop.
Harvard (Red Line). You certainly don't have to be a college student to enjoy this huge stop, which is full of people-watching and musicians playing for tips as the trains lumber by. On-the-go parents will be happy to find a Dunkin' Donuts and Redbox kiosk right in the station. Kids may be surprised to see electric buses rolling right by them underground near the subway platform – and speaking of buses, keep an eye open for the colorful, stone-like stained glass wall at the bus waiting area. As young passengers exit the station, they enter the funky world of Harvard Square.
Aquarium (Blue Line). Two design aspects of this stop are appealing. One is the particularly steep escalators into the station (some may be reminded of the Washington Metro's sheer escalator descents). Two, the platform is in a cavernous space that affords nice views of the trains all the way down the tunnel as the Blue Line leaves the State Street stop. Above ground, passengers have their choice of the New England Aquarium, Rose Kennedy Greenway, Faneuil Hall, and the North End.
Porter Square (Red Line). This is another station that can give visitors vertigo as they stare down the sharp-angled escalators. In the station, kids can search for bronze glove sculptures alongside the escalator, embedded into the floors, and other areas. Outside the station is a well-known, 46-foot-tall sculpture that looks like a futuristic weather vane.
Park Street (Green and Red lines). This can be a crazy stop for adults to navigate, but delightfully chaotic for youngsters. Standing on the Green Line foyer, visitors might see three or four trolleys buzzing by at once, and Park Street may be the only underground T station at which people are allowed to directly walk across the tracks. Downstairs is the cramped Red Line stop, which is another good spot to listen to aspiring musicians. Upstairs at Park Street is Boston Common and the State House.
Kendall (Red Line). Just downstairs from the MIT campus, this stop has some of the coolest art in the entire T. Three musical structures, which are right on the platform, are made of teak, aluminum, and steel, allowing kids to test out their instrumental skills in a fun, hands-on exhibit.
Community College (Orange Line). Families heading into Charlestown to check out Bunker Hill or City Square may encounter a series of 32 tiles with reproduced pictures drawn by local students. The displays are all on the train platform.
South Station (Red Line). The subway stop itself isn't particularly notable, but just upstairs is the closest place Boston has to New York's Grand Central Terminal. South Station's bustling concourse features a large food court, newsstand, and an up-close view of Amtrak trains waiting to depart southbound to other big cities. There's a piano performance every Thursday at lunchtime, and free tours of South Station are offered monthly. The Boston Children's Museum is in walking distance.