5 Boston Restaurants Where the Meal Is the Entertainment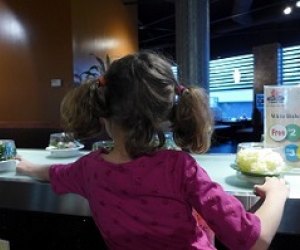 We Boston parents are lucky to have our pick of restaurants that offer built-in entertainment for the kids. Sometimes, grabbing brunch at a place like Full Moon Restaurant in Cambridge is the best choice for the whole family. The kids can play with the train table and toy kitchen, and the adults can catch up on some grown-up conversation.
Other times, however, I want my kids to focus on their food or to expand their horizons with something different and surprisingly delicious. What better way to tempt them than with an outing that leaves the bag of crayons, stickers, and notebooks untouched? The restaurants below offer culinary experiences that hold kids' attention with food that comes at them fast and with flair.
---
1. Japanese in Porter Square. With so many fantastic choices within a couple of blocks of each other, it's hard to pick one favorite here. Akai Ryu (pictured) offers delicious varieties of shabu-shabu, letting diners choose the type of broth and additional ingredients that range from udon noodles to meat to fish balls. Best of all, many of the options flow by the table on an impressive conveyor belt. Kids love the chance to not only pick something to add to the pot but to actually grab the passing plate. My own girls picked corn, pea pods, fish cakes, and bok choy, all of which they attacked with gusto. Because the pot of hot soup rests at the center of the table, this spot is probably not the best choice for active toddlers, but it's fine for small tykes strapped into high chairs or for older children.
Runner-up: Down the block, Yume Wo Katare offers something just as amazing: ramen with a side of dreams. Here, guests are served massive bowls of ramen topped with vegetables and options that include pork or extra pork. This tiny restaurant seats diners in long rows facing the kitchen, where everyone gets to observe the cooks preparing the food and cheer on those who manage to finish their ramen. Adults aren't allowed to share, but two kids can split a bowl and do their best to complete it. Kids will love the spectacle when people finish their bowls and announce their dreams to the restaurant, and might even be brave enough to share their own dreams with those gathered there.
2. Crêpes in Davis Square. Forget traditional pancakes and French toast! The crispy thin pancakes at Mr. Crêpe in the heart of Davis Square have been a longtime favorite with my family. The biggest problem we have there is choosing savory or sweet fillings. Luckily, that problem is solved by choosing (at least) one of each. Some of the options include Belgian chocolate with strawberries, s'mores, grape, apple, & brie, or the simple perfection of butter & sugar. Not only are all the crêpes delicious, but they're generally ready minutes after ordering. As a bonus, you can lift toddlers to view the open kitchen area as the cooks spread out batter over special pans for just the right crispness. Kids love guessing which one is their own, and squeal with delight when the family's buzzer lights up.
3. Spanish tapas at Toro in the South End. While tapas might conjure up images of late, sangria-filled nights, the best thing about a tapas joint for families is the dining experience itself. You can order a few items from the menu at a time so you always have a steady stream of surprises on the way. If that's not enough of a draw, tapas are little plates with just enough for a taste of the dish if you're sharing, so everyone in the family can have the chance to pick something from the menu. Toro offers some modern, inventive dishes, as well as some more traditional tapas. A couple of choices that delight most young taste buds are Tortilla Española-Spanish omlette made from a savory combination of egg and potato, and Croquetas de Bacalao-croquettes filled with a creamy cod center and a crispy outside that puts fish sticks to shame. As another bonus, Spanish restaurants always serve tapas with baskets of bread for those who can't wait to dig in. This restaurant fills quickly, so your best bet is to get there right when they open so you don't have to wait.
4. Burgers in Harvard Square. Most kids love burgers, but Mr. Bartley's Gourmet Burgers is more than a greasy spoon. Even the smallest kids love the atmosphere as the family grabs seats at long communal tables. Staff calls out the names of the burgers -- the Tom Brady, the Hillary Clinton, and the Barack Obama to name a few -- as people place their orders. Tons of photos of famous visitors and memorabilia decorate the walls, prompting many a question-and-answer session. You might find yourself seated next to Harvard students, tourists, or other local families. Plus, the thrill of having dishes filled with condiments, including pickles, right in front of you on the table definitely adds to the fun.
5. Chinese in Chinatown. For some of the most traditional dim sum in Chinatown, you'll have to pass through the gate and cross Surface Road to Hei La Moon, a huge restaurant on Beach Street. In spite of plenty of seating on the main and lower levels, Hei La Moon still manages to fill up for weekend dim sum, and with good reason. As soon as you and your family sit, you'll receive a pot of tea and a few moments to prepare yourselves for an amazing meal. The staff circles the room with carts loaded up with metal containers of all manner of tasty buns, dumplings, and rice dishes. Kids love having a peek at all the offerings wheeled by, especially when it's their turn to choose. Place settings come with teacups and chopsticks, so ask for water and forks or spoons for the kids who need them.
Runner-up: Back across the gate in the heart of Chinatown, the Gourmet Dumpling House doesn't have the space for the carts, but the long line outside attests to the amazing flavors in the dishes inside. My family's favorite dishes include mini juicy dumplings (filled with soup) and sauteed spinach with garlic. No matter where you end up, make sure to leave space for sweet treats at one of the Chinatown bakeries!
---