How and Where to Volunteer With Kids Around Boston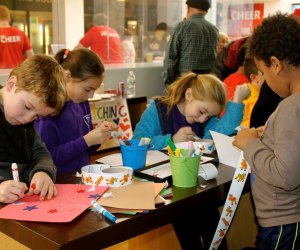 4/20/17
- By
Jon Gorey
Kids have boundless energy and idealist hearts, which makes them perfect volunteers. But it can be tricky to find giving opportunities open to the whole family. As any parent who's tried to vacuum or bake cookies in the presence of a young child knows, little kids really, really want to help out, but making sure their efforts aren't counterproductive requires masterful delegation—or even creation—of tasks they can handle independently. Not surprisingly, many volunteer organizations limit involvement to kids who are in their pre-teens or older. Boston, luckily, is home to several organizations and activities designed with families and young kids in mind. If the community spirit of the marathon and Earth Day has you and your kids feeling inspired, read on for ways to give back.
If you live in either the Boston or Los Angeles area, Project Giving Kids is perhaps the best place to get started. PGK maintains an enormous calendar of one-time and ongoing volunteer activities and donation drives that the whole family can participate in. You can filter the opportunities by any number of key variables, such as location, activity type, duration, or cause, making it easy to find something that aligns with your interests and availability.
Want to fight hunger and get some fresh air? Volunteers can help out at the Harvest Community Farm in Dartmouth during drop-in shifts all summer long. Love animals and stuck indoors on a rainy day? You and your kids can braid chew toys for dogs living at animal shelters. Check the calendar online—there are plenty more projects where those came from.
This Needham-based nonprofit empowers kids and families to engage in volunteerism and acts of kindness - they've helped over 60 charities since 2008. "We want to harness all the kindness and goodness that we know kids have," says co-founder Joy Suprenant. Kids who start volunteering early learn to love giving, she adds. "It's called Catching Joy because you catch joy when you give joy to others," she says. "We're raising happier kids who grow up to be happier, more responsible adults who give back."
Suprenant isn't just reciting platitudes about empowering kids: Her son Maxwell helped found Catching Joy at age 4, and is now the nonprofit's 13-year-old creative director, leading volunteer projects at local schools and with Boy and Girl Scout troops. While those events aren't open to the public, many others are, such as a Soup-Er Bowl canned soup drive and storytime at the Blue Bunny in Dedham on May 5th.
Boston Cares is another site that aggregates and hosts local volunteer opportunities; attending an orientation session is sometimes required. Upcoming volunteer activities open to kids with parents include distributing food at the Harvest Food Pantry in Cambridge in June and a spring yard clean-up for seniors throughout Boston (April 23rd, age 5+), among others.
Community Cooks
This Boston-area organization pairs individuals or families with other local volunteers to prepare full home-cooked meals or sandwich snack packs that are delivered to vulnerable neighbors and people in need, including the homeless, women in crisis, at-risk youth, veterans, and low-income seniors. You can join a team of neighbors or form your own among friends and family members, and simply prepare an assigned portion of a homestyle meal (such as the main dish or a side) and drop off your meal at a central location. Visit CommunityCooks.org to learn more.
Cradles to Crayons
At the Cradles to Crayons "Giving Factory" warehouse in Brighton, kids aged 5 and up are encouraged to help their parents inspect, sort, and package donations into "KidPacks" that are distributed to disadvantaged children around Massachusetts. Shifts are two hours long and available on weekdays and weekends; volunteers should sign up in advance on their website.
Friends of the Blue Hills
Once a year in late spring, families and kids can help the Friends of the Blue Hills get the sprawling nature preserve ready for summer. This year's "Green Up 2017" project, on Saturday, May 21st, is to pull up invasive weeds that threaten the reservation; music, face painting, and scavenger hunts sweeten the deal for little ones. The Friends of the Blue Hills also holds regular trail improvement days, which are open to the public and involve slightly more rugged work, like digging out rocks or clearing brush off hiking trails.
DIY Volunteering
Of course, you don't need a formal organization or defined occasion to help you give back to the community. Whether it's a schoolyard, hiking trail, or playground you frequent, there's bound to be someplace in your neighborhood that could use a cleanup.
Last weekend, we took our five-year-old down to the beach with some rubber gloves and a trash bag and collected some of the garbage that had washed ashore over the winter. And when we go downtown, we always make sure to bring a few granola bars we can offer to the homeless (along with some basic human acknowledgement); taken a step further, you could enlist your kids to help you make a few dozen sandwiches and hand them out to the hungry.
As Suprenant says, kindness is contagious, so just get it out there. "There's the ripple effect of making a card, of spreading smiles, of being kind with nice words," she says. "Kids have so much to give, with all their great ideas and caring creativity and idealism. It feels good to help others."
Photo courtesy of Catching Joy via Facebook