What to Do on the Charles River with Boston Kids: Sailing, Kayaking, Duck Tours, and More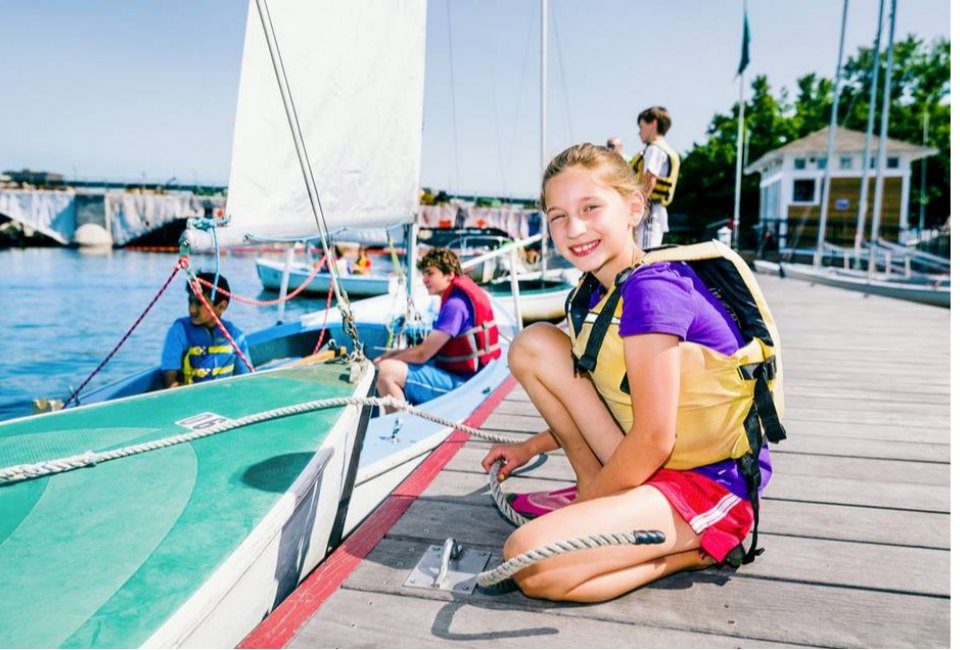 7/21/19
- By
Elyse Andrews
Winding through 23 towns, Boston's beloved Charles River is a great place to visit with kids, whether they're keen to cruise on the water or just play alongside it. We've rounded up our favorite family activities on the Charles, including hopping a Duck Boat, renting a canoe, picnicking on the Esplanade, and cheering on rowers at the Head of the Charles. No matter how you choose to spend your waterfront day, kids are sure to come away from their adventures with renewed appreciation for our hometown river.
Rental Boats and Boat Rides on the Charles River with Kids
Charles River Canoe and Kayak—Cambridge, Boston, Newton, Waltham
Charles River Canoe and Kayak is the go-to place for not only renting canoes and kayaks, as the name suggests, but also paddleboats, stand-up paddle boards, and rowboats. While Charles River Canoe and Kayak has many options for the family to get on the river together in boats that accommodate multiple kids and adults, it also has kid-size kayaks for little paddlers who want to move under their own steam. Get on the river at one of four area locations: Kendall Square in Cambridge, Allston/Brighton in Boston, Nahanton Park in Newton, and the Moody Street Dam in Waltham.
Boating in Boston—Newton
Most of the Boating in Boston locations aren't on the Charles, but one is and it's in a special place in Newton. Explore what's called the "Lakes District" of the Charles River, six calm miles from Newton Lower Falls to the Moody Street Dam with a canoe, kayak, or stand-up paddle board from Boating in Boston. Watercraft launches from the historic Newton Boatshed.
Kids can learn to sail right on the Charles. Photo courtesy of Community Boating
Community Boating—Boston
Boston is home to a lot of history and Community Boating is deeply rooted in it. Incorporated in 1946, it's the oldest, continuously running public sailing center in the U.S. And with its motto, "Sailing for All," it strives to welcome everyone who wants to sail in Boston, regardless of age, ability or means. Community Boating, located right on the Esplanade, has numerous programs for adults and kids and often hosts special events that are open to the public. In addition to its sailing programs, Community Boating also does one-day kayak rentals for kids and adults.
Community Rowing—Brighton
Community Rowing in Brighton has the motto "Rowing for All", so in keeping with that, they offer a variety of programs for both kids and adults. Opportunities for children ages 12 to 18 include a Learn to Row program, a Crew League for those who have mastered the rowing basics, a Competitive Youth program, and two summer programs.
Charles Riverboat Company—Cambridge
So far all of the options to get out on the river involve powering the boat with your own muscle. But with the Charles Riverboat Company, the boats do the heavy lifting. There are three tours to choose from: Charles River Tours, Architecture Cruises, and Sunset Cruises, all of which leave from the Lechmere Canal behind the Cambridgeside Galleria Mall. The best bets with kids are either the Charles River Tours or the Sunset Cruises. They're both fun and educational—and a perfect way to see Boston and Cambridge from a whole new perspective.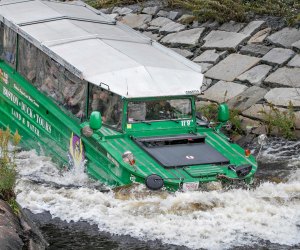 It's a bus and a boat! Photo courtesy of Boston Duck Tours
Boston Duck Tours
Perhaps the most famous option on the list, Boston Duck Tours offers a unique combined land and water tour that's a rite of passage for Boston kids. Pick up the tour at one of three locations: the Museum of Science, Prudential Center, or New England Aquarium. The tour winds around Boston, showing off its most famous landmarks before splashing into the Charles River for the amphibious leg of the tour.
Activities with Kids on the Banks of the Charles River
Catch a movie or concert at the Hatch Memorial Shell.
The Hatch Shell isn't just where the Boston Pops perform on the 4th of July. During the summer, you can catch a show by the Boston Landmarks Orchestra or head down on Fridays for a free family-friendly outdoor movie night.
Watch the rowboats, competitive or colorful.
Kids who appreciate an exciting race will enjoy watching the annual Head of the Charles crew races in October, while children who enjoy costumes and culture will love the Dragon Boat races in June.
Go for a Hike.
The Charles River is eighty miles long, which means lots of riverfront real estate to explore! Trails abut most of the river, and tend to be flat and accessible for little kids. Stroll around Hemlock Gorge in Newton and visit Echo Bridge where your little ones can pop under the bridge and test out their echos or search for birds and wildlife along the Charles River Link Trail, a 16-mile trail that connects 6 different towns.
RELATED: 25 Things to Do with Kids in Newton
Bike the banks.
Feel like moving a little faster than a walking pace? Hop on a bike and cruise the riverbank on the Charles River Bike Path. While Bluebike doesn't rent kids bikes, if you are rolling with older kids you can rent your wheels at the Esplanade Station at Beacon and Arlington Street if you don't have your own.
Hit a playground.
We have four favorite riverfront playgrounds close to the city: The Esplanade Playspace is great for slightly older kiddos, featuring a giant "spiderweb" climbing structure, a climbing tree, zipline, and more. North Point Playground has great views of the Zakim Bridge and is a fun place to play after a day at the Museum of Science. For tiny explorers, check out Stoneman Playground. Along with "big kid" slides and climbing contraptions, Stoneman also features smaller structure designed specifically for toddlers.
RELATED: Guide to Visiting the Museum of Science with Kids
Cool off at a sprayground.
There are a few spraygrounds along the river in or close to the city, including the Charles Bank Playground in Back Bay, the Alfond Memorial Spray Deck in the West End, and the Artesani Playground and Spray Deck in Brighton. Or, if you have adventurous, strong swimmers ages 12 and older, mark your calendar for the annual City Splash—the one day of the year when people are allowed to swim in the Charles River.