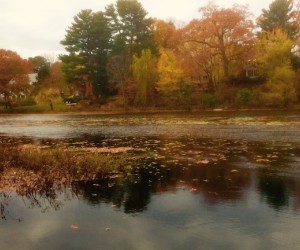 25 Things to Do With Kids in Newton
Newton, bordering Boston to the west, has long enjoyed a reputation as a family-friendly place with its excellent school system and standing as one of the safest U.S. cities to live in. Many of Newton's attractions cater to children, whether plans involve running around the many playgrounds in the city, enjoying the services of the Newton Free Library, or learning to swim at charming Crystal Lake. Below are 25 family fun ideas for Newton residents and visitors alike.
Enjoy the river. Kids can walk, jog, or ride bikes along paved paths at the edge of the Charles River as it follows California Street through the Nonantum and Newtonville neighborhoods. The easy-to-navigate paths offer great views of the river and wildlife.
Choose your playground. Newton is divided into 13 villages, and many of them host their own playgrounds, as do the city's elementary schools. The best playground choices include Newton Centre, Albemarle Field in Newtonville, and behind the Burr School in Auburndale.
Lace those skates. The Daly Rink along Nonantum Road is an indoor ice rink that hosts local hockey games and also has public skating throughout the week during the cold season. Elsewhere, if the temperature cooperates, families may also get the chance to skate outside on the Cove in Auburndale (pictured).
Encourage young readers. The Newton Free Library at the corner of Walnut and Homer streets has a huge, specially-staffed children's reading area, including a toddler room and a separate audio and video selection. Parents should also check out the library's museum pass offerings.
Read in the community. Speaking of libraries, at least two of Newton's villages – Auburndale and Waban – have independent community libraries. Both locations are staffed by volunteers and offer library cards to check out books.
Discover fresh produce. When summer rolls around, Newton offers two farmers' markets: Cold Spring Park in Newton Centre (Tuesdays) and Elm Street in West Newton (Saturdays).
Revisit local history. Learn about Newton's history with the Underground Railroad at the Jackson Homestead and Museum on Washington Street near Newton Corner. Note the location is set to re-open in early February 2016 following renovations.
Hear your echo. Hemlock Gorge in Newton Upper Falls starts as normal trail and then opens up to very cool stone bridge that crosses the Charles River. The span is known as Echo Bridge because if visitors climb down the stairs at Ellis Street and go under the span, their voices echo across the gorge, which is a lot of fun for kids.
Grab some ice cream. Any kid who grows up in Greater Boston knows that every month is good for ice cream, and Newton offers some nice local shops to choose from. Popular picks include Cabot's in Newtonville, Coney Island in West Newton (the owner is especially careful about food allergies), and J.P. Licks in Newton Centre.
Swim in the summer. Nestled between the villages of Newton Centre and Newton Highlands, Crystal Lake is a beautiful, peaceful respite and has a small beach and a fantastic array of summer swim lessons for kids, along with a friendly crew of young lifeguards. Parents will enjoy the swimming, too.
Catch a flick. If any teens are fans of independent or art house movies, they should keep an eye on the listings at the West Newton Cinema, which hearkens back to past days of movies with small theaters. What the cinema lacks in modern amenities it makes up for with its Art Deco allure inside.
Let your dog go free. Newton has an array of dog parks throughout the city at which furry friends can run loose. A favorite is in Cold Spring Park, which visitors can find after taking a trek into the woods a bit.
Remember our wars. American history buffs will get a kick out of the war-themed dioramas in Newton City Hall, which feature miniature figures in detailed scenes from the the Revolutionary War, Civil War, and World War I.
Stroll among mansions. The carriage path along Commonwealth Avenue from Walnut Street to Washington Street – which basically is a narrow side road that homeowners reach their driveways from – can either be a tour of fancy architecture or a dip into opulence, depending on one's view. Walking families will often share the carriage path with athletes training for the Boston Marathon or other road races.
Visit a toy store. There are at least two locally-owned toy stores in the city that offer a step back in time to the atmosphere of small neighborhood toy shops: Green Planet Kids (known locally as the spot at which kids can exchange their Halloween candy for gift certificates to the store) and Learning Express Toys.
Eat some ribs. If any youngsters are aficionados of real barbecue cooking, then a visit to Blue Ribbon Bar-B-Q in West Newton is warranted. This no-frills eatery offers a serious menu from the South, and with no alcohol served, it brings a family-friendly vibe with it.
Amble among ancestors. Whatever the season, a walk through Newton Cemetery on Walnut Street can be pleasant for kids and parents, with its rolling hills, landscaped grounds, fountains, and some really old, ornate tombstones. While not at big (or busy) as nearby Mount Auburn or Forest Hills cemeteries, Newton Cemetery shares their same dedication to natural style.
Celebrate with the community. A non-profit group, Newton Community Pride, runs an extensive list of family-friendly activities throughout the year, including the Chinese Cultural Festival in the winter, Newton Festival of the Arts in the spring, and the day-long July 4th celebration.
Fire up science. NewtonSTEM – a group organized by parents and educators who promote science, technology, engineering, and math (STEM) learning – keeps a nice calendar of events on its website, including upcoming coding and LEGO activities for STEM-minded kids.
Catch a stage performance. Theatre Ink at Newton North High School and South Stage at Newton South High School put on engrossing, fun performances from students at the schools.
Help those in need. Older kids can pay it forward by volunteering at the Newton Food Pantry in the Waban neighborhood or the Centre Street Pantry in Newton Centre. It's a rewarding experience and a great way to meet others in the community. And if children don't have time or aren't the right age to volunteer, they can always swing by with food donations.
Sled and snowboard. Although it's an unofficial destination on private property, the grounds of the Fessenden School along Albemarle Road provide a sharp, slippery hill for sledders, tubers, and snowboarders. Be warned that younger kids may get tossed around on the slope. Bobby Braceland Park in Newton Upper Falls is also a popular sledding spot.
Enjoy the agricultural past. A restored farmer's house, the Durand-Kenrick House and Grounds near Newton Corner offers a chance to interact with history and see what life was like back in the 1700s. Visitors can enjoy family-friendly activities, such as historical-themed games and puzzles.
Canoe the Charles. If your child likes navigating waterways or wants to learn how to paddle, there are several operations that take advantage of Newton's proximity to the Charles River. Charles River Canoe & Kayak launches boats off Nahanton Park near the Needham line, and Boating in Boston offers waterway rentals out of the Newton Boathouse on Commonwealth Avenue near Route 128.
Take in a new water view. The Waban Hill Reservoir – located off Manet Road in the Chestnut Hill neighborhood, interestingly, and not the village of Waban – is actually a former reservoir that the city of Newton completed its purchase of in 2015 from the Massachusetts Water Resources Authority. The city's plans include conserving open space around the pond.