9 Family-Friendly Spots to Watch the Boston Marathon with Kids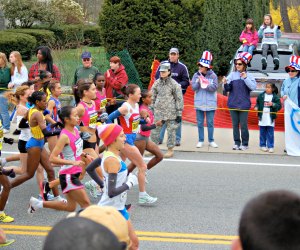 It's finally mid-April again, and Boston's time to shine. Marathon Monday brings out the best of Boston, as half a million people come together to cheer on competitors from around the world. With 26 miles to choose from, it's hard to know the best places to go to get the best view, while staying away from rowdy crowds. Here are a few spots along the marathon route where you can get a great view, while staying close to transportation and places to eat. If watching fife and drum brigades, battles, and other historical enactments is more your family's speed, check out these other Patriots' Day activity ideas.
1. Mile 1: Hopkinton
If you have early risers or kids with short attention spans, the beginning of the race is an exciting place to spend the morning. Stake your spot anywhere in the first two miles of the race. Be warned: the runners will still be a glut of people, but if your family is in it for the excitement, you will love seeing them all run past.
2. Miles 6–8: Framingham
Watching the race from Framingham is a great idea; it's far enough from the start that the runners start to separate from each other, but offers enough space that you aren't mashed in with a million other families. Watching from outside town gives you more space, but being closer to downtown has more bathrooms and restaurants. For public transit, take the Commuter Rail to Framingham Station.
3. Mile 10: Natick Center
If you're feeling committed, stake out your spot on the Natick Town Green early. At this point in the race, runners are spaced out a little more, so you have a good chance at seeing the elite runners, as well as having some elbow room. Natick is a lively spot, with access to bathrooms and restaurants, like The Common Cafe and Kitchen. For a quieter scene, try the West Natick rail stop.
4. Mile 13: Downtown Wellesley
Halfway through the race is downtown Wellesley, another exciting—but not overly crowded—viewing option. Families arrive early with picnics, blankets, and their best cheering voices. You can park near the Library or get the commuter rail, which can drop you in one of two places—Wellesley Square or Wellesley Hills. Either spot is along the route and close to treats (try JP Licks in Wellesley Square or Caffe Nero in Wellesley Hills for hot chocolate).

The finish line promises big crowds (and excitement). Photo by Kyle Klein courtesy of Greater Boston Convention & Visitors Bureau
5. Miles 17–18: West Newton
At this point in the race, runners are really feeling the burn. Families love to stop here to watch the runners and let their kids run around a little bit too, since stretches of Commonwealth feature expansive grassy dividers and a roomy carriage road. Look for the red brick fire station in West Newton and watch the runners psych themselves up for the upcoming hills.
6. Miles 20–22: Heartbreak Hill
If moral support is your thing, head to the Newton hills—we'd recommend the stretch of Commonwealth after Centre Street. With six miles left to go, runners find the four Newton hills brutal. It's at this point that they really need the support—and families deliver. With a more family-friendly vibe than Wellesley's Scream Tunnel or the BC area, Heartbreak Hill is a great place to come with your kids and scream your heart out.
7. Mile 23: Coolidge Corner
My family has gone to the same spot every year for eight years—the long, flat stretch along Beacon Street leading into Coolidge Corner. It's a perfect spot for us, with lots of room for the kids to run around, great views of the runners, and a short walk to Coolidge Corner for lunch. Coolidge Corner itself is a little rowdy for us, so we prefer to make our own cheering section.
8. Miles 24-25: Kenmore Square
If you have older children who aren't bothered by crowds, you can try Kenmore. The annual Red Sox game lets out around 2pm, so make sure you get there before (or long after) then, when things get really wild. Keep in mind that if you're interested in actually seeing the race, Kenmore is probably not for a great choice, but the people watching should be superb.
9. Mile 26: Boylston Street
As with Kenmore Square, Boylston is probably best for older kids. Throngs of people line the street, waiting to see runners finish the race. If you can handle the masses, though, what could be more exciting than being right at the finish line?