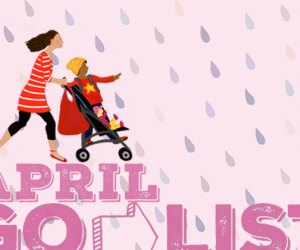 April GoList: Best Things To Do with Kids in Boston
April is jam-packed full of fun ways to soak up springtime...and as always, our Boston GoList features a carefully curated roundup of the absolute best things to do with kids throughout the month. Sheepshearing, stargazing, Easter egg hunts, and Patriots Day parades are just some of the awesome events on tap for April. And with warmer weather on its way, it's a good time to bookmark our spring fun guide, too.
For even more ideas, be sure to check our
Event Calendar
, like our
Facebook page
, and subscribe to our
free newsletter
to get posts like this delivered directly to your inbox.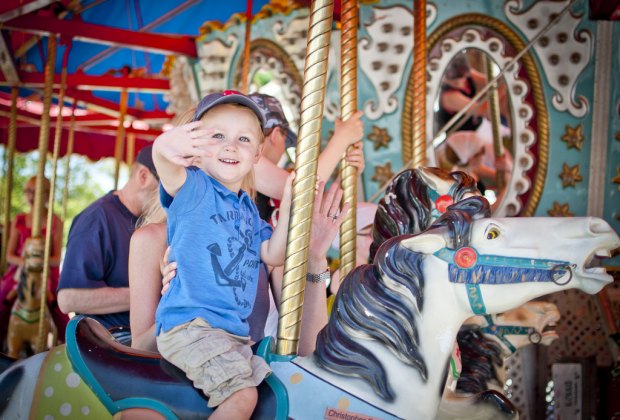 Expect rides and family fun at the Revere Carnival. Photo by Chris McClave/CC BY 2.0
Revere Carnival - Revere
Saturday, March 30 through Sunday, April 14, 2019
Free admission, ride band $25-$30
What better way to enjoy the Spring weather than at a good 'ol fashion carnival?! With 20 rides, games, food, and a petting zoo, you're little ones will have blast! Ride bands are $30 at the carnival or $25 with this coupon.
Easter Egg Hunts - Various Locations
Sunday, April 6 through Sunday April 21, 2019
Free and up
Get your baskets out, because it's egg hunting season! From parks to farms, there's a hunt for little bunnies of all ages, and lots of the egg hunts come with extra Easter fun! Snap a pic with the Easter Bunny, get crafty, play games, and more!
Astronomy After Hours - Boston
Fridays, April 5 through April 26, 2019
Free
Set your eyes on the stars! Weather-permitting, at the Gilliland Observatory on the roof of the museum's parking garage, you can view stars, planets, the Moon, and other astronomical phenomena.
Big Apple Circus - Peabody
Sunday, April 6 through Monday April 29, 2019
Tickets $35 and up
Take your little clowns under the big top for a day at the circus. Listen to the 100-man Big Apple Circus Band, watch contortionists twist into mindbogglingly shapes, let aerial acrobats take your breath away, and more!
Volunteer Expo - Prudential Center, Boston
Thursday, April 11, 2019
Free
Families have the opportunity to mix, mingle, and meet with community groups from the Boston and Greater Boston areas who are all looking for volunteers. Looking for a volunteer opportunity, but not sure what is available? Trying to find a group that fits your interests? With over 60 groups participating, this is the forum for you to find just what you are looking for.
James and the Giant Peach - Wheelock Family Theatre, Boston
Opens Friday, April 12, 2019
Tickets $20-$40
This new musical adaptation of Dahl's classic story features all the fun rhymes of the book, plus whimsical music and lyrics from the creative team behind The Greatest Showman and Dear Evan Hansen.
Cambridge Science Festival - Cambridge
Friday, April 12 through Sunday, April 21, 2019
Most events free
The Cambridge Science Festival is a celebration showcasing the leading edge in science, technology, engineering and math. A multifaceted, multicultural event every spring, the Cambridge Science Festival makes science accessible, interactive and fun. There are more than 200 events taking place at multiple locations.

Spring brings the budding trees and the swan boats! Photo by Ingfbruno via Wikimedia Commons/CC BY-SA 3.0
Swan Boats Opening Day - Public Garden, Boston
Saturday, April 13, 2019
Adults $3.50; Children (2-15) $2
The Swan Boats grace the waters of the Boston Public Garden today. Swan Boats' drivers paddle passengers around the Public Garden Lagoon for a peaceful, 15-minute cruise.
Boston Symphony Orchestra Family Concert - Boston
Saturday, April 13, 2019
Tickets $20
The BSO's Family Concert Series provides engaging, age-appropriate, educational orchestral concert experiences especially for children ages 3-8 and their families. The concerts are designed to build connections to the orchestra, orchestral music, the Boston Youth Symphony Orchestras, and Symphony Hall.
KERPLUNK! A Musical Improv for Kids - Somerville
Saturday, April 13, 2019
Adults $15; Children Free
This show is a create-your-own-adventure where kids in the audience call all the shots, from the name of the show, to the decisions the characters make. Space pirates, talking dogs, trees that hug *you*... each performance is based on the audience's imagination so no two adventures are ever the same.
Patriots' Day - Concord
Monday, April 15, 2019
free
Patriots' Day is unique to Massachusetts, yet central to the history of the entire country. One of the most popular celebrations in the region, the Concord Parade begins in the town center and travels to North Bridge, where there will be a battle reenactment of the "shot heard 'round the world."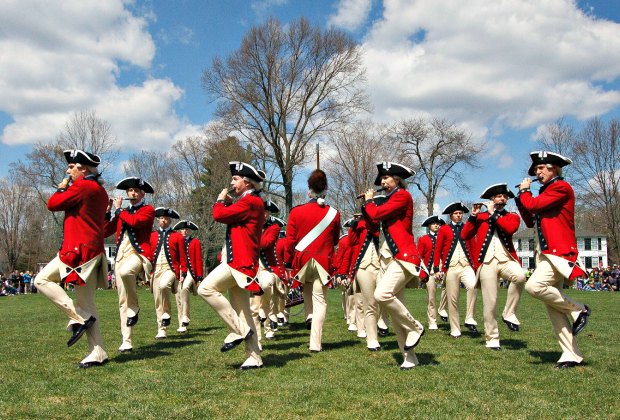 Watch fife and drum brigades and more reenactments on Patriots Day. Photo by SFC Richard Ruddle/CC BY 2.0
Boston Marathon - Hopkinton to Boston
Monday, April 15, 2019
Free to watch
The Boston Marathon is the world's oldest annual marathon and is one of the world's most prestigious road races. Spectators can cheer the runners on throughout the course.
The historic course starts on Main Street in the rural New England town of Hopkinton and runs through Ashland, Framingham, Natick, Wellesley, where Route 135 joins Route 16. It continues along Route 16 through Newton Lower Falls, the Newton Hills, Chestnut Hill to Cleveland Circle, through Kenmore Square, and under Massachusetts Avenue. The course finishes near the John Hancock Tower in Copley Square.
Optimal viewing locations are listed on the marathon website, as well as a course map and viewer information.
Sesame Street Live - Boston
Friday, April 19 through Sunday April 21, 2019
Tickets $25 and up
Bring your little ones to see their favorite Sesame Street characters up close and personal! Elmo can do many things...but he can't do magic! That's when he teams up with Abby and magician extraordinaire Justin and learns the "power of yet" - the lesson of perseverance no matter what stands between you and you dream.
PJ Masks Live - Boston
Friday, April 26 through Sunday, April 28, 2019
Tickets $37 and up
Your little super heroes will love this all new super-heroic, live musical show, featuring their fav heroic trio.Watch Catboy, Owlette and Gekko, along with their new friend PJ Robot, as they try to save the day from the sneaky villains - Romeo, Night Ninja and Luna Girl.
Boston Kids Comic Fest - Boston
Saturday April 27, 2019
Free
Calling all budding comic illustrators and writers! Explore "kid friendly-comics", graphic novels, and hybrid books during this second annual event that features a book fair and exhibitors. Enjoy a range of hands-on workshops on comic creation, drawing, using comics in the classroom and your library, and more.
Annual Sheepshearing Festival - Waltham
Saturday, April 27, 2019
Adults $20; Children (0-12) Free
Families can enjoy demonstrations of sheep shearing and sheepherding, a large crafts fair, live music, historic crafters, farm animals and fiber arts demonstrations. For an additional fee you can also take ground floor tour of the mansion and go on a wagon ride.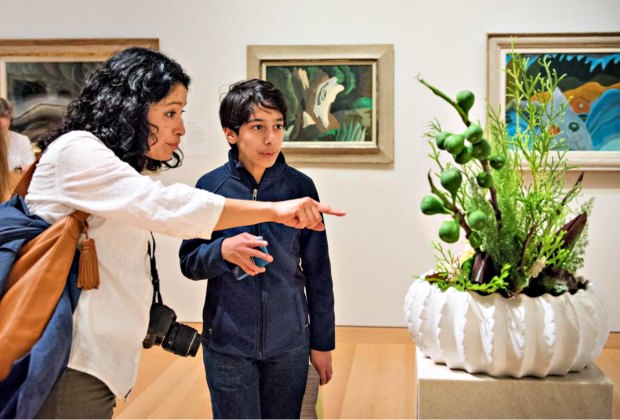 Art in Bloom is where creativity meets floral design. Photo courtesy of Museum of Fine Arts, Boston
Art in Bloom - Museum of Fine Arts, Boston
Saturday, April 27 through Monday, April 29, 2019
Free with admission
Celebrate spring at this annual festival of fine art and fresh flowers at the Museum of Fine Arts. Families can enjoy art-making activities, storytelling, and more as part of the MFA's annual transformation of its galleries with almost 70 extraordinary arrangements inspired by magnificent works of art.
Japanese Festival - Boston
Saturday, April 27 through Sunday, April 28, 2019
Free
Featuring dozens of booths offering delicious foods and goods, games, and activities typical to traditional Japanese festivals, as well as music and performances by local artists, the Haru Matsuri is a weekend full of fun and festivity in the Boston Common.
Run of the Charles - Boston
Sunday, April 28, 2019
Free to watch, $50 and up to participate
Have a blast paddling on the Charles River, with races starting in Dedham, Needham, Newton, and Brighton. All races will finish at DCR's Artesani Park on Soldiers Field Road in Brighton, where race fans and families will gather to enjoy a day of music, refreshments, exhibits, raffle drawings, picnics, and awards at the free Finish Line Festival.