Cut-Your-Own Christmas Tree Farms Near Boston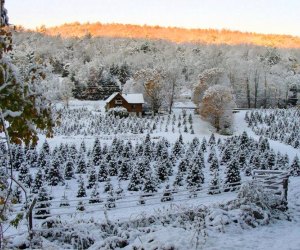 Once you cut your own Christmas tree straight from a field, it's hard to go back to purchasing one from a parking lot corral. From the crack of the bark to the sharp evergreen aroma, a fresh-cut tree is special, and finding the perfect one and chopping it down at one of the many cut-your-own Christmas tree farms near Boston makes for a fun family adventure. Some of our favorites, from north and south of Boston to the western suburbs, have festive music and beautiful holiday decor for sale, too.
For more holiday and Christmas activities, find great events in our list of the Top 16 Holiday Events and Christmas Activities for Boston Kids and explore our Boston Holiday Fun Guide.

Christmas Tree Farms North of Boston

Smolak Farms offers holiday activities, cut-your-own Christmas trees, and a shop with wreaths and more. Photo courtesy of the farm
If you are going to Smolak Farms to enjoy holiday activities, like cookie decorating and story time, and want to walk in nature to find your perfect Christmas tree, the popular farm has a limited number of cut-your-own, including Fraser fir and balsam fir. Watch for and enjoy seeing fallow deer that live on the farm, and be prepared to haul your tree to your car as it's generally self-service. The farm store carries refreshments and beautiful wreaths and kissing balls.
Select from Fraser fir and some balsam fir at this farm. Stop by the Christmas Gift Shop and pick up unique gifts, drink complimentary apple cider and try delicious honey samples. New to the farm this year are goats and chickens.
There are a variety of trees to choose from: Fraser, balsam, and Douglas firs, plus blue spruce. The farm also offers pre-cut trees and cut-your-own trees at two additional locations, with one of these dedicated to big (10-plus-foot) trees. Check the website for availability.
Award-winning blue spruce, Fraser fir, and plenty of Douglas firs are all here at Turkey Hill Farm. The fee includes cutting, wrapping, and drilling.
Christmas Tree Farms South of Boston
Tree-Berry Farm grows a wide variety of trees: balsam fir, Fraser fir, Canaan fir, white spruce, and blue spruce. You can cut your own or one of the friendly staff members can cut it for you once you pick the right tree. Tree delivery is also a helpful option at this farm.
Balsam, Fraser, and concolor firs are available at this farm. You can also find a festive wreath, swags, or mistletoe to complete your holiday decorating. Reservations are required in 2021.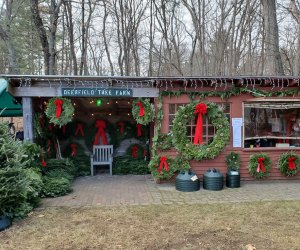 Warm up by the fire pit with a warm hot chocolate or coffee after you cut your own Christmas tree. Photo courtesy of Deerfield Tree Farm
You can choose from a variety of spruce and fir trees at this farm. The festivities continue with a fire pit, coffee, and hot cocoa for warming up. Santa even visits, he will be there on November 27.
The farm offers a variety of trees: balsam fir, Fraser fir, concolor fir, blue spruce, white spruce, and Norway spruce. The farm also sells firewood and birch logs for decorating. Please note that there will be additional Early Bird Tree Fees added to each tree sold on November 26, 27, and 28 in order to support the farm with historically large influxes of customers on these days.
Christmas Tree Farms West of Boston

The gorgeous setting at Sleigh Bell Christmas Tree Farm invites visitors looking to cut their perfect trees to stop for perfect holiday photos. Photo courtesy of the farm
Choose from a large variety of cut-your-own spruce, pine, and fir trees. The farm also offers swags, wreaths, and more in the holiday gift barn. The hay wagon and food vendors will be closed for 2021, but Santa and Mrs. Claus will be visiting on November 27 and December 4 for socially distant photo opportunities.

Wreaths are just as special as the trees at Mistletoe Christmas Tree Farm. Photo courtesy of the farm
This farm sells a wide variety of trees: Fraser fir, balsam fir, Fralsam fir, Canaan fir, concolor fir, blue spruce, and Norway spruce. They also sell pre-cut trees for visitors who come after the cut-your-own trees have sold out. The farm has an old-fashioned atmosphere, with Christmas music playing and hot cocoa for sipping.
The orchard offers many beautiful trees for cutting, mostly balsam firs. Trees are sold on a first-come, first-served basis (no pre-tagging).
Christmas Tree Farms in Western Massachusetts

Kids love wandering Cranston's Christmas Tree Farm's sloping hills in search of the family Christmas tree. Photo courtesy of the farm
A road trip to Cranston's will not disappoint with its rows of balsam, concolor, and Fraser fir trees. Cranston's also offers pre-cut trees, wreaths and greenery, maple syrup, honey, brush ornaments, syrup gift boxes and baskets, and more.
This farm in Belchertown offers rows of Fraser fir, blue spruce, and other types along with trees up to 9 feet tall. On weekends, helpers are there to assist in cutting and carrying your fresh-cut tree, but on weekdays the farm recommends bringing a tarp to drag your tree to your car. This farm also has wreaths, sprays, holly bunches, and tree stands. After 50 years of hosting two Christmas tree farm locations, the owner has closed the Wilbraham location.

After cutting your Christmas tree, head to the Sleighbell Gift Barn to pick up handcrafted gifts and holiday decor. Photo courtesy of Sleigh Bell Christmas Tree Farm
Originally published November 2011
Updated November 2021