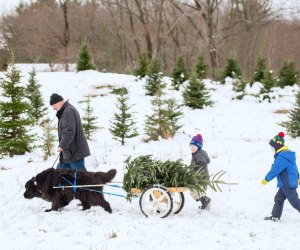 Cut Your Own Christmas Tree Farms Near Boston and in Massachusetts
After seeing Christmas trees lit up everywhere from Boston Common to your own neighborhood square this time of year, kids get excited to select and decorate their own towers of evergreen. Cutting your own Christmas tree straight from a New England farm adds an outdoorsy, adventurous feel to this annual family outing. Many cut-your-own locations around Massachusetts also have festive music, hot cocoa or cider, and beautiful ornaments for sale, too.
See our Boston holiday fun guide for more ideas for making merry with your family this November and December, including Polar Express Trains, Santa Breakfasts, Christmas Teas, and more.
Christmas Tree Farms North of Boston
Smolak Farms — North Andover
Choose 'n' cut trees include Fraser fir and Balsam fir. Stay for one of the special events offered by the farm during the Christmas season, like Santa's Workshop visits and Tea with Mrs. Claus. You might even spot some of the fallow deer that live at the farm while you're on site.
Greenwood Tree Farm —​ Billerica
Select from Fraser and some Balsam Firs at this farm. There is also a Christmas Gift Shop where you can pick up unique items for gifting this season and try complimentary apple cider.
Crane Neck Tree Farm ​— West Newbury
There are a variety of trees to choose from: Fraser, Balsam, Douglas Firs, plus Blue Spruce. The farm also offers pre-cut trees and cut-your-own trees at two additional locations, with one of these farms dedicated to big (10-plus-foot) trees.
Turkey Hill Farm — Haverhill
Blue Spruce, and Fraser and Douglas Firs are available; price includes cutting, wrapping and drilling. Tagging is allowed at this farm, so you can pick your tree early in the season and come back later to cut it down.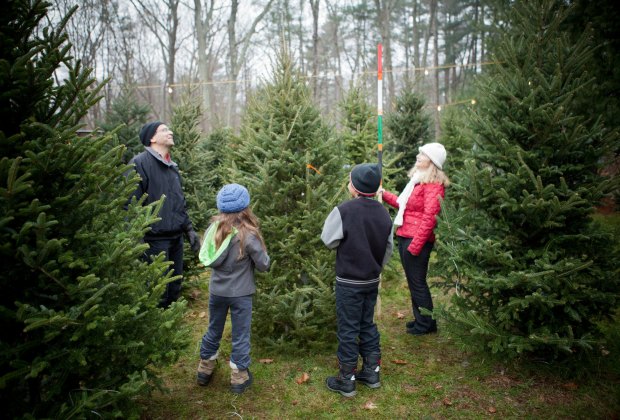 Hunting for a tree is even more exciting when it's growing on a farm, like Deerfield Tree Farm. Photo courtesy of the Massachusetts Office of Tourism
Christmas Tree Farms South of Boston
Tree-Berry Farm — Scituate
Tree-Berry Farm grows a wide variety of trees: Balsam Fir, Fraser Fir, Canaan Fir, White Spruce and Blue Spruce. You can cut your own or one of the friendly staff members can cut it for you once you pick the perfect tree.
Indian Rock Farm — Foxborough
Balsam, Fraser and Concolor Firs are available at this farm. You can also pick up a festive wreath, swag or mistletoe to complete your holiday decorating.
Deerfield Tree Farm — Millis
You can choose from a variety of spruce and fir trees at this farm. The festivities continue with a fire pit and coffee and hot cocoa for warming up. Santa even visits on select days!
Pakeen Farm — Canton
The farm offers a variety of trees: Balsam fir, Fraser fir, Concolor fir, Blue Spruce, White Spruce and Norway Spruce. The farm also has pre-cut trees, hot cocoa, wreaths and other holiday decorations.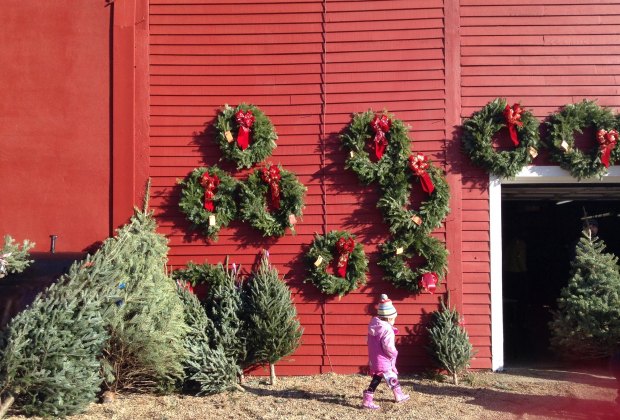 Wreaths are just as special as the trees at Mistletoe. Photo courtesy of Mistletoe Christmas Tree Farm
Christmas Tree Farms West of Boston
Vandervalk Tree Farm — Mendon
Select from cut-your-own Balsam and Fraser fir trees. Or get one of the pre-cut trees available at the farm. Visit the Christmas Barn for holiday goods and decorations. Added bonus—this tree farm is also a winery and offers tastings during your visit.
Doe Orchards — Harvard
The orchard offers Balsam fir, Concolor fir and Blue Spruce. Trees are sold on a first-come, first-served basis (no pre-tagging).
Sleigh Bell Christmas Tree Farm — Sutton
Choose from a large variety of cut-your-own spruce, pine and fir trees. The farm also offers swags, wreaths, hay wagon rides on weekends, cocoa, fire pit for warming up, and a holiday gift barn. Santa visits during the first weekend of December!
Mistletoe Christmas Tree Farm — Stow
This farm sells a wide variety of trees: Fraser fir, Balsam fir, Fralsam fir, Canaan Fir, Concolor fit, Blue Spruce and Norway Spruce. The farm has an old-fashioned atmosphere, with Christmas music playing and hot cocoa for warming up.
Christmas Tree Farms in Western Massachusetts
Cranston's Christmas Tree Farm — Ashfield
The farm grows Balsam, Concolor and Fraser fir trees. It also offers pre-cut trees, wreaths and greenery, maple syrup, honey, brush ornaments, syrup gifts boxes and baskets, and more.
Radebaugh's Christmas Tree Farms — Belchertown and Wilbraham
Two locations offer a variety of fir trees. The farms also offer wreaths, sprays, garlands, tree stands and live trees. Saws and twine provided, baling available ($). Originally published November 2011