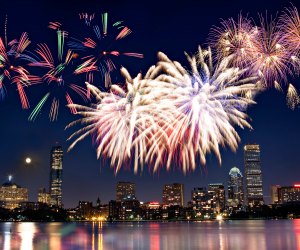 Fourth of July Fireworks and Festivities in Boston for Kids and Families
Celebrating the 4th of July in patriotic Boston is something everyone should experience. There are plenty of red, white, and blue July 4th festivities and fireworks happening in the Boston area that promise bright displays, kids activities, live music, and more. Some fireworks celebrations are near our favorite parks, others are near popular beaches, but all invite wide-eyed wonder from kids—especially those who can stay awake for the sparkly fireworks show.
Before heading out, check the weather forecast and parking restrictions, especially at beaches. Some venues allow non-residents to pay for parking on-site, but others require passes to be purchased in advance at a separate location.
This post was originally published June 6, 2019.