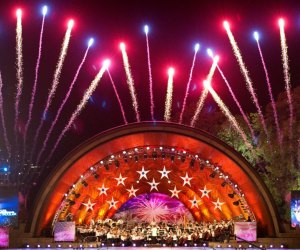 Fourth of July Fireworks and Festivities for Boston Kids and Families
Celebrating the 4th of July in patriotic Boston is something everyone should experience. Many Boston-area Independence Day celebrations have been happening annually for generations, only getting bigger and better with time. With so much enthusiasm for America's birthday in our area, the pyrotechnics are no longer limited to the big party on the Esplanade. There are plenty of things for kids to do to show their patriotic spirit. Some celebrations are near our favorite parks, others are near popular beaches, but all invite wide-eyed wonder from kids—especially those who can stay awake for the sparkly show.
As always before heading out, check the weather forecast and parking restrictions, especially at beaches. Some venues allow nonresidents to pay for parking on-site, but others require that passes be purchased in advance at a separate location.