Maple Sugaring with Boston Kids: Maple Syrup Festivals, Sugar House Tours in Massachusetts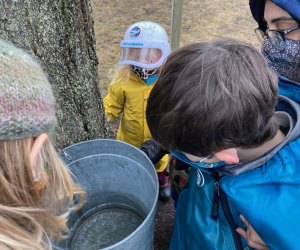 One of the sweetest things about living in Massachusetts is being able to experience maple sugaring firsthand. Bostonians don't have to go very far to enjoy maple sugar festivals, learn to tap maple trees at farms, or watch sap being boiled down in sugar houses. Of course, the best part is tasting the final product!
Read on for the maple sugaring activities and sugar house tours available to families during this year's syrup season, starting in late February and lasting through March. Make the most of the next couple months by checking out our favorite snowshoeing spots and snow tubing areas in our Boston winter fun guide.
Maple Syrup Events and Activities near Boston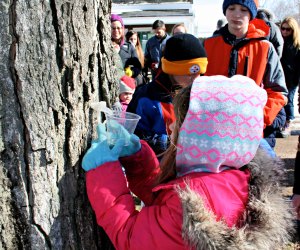 Collect sap for syrup at Maple Weekends. Photo courtesy of Appleton Farms
Saturdays and Sundays, February 19-March 27, 2022
Weekends at this farm will have maple demonstrations in their Sugar Shack, located next to the Farmhouse. Find hot sandwiches, seasonal soups, and fresh baked goodies served at the Appleton Farmhouse. Book a fire pit to get toasty or enjoy hiking one of the farm's trails while visiting.
February 26, 2022
Pick your very own tree to tap with your bucket and get a bottle of maple syrup at the end of the season. And now that you're in the business of syrup, learn all about being a maple farmer during your visit.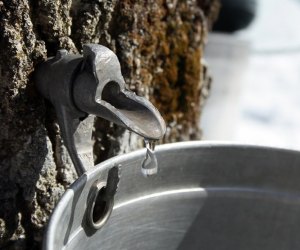 Boston kids can find maple sap flowing very close to home. Photo courtesy of the Boston Nature Center
February 26 & March 5, 2022
​Help collect and boil down sap from the trees found around this urban nature center, and then sample some delicious maple treats. The Nature Center provides families with a genuine maple sugar experience within the city of Boston.
February 26, 2022
​Led by a Trustees of Reservations naturalist and ranger, during this event you'll learn how to identify maple trees, and explore the history of tapping. Each participant will have the opportunity to set their own tap.

See an old-fashioned maple sugar boil down in Sturbridge. Photo courtesy of Old Sturbridge Village
Fridays, Saturdays and Sundays, March 4-27, 2022
Old Sturbridge Village is celebrating history and the season with their Maple Days happening four weekends in March. Costumed historians are on hand to explain how maple syrup was harvested in the early 19th-century and even cook food made with it from that time period.

Boston kids can see tree tapping at maple sugar tours in Massachusetts. Photo courtesy of the Massachusetts Maple Producers Association
6. Maple Sugaring Saturdays at Ipswich River Wildlife Sanctuary—Topsfield
Saturdays, March 5-19, 2022
Take one of the naturalist-guided Weekend Maple Sugaring Tours on 3 different Saturdays in March. Learn how to identify a sugar maple, observe tapping and sap collection methods, watch the sap being boiled down in the sugarhouse, and get a taste of the final product. After the one-hour tour, take some time to warm up in the barn by the woodstove, indulge in a hot dog cooked in maple sap, sample delicious soups and desserts made by volunteers, and browse through the gift shop.
March 12-13, 2022
Families can learn a bit of maple history at this community fundraiser weekend, with guided walks through the sanctuary to meet costumed re-enactors demonstrating and explaining the traditions of the maple sugaring process. Advance registration is required.