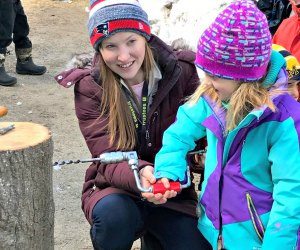 Maple Sugaring with Boston Kids: Maple Syrup Festivals, Sugar House Tours in Massachusetts
One of the sweetest things about living in New England is being able to experience maple sugaring firsthand. Bostonians don't have to go very far to enjoy maple sugar festivals, take tours of farms, watch sap being boiled down in sugar houses, or learn to tap maple trees. Of course, the best part is tasting the final product – in syrup poured over pancakes, as candies, and even in hot dogs. Celebrate maple sugaring season with special events and visits to these local maple farms.
For more ideas for getting the most out of the season, check out our winter fun guide, sign up for our free newsletter, and follow our Facebook page. Have a sweet time among the maples!
Maple Syrup Festivals and Events near Boston
1. Maple Sugaring for All at the Boston Nature Center—Mattapan
February 29
​Help collect and boil down sap from the trees found around this urban nature center, and then sample some delicious maple treats.
2. Maple Tree Tap-A-Thon—Southborough
February 29
​Led by a Trustees of Reservations naturalist and ranger, during this event you'll learn how to identify maple trees, and explore the history of tapping. Each participant will have the opportunity to set their own tap.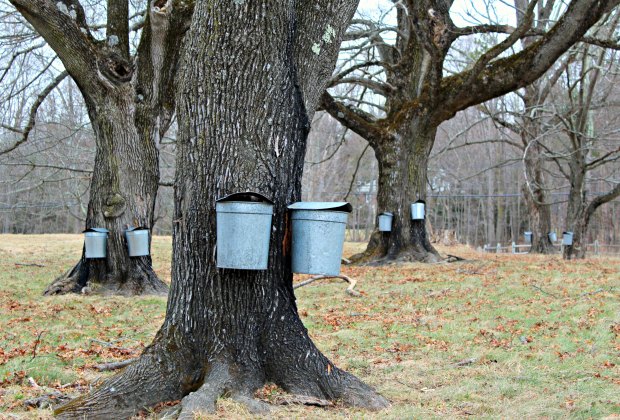 Maple sugar buckets await at Mass Audubon's Drumlin Farm. Photo courtesy of Drumlin Farm
3. Maple Magic Day at Natick Community Organic Farm—Natick
February 29
Visit the Natick Community Organic Farm for Maple Magic Day, where you'll learn about current maple sugaring techniques as well as Native American and Colonial ways of making the sweet stuff. Go early for the Annual Pancake Breakfast, where gluten-free and vegan pancakes are available. ​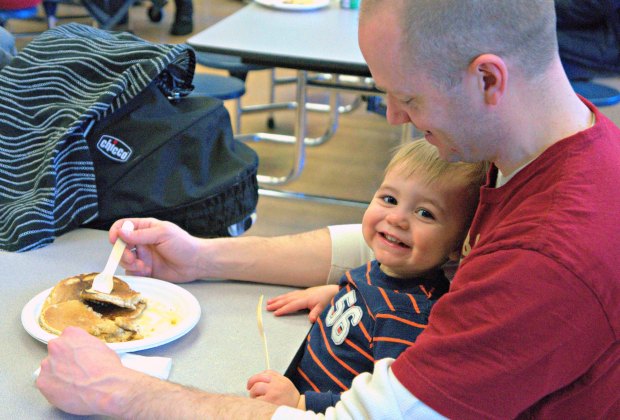 Littles enjoy a short stack at Maple Magic Day. Photo courtesy of Natick Community Organic Farm
4. Sugaring Celebration at the Mass Audubon Habitat Education Center and Wildlife Sanctuary—Belmont
March 7 & 8
Families come together at this Mass Audubon-led event to identify maple trees, collect sap, participate in sugaring activities, hear stories, and see a boil down. There are one and a half hour time slots to choose from starting in the morning and running through the afternoon. The fun starts indoors and moves outside.
5. Ipswich River Wildlife Sanctuary Sugaring Tours and Flapjack Fling—Ipswich
Saturdays and Sundays, February 29 -21; March 21
Take one of the naturalist-guided Weekend Maple Sugaring Tours on weekends from the last weekend in February through March 21st. Learn how to identify a sugar maple, observe tapping and sap collection methods, watch the sap being boiled down in the sugarhouse, and get a taste of the final product. After the one-hour tour, take some time to warm up in the barn by the woodstove, indulge in a hot dog cooked in maple sap, sample delicious soups and desserts made by volunteers, and browse through the gift shop. And don't miss the grand finale of the sugaring season: The Flapjack Fling, a pancake breakfast followed by a sugaring tour, on March 21. Advance registration is required.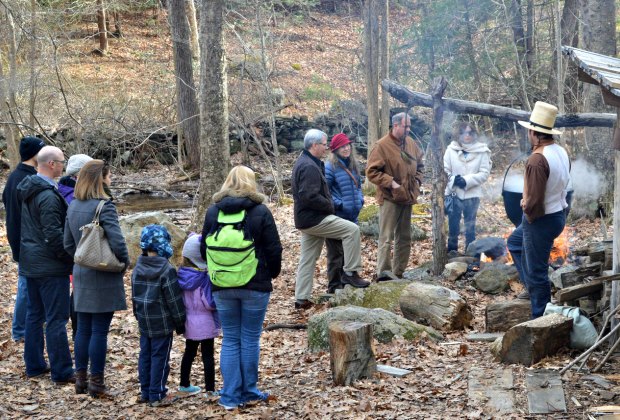 See an old-fashioned boil down in Sturbridge. Photo courtesy of Old Sturbridge Village
6. Maple Days at Old Sturbridge Village—Sturbridge
Saturdays and Sundays, March 1-22
Old Sturbridge Village is celebrating history and the season with their Maple Days happening four weekends in March. Costumed historians are on hand to explain how maple syrup was harvested in the early 19th-century and even cook food made with it from that time period.
7. Sap-to-Syrup Farmer's Breakfast at Drumlin Farm—Lincoln
March 7 and 8
Bring your appetites! There will be sugaring demonstrations and a pancake breakfast with Drumlin Farm-made maple syrup, sausage, and potatoes.
8. Maple Sugar Days Festival at Brookwood Farm—Canton
March 28 and 29
Join the Blue Hills Trailside Museum and the Massachusetts Department of Conservation and Recreation for the Maple Sugar Days Festival. On Brookwood Farm, in the DCR Blue Hills Reservation in Canton, you can watch as maple syrup is made in the traditional way, complete with wood smoke and clouds of steam, and then taste the sweet results. There are activities for the kids, and you can get a bite to eat while you're there.
Maple Farms and Sugar House Tours Near Boston
9. Woodville Maples—Hopkinton
What started as a hobby soon became an obsession, and now Woodville Maples, a family-run sugar house in Woodville, Massachusetts, a village of Hopkinton, has more than 100 taps. The family sells syrup, honey, maple and honey-coated nuts, gift baskets, maple candy and maple cotton candy. They welcome visitors during boil times – call ahead, email or check the Woodville Maples Facebook page to find out when they are boiling down.
Contact: 508-341-5108 or woodvillemaples@verizon.net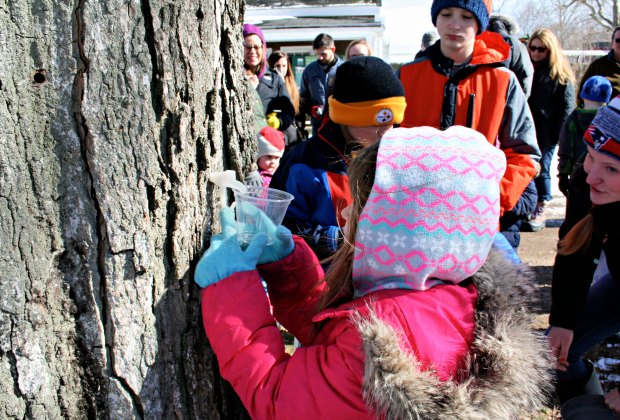 Collect sap for syrup. Photo courtesy of Appleton Farms
10. Appleton Farms—Hamilton and Ipswich
At "Sugar Shack Saturdays" on select Saturdays in February and March, families tour around the farm to see how sap is collected and turned into syrup, and also enjoy maple-themed crafts and a snack.
Contact: 978-356-5728 or appletonfarms@thetrustees.org
11. Quissett Hill Farm—Mendon
This maple syrup producer will open up its farm to the public on March 21 and 22 from 11 am to 3 pm to demonstrate how their syrup is made and introduce their beautiful alpacas.
Contact: 508-954-9527 or ji@quissetthillfarm.com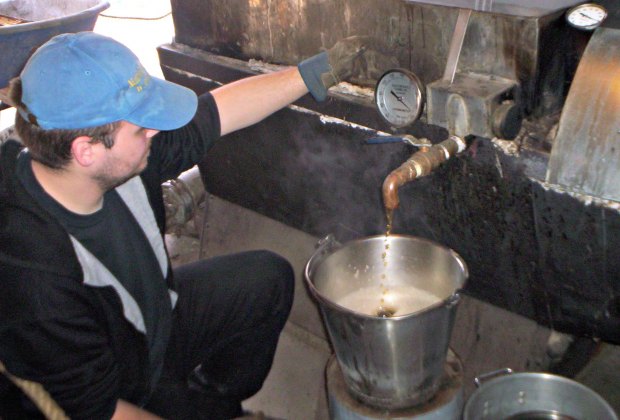 At Matfield, tours include lots of information about the science of sugaring. Photo courtesy of Matfield Maple Farm
12. Matfield Maple Farm—​West Bridgewater
Tours at Matfield Maple Farm include a hike through the farm and into woods where the trees are tapped. You'll hear about the history, weather relationship and heritage of sugaring. Plus, you'll get to see natural springs and visit with the farm's furry llama friends. Tours usually happen select Sundays in March at noon and at 2pm for $10/person; children under 3 are free. Reservations are required.
Contact: 508-588-9858 or matfieldmaple@comcast.net
Post originally published February 2014