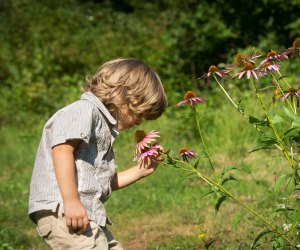 11 Places Where Kids Can Pick Flowers Near Boston
With ample room to roam around, farms are a great place to bring kids on a nice afternoon. There are lots of local farms that let you pick your own strawberries, blueberries and apples, but equally exciting for kids are spots where they are not just allowed, but encouraged to pluck (and take home) some colorful flowers. There are several Boston-area farms and historic sites that have pick-your-own flower fields where families can select beautiful blooms to brighten their homes or give as gifts. Here's a rundown of 11 local farms and estates that allow you to make your own bouquet.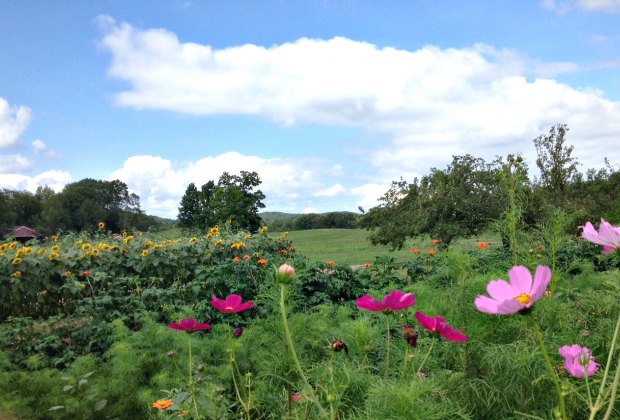 Chestnut Hill Farm. Photo courtesy of The Trustees
Chestnut Hill Farm—Southborough
West of Boston you'll find Chestnut Hill Farm, which is run by the Trustees of Reservations. The farm has a popular CSA (community supported agriculture) program and members are invited to pick flowers and crops as part of their subscription. Non-CSA members are also allowed to pick flowers at Chestnut Hill and bouquets are priced per bunch. The farm also has walking trails to explore once you're done picking.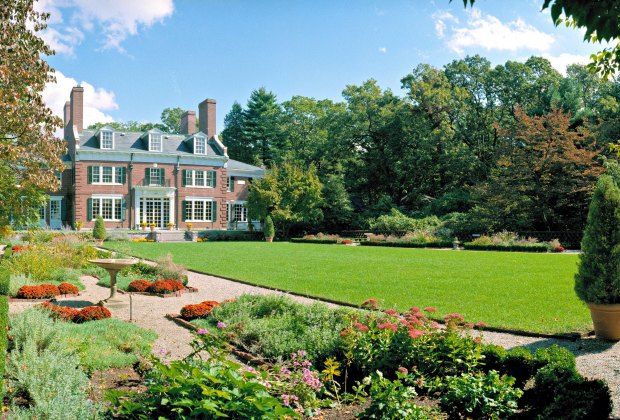 The formal gardens at the Eleanor Cabot Bradley Estate. Photo by N.Gordon courtesy of The Trustees
Eleanor Cabot Bradley Estate—Canton
This summer the Eleanor Cabot Bradley Estate is hosting Make It Take It Bouquet Saturdays from July 8 to 22 from noon-2 p.m. Guests are invited to walk the kitchen garden paths at this 90-acre country retreat to select beautiful blooms for their mason jar bouquet. There will be additional herbs and flowers for purchase at the farmstand as well as opportunities to learn about flower arranging.
Green Meadows Farm—South Hamilton
This North Shore farm offers pick-your-own flowers through its flower CSA. If you purchase a share for the 12-week season (late July to early October), you're welcome to come to the farm to cut the blooms you like best. Green Meadows also grows organic fruits and vegetables, raises heritage breed sheep and pigs for lamb and pork, plus has its own eggs for sale at its farmstand.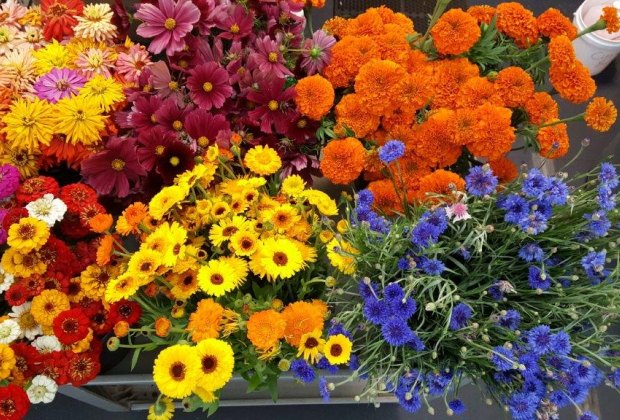 Photo courtesy of Verrill Farm
Hanson's Farm—Framingham
A fifth-generation farm, Hanson's prides itself on growing 180 varieties of fruits and vegetables on 52 acres west of Boston that it sells at its farmstand. The farm also grows pick-your-own flowers that are available every summer from mid-June to the first frost of the fall. Hanson's has you-pick strawberries and pumpkins, plus a haunted hayride in October that's perfect for older kids ready for a spooky thrill.
Land's Sake—Weston
Land's Sake is a community farm that's also a nonprofit dedicated to supporting environmental education programs, food donation programs and land management. It offers a CSA, farmstand and tons of ways to get involved through farm visits, school outreach and even birthday parties. Land's Sake is widely known in the area for being a premier place to pick your own flowers. In 2016, the farm grew 100 varieties of flowers that were available to cut from late June through early October.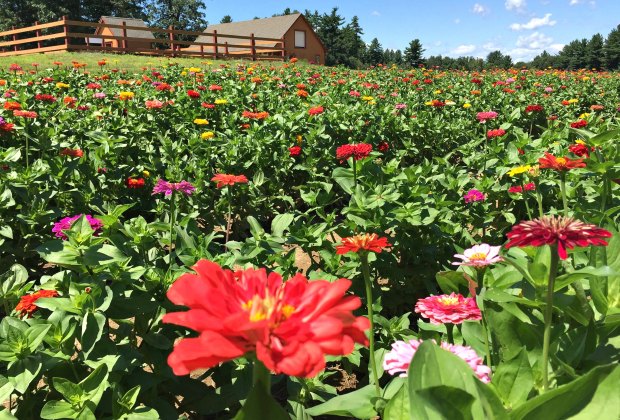 Zinnias at Parlee Farms. Photo courtesy of Parlee Farms
Parlee Farms—Tyngsborough
I recently wrote about visiting Parlee Farms to check out its on-site petting zoo, Annie's Animal Barn, which has 70 animals available for kids to interact with. In addition to lots of furry friends, Parlee has extensive you-pick operations that include strawberries, cherries, blueberries, peaches, apples, pumpkins, and even flowers. Every year from late July through late September, Parlee grows zinnias, sunflowers and gladiolas that are perfect for picking.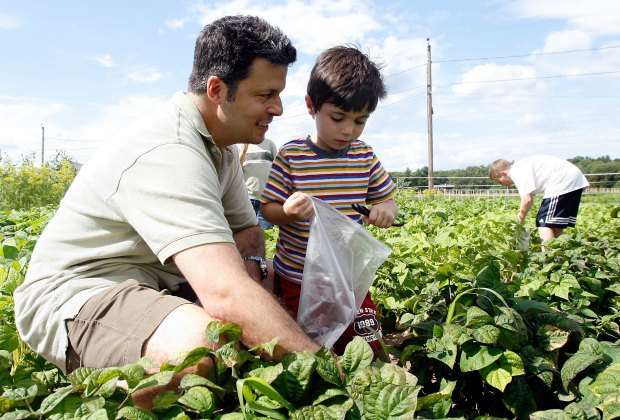 Father and son at Powisset Farm. Photo by K.McMahon courtesy of The Trustees
Powisset Farm—Dover
Powisset Farm is one of the spots on the list run by the Trustees of Reservations. It's most known for its CSA program, which provides vegetables to members and allows them to come to the farm to participate in you-pick fruits, herbs and flowers. Powisset also has a farmstand and beautiful trails to explore.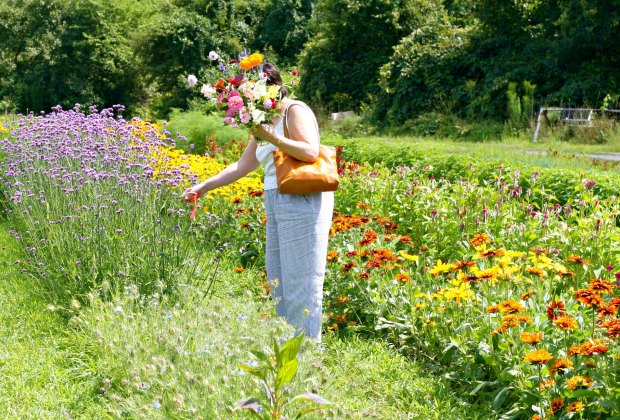 Carefully choosing colors and textures at Small Farm. Photo by Liz West/CC BY 2.0
Small Farm—Stow
This family-owned and operated farm has been growing vegetables west of Boston since 1988. While not certified-organic, Small Farm employs organic gardening practices to grow its produce, which it sells at its farmstand. Open daily from July through September, Small Farm invites families to pick vegetables, herbs, and flowers on its property.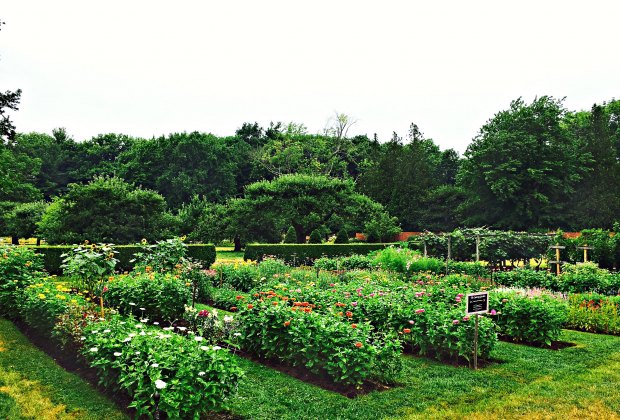 Steven Coolidge Flower Fields. Photo courtesy of The Trustees
Stevens-Coolidge Place—North Andover
Also run by the Trustees of Reservations, the Stevens-Coolidge Place will open its cutting garden again from mid-July to early October. The garden is open for picking on the weekends during the growing season and kids are more than welcome to join in on the fun. You'll find organically grown zinnias, dahlias and rudbeckia among other varieties in the garden. The Stevens-Coolidge Place is an early 20th-century estate with that you can explore on your visit.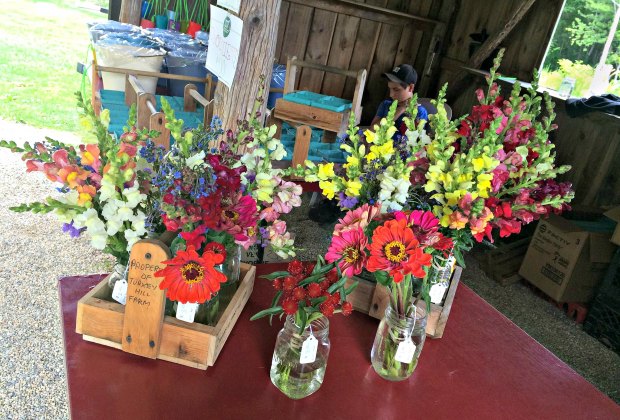 Photo courtesy of Turkey Hill Farm
Turkey Hill Farm—Haverhill
Located on a hilltop in Haverhill, Turkey Hill Farm has three main seasons. In July and August the farm is open for you-pick blueberries and raspberries. In November and December, you can come to Turkey Hill to cut your own Christmas tree. And in between, from mid-July to early September, Turkey Hill has fields of beautiful flowers for you to pick.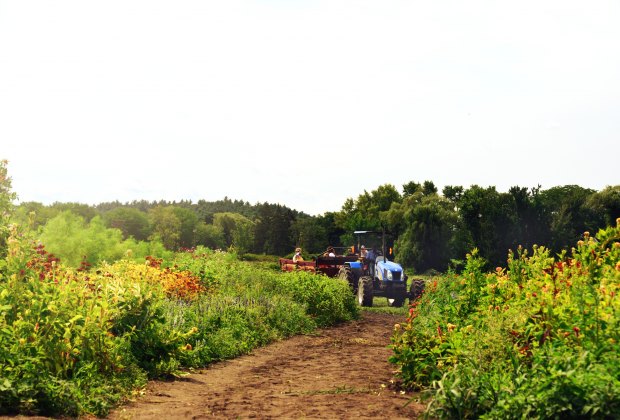 Verrill Farm. Photo courtesy of Massachusetts Office of Travel & Tourism
Verrill Farm—Concord
There's a lot going on at Verrill Farm in Concord. The family farm has been operating since 1922 and grows all kinds of vegetables during the warmer months. Verrill also has a bustling bakery and deli and supplies lots of local restaurants with its farm-fresh produce. You can also come to Verrill to pick your own flowers from mid-July to late September.
Top photo via Bigstock