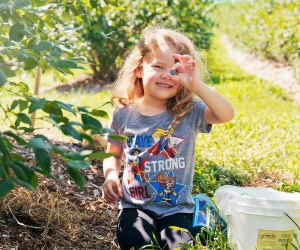 Where to Pick Blueberries with Kids in the Boston Area
Strawberries? Raspberries? Blueberries? Our family debate over which is the best berry may never be resolved, but this time of year, the blueberry is everyone's favorite pick. This tart little superfood just may be the easiest fruit to pick, prepare, and serve: There's no peeling, pitting, coring, or cutting. Plus, they attract fewer natural pests other than birds, so much of the fruit is grown pesticide-free.
The pick-your-own blueberry season begins in July and continues through late August or early September. From simple you-pick blueberries to full-service farms with play areas and petting zoos, we've rounded up some of the best farms in the Boston area to visit. Read on to the end of the post to find a recipe for our favorite blueberry treat: the classic blueberry buckle.
If you've had your fill of berries or missed the growing season, check out these u-pick peach, plum, cherry, and corn farms or these gorgeous pick-your-own flower farms. Check out all of our guides for seasonal u-pick farms in the area!
Blueberry Farms Near Boston
Turkey Hill Farm - Haverhill
Situated on top of a hill, this farm has great views to enjoy while hunting for tasty berries. Containers are provided for picking the berries, and there are bathrooms and drinking water available. Turkey Hill does not take credit cards so make sure to bring some cash. The farm is open for picking Tuesday through Sunday from 8 am to 4 pm. Call ahead or visit the website to check if blueberries are ready for picking. 978-372-9474.
Boston Hill Farm - Andover
Along with u-pick, the property also has a play area with picnic tables; a petting farm complete with chickens, geese, bunnies, goats, sheep, and calves; and an ice cream stand with many flavors of Richardson's ice cream. Boston Hill Farm is open daily from 9 am to 7 pm year round but call ahead or visit the farm's website to check on their picking schedule. 978-681-8556.
Tougas Family Farm - Northboro
This farm has a barnyard, playground, and farm kitchen in addition to all the u-pick fruits. After picking, kids can visit the barnyard to see the goats climb a mountain of stone and then enjoy farm-fresh homemade baked goods, ice cream, and strawberry donuts at the Tougas Farm Kitchen. There's a $7 admission fee that goes toward the purchase of your fruit. Tougas Family Farm is open Tuesday through Saturday from 8 am to 4:30 pm. Call ahead or visit the website to check on picking availability. 508-393-6406.
Ward's Berry Farm - Sharon
There are eight varieties of blueberries to pick, and containers are provided. While you're at the farm go for a hayride, visit the barnyard animals, and pop into farm store for a sandwich and smoothie. The farm is open Monday through Friday from 9 am to 5 pm. Call the farm or check their website for picking hours and conditions. 781-784-3600.
Parlee Farms - Tyngsboro Before or after picking, your kiddos can visit Annie's Animal Barn, which is home to over 60 farm animals visitors can pet and feed. The farm stand carries local fruits and vegetables as well as homemade baked goods. Treat your little ones to a scoop of ice cream at their stand before leaving. Parlee Farms is open Tuesday through Saturday from 8 am to 4:30 pm and Sunday from 8 am to 1 pm. Call ahead to confirm availability or check Today's Farm News. 978-649-3854.
Cider Hill Farm - Amesbury
Not only does Cider Hill has great PYO blueberries, but they also have Tyke Yard and sandbox for the kids to play in. Make sure to head into the farm stand for one of their famous cider donuts before leaving. The farm even has its own food truck, The Pitchfork, so you can grab a bite and relax on the farm. Beginning in May, the farm is open 7 days a week from 8 am to 6 pm. Make sure to visit the farm's website or call ahead to check on picking schedules and conditions.​ 978-388-5525.
Smolak Farms - North Andover
Plan to spend some time at this farm that has a playground and farm animals along with U-pick blueberries. On festival weekends, the farm also offers hay wagon rides, duck races, and wee wagons. Make sure to check the events calendar to see if there are any special activities when you are planning on going. The farm stand has plenty of treats and local produce, along with homemade donuts and an ice cream window. The farm is open daily from 7 am to 6 pm. Check the website for seasonal festivals and events, as well as daily picking times and conditions. 978-682-6332.
Doe Orchards - Harvard
Doe has two acres of high-bush blueberries. The farm is located right off a rail trail for some extra walking fun. After your done picking see if you can spot a giant rock that looks like a whale! The farm is open Tuesday through Saturday from 9 am to 4 pm. Call ahead to confirm availability. 978-772-4139.
Tips for Picking Blueberries with Kids
Select plump berries that are light gray-blue in color. White and green colored blueberries don't ripen after they are picked, although those that have turned purple or blue may.
Blueberries hang on the bushes in bunches, and the easiest and fastest way to pick them is to hold your bucket under the branch in one hand and with your other hand, cup a ripe bunch and gently rub them with your fingers. Ripe berries will drop into the bucket, while unripe ones remain attached to the bush.
Always call ahead to be sure the farm is open for picking.
Bring your own buckets as they are not always provided.
Wear sunscreen, a hat, and clothes that can withstand some blueberry stains.
Our Favorite Blueberry Recipe
If by some chance you come home with more blueberries than you can eat, we're sharing one of our all-time favorites. Enjoy!
Blueberry Buckle
Ingredients
Cake
¼ cup (1/2 stick) butter, softened
¾ cup granulated sugar
1 egg
1 ½ cups all-purpose flour
2 teaspoons baking powder
½ teaspoon salt
¼ teaspoon ground nutmeg
½ cup milk
2 cups fresh blueberries
Topping
½ cup granulated sugar
⅓ cup all-purpose flour
¼ cup butter (1/2 stick)
½ teaspoon cinnamon
Directions
1. Preheat oven to 375 degrees.
2. Cream butter and sugar.
3. Blend in egg.
4. In another bowl, mix flour, baking powder, salt and nutmeg.
5. Add the flour mixture alternately with milk to creamed mixture.
6. Gently fold in blueberries.
7. Pour into greased 8" square pan.
8. For topping combine ingredients and cut in butter. Sprinkle over batter.
9. Bake 40-45 minutes. Cool on a rack.
Photo courtesy of Parlee Farms
Originally published July 2012