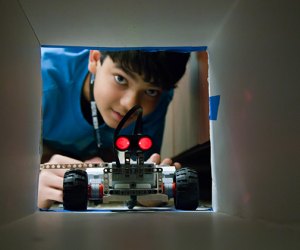 NYC STEM Camps: Robots, Coding, and More Educational Tech Fun
NYC kids who've been itching for the school year to be over so they can devote more time to their extracurricular technology passions are in luck. We've rounded up more than a dozen techie summer camps right here in the city, which all offer hands-on building, coding, 3D printing and more.
No matter your child's interest, age or location, you should be able to pick out the perfect camp from our list below to fuel some summertime STEM learning. Act fast, too, if you want to take advantage of early bird pricing.
Tiny Techies
Cathedral School's Summer STEAM Camp — Upper West Side
1047 Amsterdam Avenue
Ages 5-12
Running in two-week sessions, this STEAM camp divides campers into age-appropriate groupings to tackle projects meant to build critical thinking skills and a passion for exploring STEAM topics. Classroom teachers from The Cathedral School lead each group. Afternoons are filled with fun, physical play on the school's grounds or in neighboring parks.
FasTracKids — Multiple locations
Ages 3-12
FasTracKids offers a variety of programs for all ages within its STEAM Adventure program. Each week, kids experience a new profession, ranging from travel photography to doctors, chemical engineers, aviators, and food scientists, in an age-appropriate fashion. All children receive math and literacy training, too, helping to prevent the dreaded summer slide. Register before April 1 to take advantage of early bird pricing.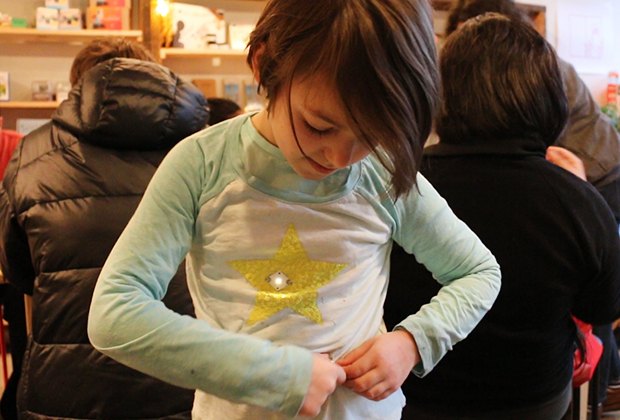 A Geek Forest student shows off the wearable electronics she created with Teknikio. Photo by Josephine Sedgwick/courtesy of Geek Forest.
Geek Forest — Williamsburg
329 Grand Street
Ages 6-12
The focus here is on hands-on problem-solving, as well as brainstorming ways to test solutions. Topics covered include a range of STEAM options from cartooning, to maker's lab, robotics, game design, engineering, and much more. Early bird registration discounts are in effect through March 15.
Maker State — Multiple locations
Ages 6-12
Maker State camps include a pair of hands-on STEM projects each day, but also plenty of time for active, outdoor activities. Kids build skills in a variety of modern mediums, including coding, game design, circuits, and more, in both individual and group settings. Plenty of unstructured maker space time is allotted, too, allowing kids to get hands on time focusing on projects of their choice. Early bird pricing is offered through April.
Launch — Multiple Manhattan locations
Ages 5-12
Code apps, program robots, or build architectural feats at this STEM summer camp. Weekly camp options might include, I Wanna Be...An Astronaut, Coding + Digital Design, Kids Crime Lab, and Rockin' Robotics. The day is rounded out with indoor and outdoor play, math activities, and STEM games.
NORY STEM Camp — Multiple Manhattan and Brooklyn locations
Ages 3-12
Seeing a need, two inventive dads introduced this new STEM camp in 2018. For summer 2020, it's expanded to eight Manhattan sites and two in Brooklyn. Weekly themes range from Inventing for Good to Carpenter's Land and Game Building. A 5:1 camper to instructor ratio ensures plenty of hands on help and active kids will appreciate the opportunity to split time between STEM and soccer or STEM and swimming.
RoboFun — Upper West Side
2672 Broadway near 102nd Street
Ages 3-12
Even the tiniest techies can get in on the act at RoboFun, where summer camp is open to kids as young as 3, as long as they're set to enter pre-K in the fall and are potty-trained. Older campers can choose from half- or full-day programs in areas such as Lego Robotics and Coding & Game Design. Early drop-off (8:15am) and late pickup (5pm) are available for an additional fee.
ESF Camps — Riverdale, the Bronx
5250 Fieldston Road
Ages 6-12
Hosted on the campus of the Riverdale Country School, this series of weekly camps mixes ages and offers a wide variety of themes for campers of all ages. Camps are offered with themes like Minecraft, Roblox, game development, VR, coding, and more.
Camp Yokey— Boerum Hill, Brooklyn
537 Atlantic Ave
Ages 7-14
Camp Yokey blends art with tech, with programs that include
KeyLab – Carroll Gardens, Brooklyn
94 Luquer St
Ages 5-12
If you have a kid who'd benefit from a sideways approach to STEM, sign them up for a KeyLab summer program and don't let on that music is constructed from math. Campers learn to create podcasts, make films, and write songs, all of which will stand them in good stead with STEM.
The Tiny Scientist – South Slope and Prospect Heights, Brooklyn
69 Underhill and 1624 8th Ave
Ages 5-11
The Tiny Scientists take science to goofy new levels in fun summer camp programs that include "Gross but Great" (exploring mold, farts, and more), superhero science, and mock spelunking in "Crystals, Caves and Dino-Might."

Techie Tweens
CAMP/pixel — Cobble Hill, Brooklyn
Multiple locations
Ages 7-13
Kids can choose from a number of cool tech subjects at this NYC summer camp: Fortnite, Roblox, You Tube, Minecraft, and more. Deep dive into a subject for a week, or pick multiple subjects and attend several weeks of camp. The new Pixel Studios Camp offers a four-week foray into escape room engineering, video games, movie production and more. Early bird registration ends March 15.
ID Tech — Citywide
Ages 7-17
ID Tech has locations in Union Square, Washington Square, the Upper West Side, Upper East Side, Queens, and Garden City. It offers programs such as coding in a variety of languages, game design, robotics, web design, filmmaking, and 3D printing. Parents are welcome to visit at the end of each weekly session for a demo and to hear their student's "report card."
RELATED: Great Art Camps Where NYC Kids Write, Sing, and Paint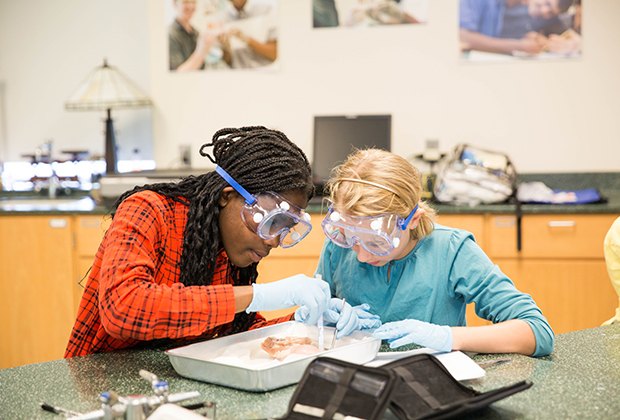 Kids try out medical tech by testing out their surgical techniques at i2camp. Photo courtesy of the camp.
i2camp — Upper East Side
Marymount School, 116 East 97th Street
Ages 9-13
Sessions focus on one-of-a-kind topics, such as crime scene investigation, app inventor, surgical techniques, and more. Campers are divided between Juniors (entering grades 4-5) and Seniors (entering grades 6-8).
Lavner Camps — Greenwich Village & Upper East Side
NYU, 60 Washington Square South; The Cathedral School, 319 East 74th Street
Ages 6-14
Lavner Camps offer a variety of specialty themes to immerse your kids. From Elite Minecraft Skills to Java coding, app or fashion design, Fortnite, esports, and more, there's bound to be a camp to pique the interest of the pickiest camper.
Techie Teens
All Star Code — Multiple locations
Ages 15-17
This six-week coding program is completely FREE to participants. Open to young African-American and Latino men, applications for the competitive program are accepted on a rolling basis through April 1, 2020. Twenty-person cohorts are hosted at the offices of corporate sponsors, giving young men not only STEM skills like coding, database design and management, web development and more, but also entrepreneurial skills and professional networks to connect to throughout the program and beyond. Past partners have included the likes of JP Morgan Chase, MLB, and others.
RELATED: Summer Camp Guide for NYC Kids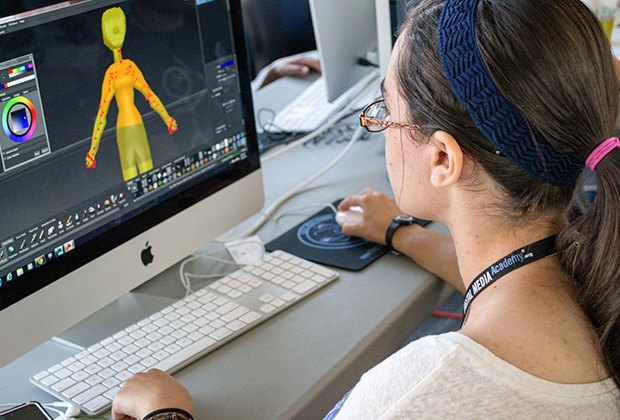 Teens learn 3D modeling at Digital Media Academy. Photo courtesy the camp.
Digital Media Academy — Greenwich Village
New York University campus
Ages 12-17
Teens at this camp aren't just thinking about summer fun and technology. They're thinking future job prospects, or, at least, college. Teens at the Digital Media Academy can choose to study 3D modeling and animation, virtual reality and game design, music production, AI, filmmaking, and app development. The Friday showcase invites family and friends to check out final projects.
Upperline Code — Financial District, Upper West Side, Chelsea
Ages 13-18
Teens concerned with accumulating job skills right out of high school will appreciate these Summer Immersive Sessions that introduce teens to Python and Javascript. No experience is necessary. Upperline says its program can challenge even those who have attended other coding programs or taken AP Computer Science.
Search for more technology options throughout summer and the rest of the year in our Geek Guide.
This post, originally published in March 2016, has since been updated. Jody Mercier contributed additional reporting.
Top image: Robot obstacle course at Digital Media Academy. Photo courtesy of DMA.