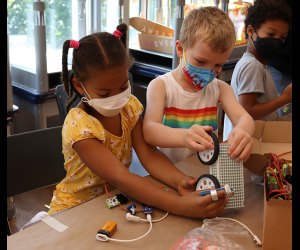 STEAM Camp at the Cathedral School
STEAM Camp at the Cathedral School is an innovative summer day camp that welcomes all children rising to kindergarten up to grade 6. Blending craft, engineering, and technology, projects are designed to spark wonder in all campers. Campers also learn to design and prototype at the Innovation Lab equipped with 3-D printers, laser cutter, robots, and other maker tech. When they need a break, campers are just steps away from the AquaZone for some refreshing splashes and water slide fun.
STEAM campers are curious. They want to be makers, inventors, and problem solvers. Summer is a great time to tinker, explore, and play. Combining inventive hands-on projects with summer outdoor fun on The Cathedral School's beautiful 11-acre campus, STEAM Camp is an ideal experience for NYC children. Come have a creative, whimsical, and STEAM-y summer!
Session 1: Living Green with STEAM: Sustainable Design & Engineering
This session encourages campers to think deeply about environmentally sustainable practices. Each group will focus on one of the targets from the United Nations Sustainable Development Goal 11: Sustainable Cities and Communities. They will propose and design solutions to how their community can meet their desired goal, whether that is through urban farming or the use of solar and wind power energy in city structures. At the end of the session, camper projects will be used to construct a group sustainable city model.  
Session 2: Maker Park Adventures: Circuits, Coding & Robotics
This session takes a closer look at how things work. From simple machines to motorized systems, campers will construct moving inventions that utilize different mechanisms to provide structure and control. Each group will design projects that would comprise a larger STEAM Park model. Examples include light signage designs, spinning Ferris wheels, and robot maze tracks.
Sign up for one or both camp sessions. For more information, contact Camp Director Jamie Solis at steamcamp@cathedralnyc.org or call 646-425-1648.