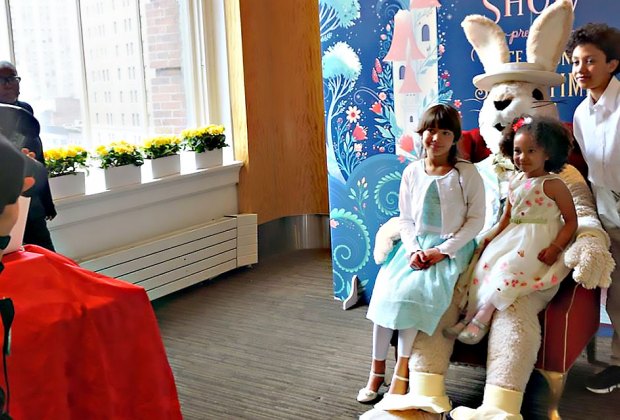 Meet the Easter Bunny in NYC for a Photo Op with the Kids
The Easter Bunny is making appearances all over New York City this spring, including on Easter Sunday, April 12, 2020—so you'll have plenty of opportunities to snap a picture with your child cozied up to the festive rabbit.
We've rounded up some of the top places in all five boroughs to take a picture with the Easter Bunny, beginning in March. These range from professional shots you can have taken ahead of time to DIY opportunities at your local egg hunt. Get those reservations booked!
Click through to the listings for complete information, including locations and times. Remember these events tend to be crowded, so make a reservation where possible.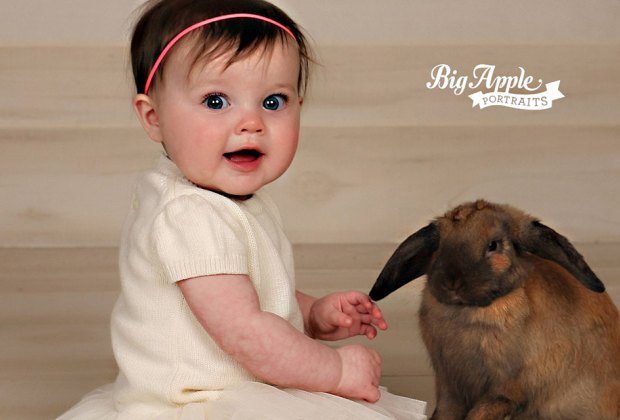 Use Big Apple Portraits for that customized Easter bunny shot. Photo courtesy of the studio
Manhattan
Norsemen Lodge — Chelsea
Saturday, March 28; reservations and advance ticket purchase are required
Join the Norsemen for an Easter family portrait, face painting, and a cartoon caricature artist. Brunch (grilled salmon, pancakes, and other delicious options) costs $45 for adults and $15 for kids. Children under 3 attend free.
Big Apple Portraits — Upper West Side
Starting March 21; call 212-600-4457 or visit the website to reserve dates and times
At Big Apple Portraits, kids can take Easter pictures with real chicks and fluffy bunnies. All the little critters are relocated to a loving farm after their modeling career is over and part of your payment goes toward their care. Additional spring props and backgrounds are also on hand. Mini sessions for kids ages 4 and up start at $100; full 30-minute sessions for kids of all ages start at $250...making this photo op a splurge, but an adorable and memorable one.
Macy's — Midtown West
April 3 & April 4
Hop over to Macy's Herald Square (8th floor) for a fun-filled Easter Eggs-perience with crafts, and more egg-citing activities. Plus, meet and take photos with the Easter Bunny. If you spend $50 in the Children's Department while you're there, you can snag a special gift, too.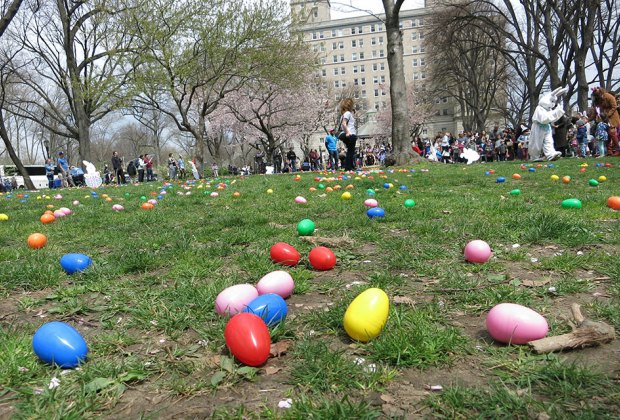 Fill a basket with eggs and pose with the Easter Bunny for a memorable photo at Think N' Fun's Annual Egg Hunt. Photo courtesy of Think N' Fun
Sakura Park and Riverside Park — Morningside Heights and Upper West Side
Saturday, April 4 and Saturday, April 11
No need to bring your own basket here: Participants receive a special Think 'N' Fun basket to use during the hunt. Light snacks are served, and children receive a festive accessory, and, of course, a chance to take a photo with the celeb bunny. Bonus: The event includes a "Wee Hop" hunt specially designed for little ones up to 2 years old. This group hosts two events on different days. There's one on April 4 in Morningside Heights and another in Riverside Park on Saturday, April 11.
Rodale Pleasant Park Community Garden – East Harlem
Saturday, April 11
Snag a FREE selfie with the Easter bunny at this community event. New York State of Mind (NYSOM) hosts its annual egg hunt in the Rodale Pleasant Park Community Garden. The fun includes an egg race, egg decorating, crafts, and face time with the Easter Bunny, including photo opportunities. FREE, but reservations are suggested.
Skyport Marina Cruise – Gramercy
Saturday, April 11 & Sunday, April 12
Cruise the East River with the Easter Bunny! The trip ticket includes face painting, balloon arts, snacks, and, naturally, a photo with the bunny. Tickets are $35/person in advance, and there are three cruises each day.
Stella34 — Midtown
Sunday, April 12
This delightful breakfast or lunch with the Easter Bunny offers fantastic views of the Empire State Building, yummy food, a keepsake photo with the Easter Bunny, and tons of fun activities for kids. Pricing begins at $35 for kids and $40 for adults. Children under 2 are free! Book early to secure great seating.
The Peninsula New York — Midtown
Sunday, April 12
The storied Midtown hotel offers an elegant brunch in the Clement Restaurant for all ages. The Easter Bunny is available for photos and kids can frolic with baby ducks, bunnies, and chicks! $215 per person for adults and $90 for guests under 12.
The Spirit Cruiser — Chelsea
Sunday, April 12
Take a boat ride around Manhattan with plenty of bunny time, a buffet brunch, and music for dancing (bunny hop, anyone?). It's pricey: $71.90 for adults and $59.90 for kids ages 3-12.
Brooklyn
Liberty View — Sunset Park
Saturday, April 4
Photos with the bunny are included in the price of a family brunch buffet at Beyond, created by Bay Market Kitchen. The fee is $17.95 for ages 12 and up; $11.95 for ages 6-12; $7.95 for kids 6 and younger.
Crossroads Christian Church -- Bay Ridge
Saturday, April 4
Crossroads Christian Church is hosting their 4th Annual Easter Eggstravaganza, with games, face painting, and a visit from the bunny, all for free!
Aviator Sports and Events Center — Marine Park
Brunch, Saturday, April 4
Egg Hunts, April 4, 5, 10, 11, 12, 13 & 14
There's plenty to do at Aviator this Easter, but one of the biggest draws is the popular brunch with the Easter Bunny. The Easter Bunny is available for photos, and he's also there for crafts, cupcake decorating, and a meal that includes eggs, pancakes, bacon, sausage, and fruit. While kids are having their fun, adults can enjoy a Bloody Mary or mimosa on the house. Aviator's annual egg hunt allows for photo ops with a rabbit named Whiskers as well as a full petting zoo and pony rides (for additional fee). If you can't find a great Easter photo here, we can't help you!
RELATED: March GoList: Best Things to Do with Kids in NYC All Month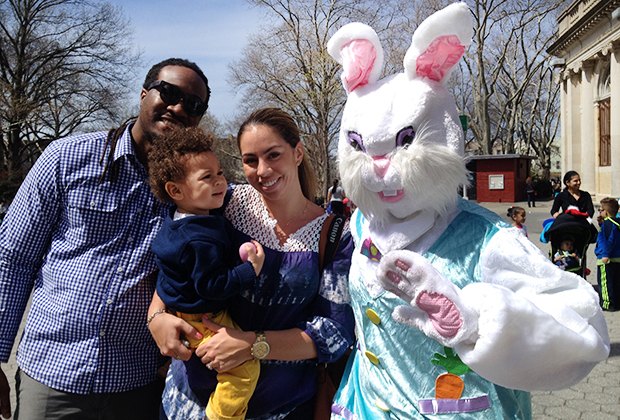 The entire family can get a shot with the Easter Bunny at the Williamsburg Town Square hunt. Photo courtesy of Town Square
FourFiveSix — Williamsburg
Sunday, April 5
Bring your camera! Hosted by Town Square, this Brooklyn egg hunt in the backyard of eatery FourFiveSix promises lasting fun with thousands of eggs, arts and crafts, festive kid-friendly music, and plenty of photo ops with the Easter Bunny. Proceeds benefit local Boy Scout Troop Pack 7.
Old Stone House -- Park Slope
Sunday, April 5
Professional photog Adina Lerner snaps holiday pix for families on a first come, first served basis for $10, and you can take your own photos too. Spring crafts and face painting are included.
Bronx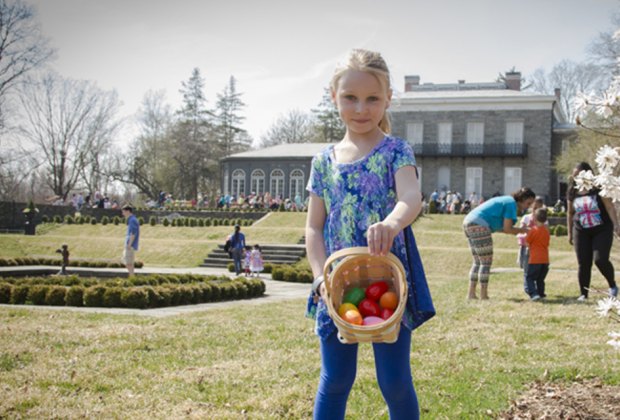 At the Bartow-Pell Mansion children can hunt for eggs, enjoy arts and crafts, and have photos taken with the Easter Bunny. Photo courtesy of the museum
Bartow-Pell Mansion Museum — Pelham Bay
Saturday, April 4 (rain date Sunday, April 5)
The gorgeous grounds of the 19th-century Bartow-Pell Mansion open up for Easter egg hunts each year. But you also can snap a photo with the Easter bunny; just bring your camera. A crafts table, games, and some light refreshments are available when the kids are all egged out.The fee is $16/child.
Williamsbridge Oval -- Norwood
Saturday, April 11
Williamsbridge Oval's Easter fesitivities include an egg hunt, sack races, a visit from the bunny with plenty of photo opps, and more.
Queens
Queens Center — Elmhurst
March 20 through April 12
You'll find the Easter Bunny on the third floor of the JCPenney wing, nestled between Pretzelmaker and Champs. Pay the bunny a visit for a photo. The bunny is available Sun-Thu, 11am-8pm; Fri-Sat, 11am-9pm. A Sensory-Friendly Photo Experience is offered on Sun, March 29, 9am-11am.
RELATED: Day Trips and Weekend Getaways Guide for NYC Families

Real and costumed bunnies make the scene at the annual egg hunt at the Queens County Farm Museum. Photo courtesy of the museum
Queens County Farm Museum — Little Neck
Saturday, April 11
Little bunnies can dance the bunny hop, play an egg toss (or roll), and hunt for eggs in the orchard. Pose with the Easter Bunny or meet live barnyard animals at this working farm. Go for a hayride or attempt the bunny hop and other games. This event is super-popular and requires advance ticket purchase. Tickets ($10/child) must be purchased online in advance.
Doha -- Astoria
Saturday, April 11 & Sunday, April 12
The Queens nightclub invites families for music, a magic show, a balloon egg hunt and lots of bunny photo opportunities. Kids can also cuddle with real rabbit, and refreshments are included in the $25/person fee.
Staten Island
Colony Hall — Heartland Village
Sunday, March 22
Central SI's Colony Hall hosts a lovely Bunny Brunch that includes a photo with the critter of the hour. Plus, face painting, balloon twisting, an egg hunt and other kid faves. Adults pay $34.95, kids (3-12) pay $15.95. Little ones 2 and under attend free, but BYO high chair.
Staten Island Mall – Heartland Village
Daily, March 19 through April 11
The Easter Bunny hangs out in the JC Penney area of this mall, too, located on the lower level. Packages range from digital downloads to printed and framed options. Packages start at $29.99 (prices vary with discounts online). The bunny is available Mon – Fri, 11am - 8pm; Sat, 10am - 9pm; Sun, 12pm - 5pm.
Staten Island Zoo -- West Brighton
Saturday, April 4
Salute egg hunting season with the bunny at the zoo's annual breakfast or lunch. The price ($30 for adults; $20 for kids ages 3-14; free for ages 2 and younger) includes a hot buffet, a carousel ride, animal meet and greets, an egg hunt, and pix with the bunny.
Historic Richmond Town -- Richmond
Saturday, April 11
Spring fun in Historic Richmond Town includes making flower crowns, feeding butterflies, dancing around the Maypole, egg hunts, and communing with the big holiday rabbit. The fee is $5 for adults; $10 for kids.
Farther Afield
If you're hitting the nearby suburbs to visit friends or family or just looking for an extra special Easter-themed day trip, try an Easter Bunny Express train, departing from various New Jersey locations.
Find bunny brunches or egg hunts in NYC, too! Or lean on our March GoList for more must-do events and activities.
This post originally published in March 2010 is updated annually. Amy Meader contributed additional reporting.