Feast Your Way Through the Best Food at the Queens Night Market
5/9/18
- By
Anna Fader
Outdoor food markets and indoor food halls seem to be popping up everywhere in NYC, but the Queens International Night Market is different from others. Fashioned after night markets in Asia, it focuses on the incredible diversity of global flavors that have been making Queens famous as one of the best places to eat in the world.
I'm surprised how many people don't know about this foodie market. It's one of my favorite things! The event is family-friendly and even pet-friendly. There's live entertainment, games, and food stalls representing 80 different countries. Best of all? It's inexpensive. It truly is like traveling the world in one night, although it'd be hard to taste everything in one evening.
Read on for details on the 2018 lineup for this seasonal Flushing Meadows Corona Park food festival.

The lines can get long so go early with little ones to get your food quickly!
The market takes place on Saturdays from 6pm to midnight in the park next to the New York Hall of Science. The season started in late April and goes to August 18. It takes a break, and then starts up again in the fall for several Saturdays, from September 29 to October 27. Families will be happy that it is always FREE admission to enter, and there's a $6-and-under price cap on all food and drink items.
RELATED: Brooklyn and Queens Beer Gardens Where Kids are Welcome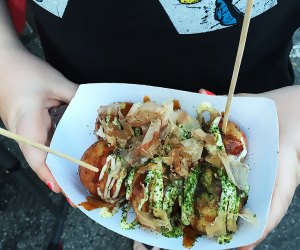 Karl's Balls' takoyaki are yummy. Will your kids try them?
New vendors this year include Thai Roasted Crickets, Wenzhounese Fried Chicken Feet and Gizzard Skewers, Ethiopian Injera, Laotian Larb, and many more. If your sense of adventure is slightly less adventurous, there are plenty of returning favorites that you and your kids will love. My son is clamoring to back for the fried ice cream, duck bao, and twisted potatoes. You'll also find Burmese Palatas, Trinidadian shark sandwiches, Peruvian ceviche, Hawaiin musubi, and so much more!

If some of the foods are too exotic for your kids, there are tons of delicious treats too.
Deservedly, the Queens Night Market can get crowded, but lines tend to move quickly and vary stall to stall. Some stalls have very long lines, while others have very small ones. The space is large and open so maneuvering a stroller is totally doable. There are a lot of tables by the stage if you want to plunk your family down in one spot and take turns going on food runs.
RELATED: Eat Around the World in Astoria, Queens with Kids

Grab a table in the big grassy field and enjoy the entertainment. Photo courtesy of the Queens International Night Market NY
Whether you take on the Queens Market as a challenge to see how many new and unusual foods you can try, to discover new favorites eateries and travel the world's foods, or just to eat as much yummy stuff as you can, the Queens Night Market is an awesome way to spend an evening eating outdoors with the family. There's even a beer and wine tent.
You can check out the upcoming performers, vendors, and even a map on the market's website, or follow it on Facebook or Instagram.
Taking public transportation is highly recommended as there is very limited parking. Organizers recommend the 7 train to 111th Street, or the buses Q23, Q48, and Q58 all drop off close to the market.
Photos by the author unless otherwise noted

Sign up for our free
newsletters.
Mommy Poppins is a family activity website that helps people find things to do with kids.
©
2023
MommyPoppins. All Rights Reserved.
mp-prod4-v4.32.99
Click Here to Sign Up!
i