Take a Day Trip to Japan with New Children's Museum Exhibit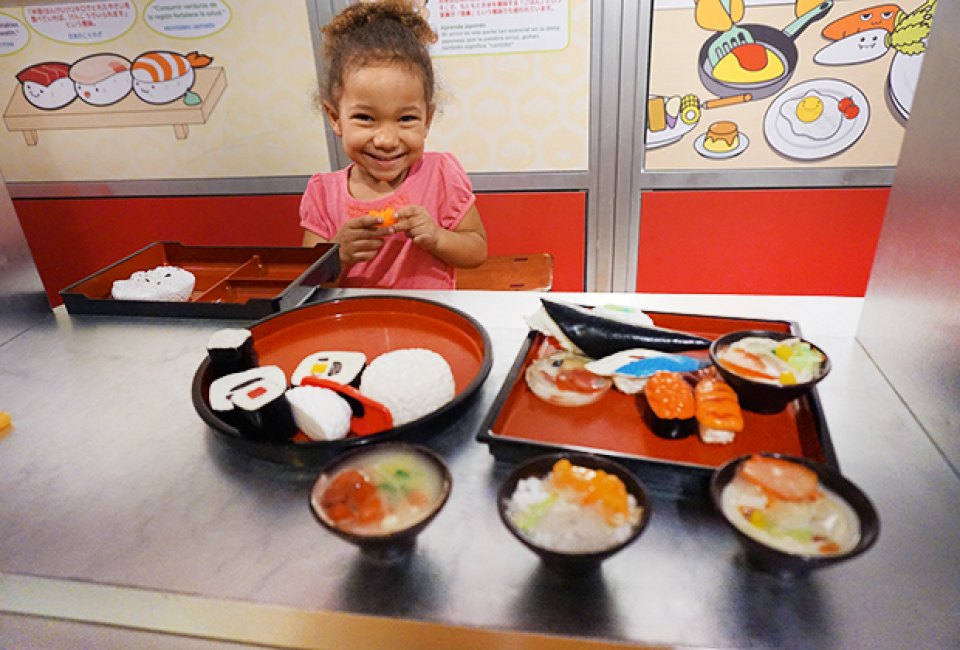 2/14/17
- By
Jody Mercier
If a trip to Japan is just slightly over your budget, but you're still crazy—or curious—about Japanese culture, the newly reopened Hello from Japan! exhibit at the Children's Museum of Manhattan is a perfect, albeit petite, alternative. This exhibit—the third in the Upper West Side museum's Global Cultural Exhibition Series, following exhibitions on Ancient Greece and China, and preceding the ongoing Muslim culture exhibit—originally graced the museum in 2015 and has returned for another run, offering an immersive experience for NYC's youngest art and museum fans.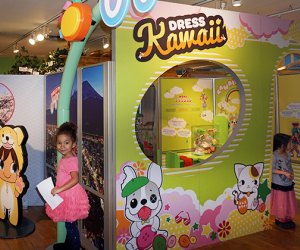 Kawaii Central is inspired by Japan's Harajuku district.
Hello from Japan! presents two very different aspects of Japanese culture in the CMOM-signature, kid-friendly fashion. Entering the exhibit on the museum's ground floor, visitors cross under a colorful arch into CMOM's vision of a Harajuku district dubbed Kawaii Central, where vibrant colors pop from each mini storefront and cute is the name of the game.

The first storefront invites visitors to "Dress Kawaii" for their journey through town and offers lively props from feathered boas and frilly tutus to dragon tails—kids are encouraged to get creative. Next, kids (and their parents) can pop into a photo booth and email themselves a keepsake. Mascot Central introduces the concept of mascots so popular in Japanese culture. A giant, colorful, flowchart hangs on the wall and lets kids find a mascot who shares their interests. A giant touchscreen then lets you in on some quirky facts about these new, funny friends. I pinpointed one and learned it was an "athletic guy who loves all sports especially hang gliding, hockey, and tai chi. He also loves to eat apples!"

Touring the exhibit with the help of my 3-year-old, I can say without a doubt, her favorite booths were the next three: Katakana Club, Pop Pop Karaoke, and Bento Joy.

In Katakana Club, she sat down at one of the many tablets and got to work practicing the art of calligraphy on an app CMOM developed specifically for the exhibition. Kids choose a fruit or vegetable, then get to practice tracing the characters necessary to write the word. I tried my hand, too, and was surprised at the precision required to get more than three-of-five stars for my work. Examples of traditional and new calligraphy utensils were on display and plenty of facts about how many characters Japanese children have to learn by the end of first grade. Take note: It was in the thousands!
RELATED: Explore Japantown with Kids and Tweens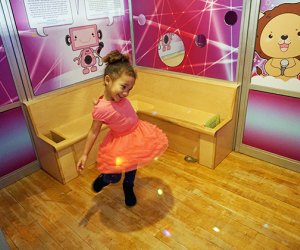 Kids can sing and dance to nursery tunes at Pop Pop Karaoke.
Pop Pop Karaoke allowed kids room to dance—disco lights included, naturally—and sing along to traditional nursery rhymes. Words to songs like Mary Had a Little Lamb were written in both English and Japanese as karaoke videos played. My daughter's favorite was a Japanese music video that she kept jamming to over and over.

Once she had worked up an appetite, she headed next door to the Bento Box storefront, where she couldn't get enough of playing restaurateur with the tiny sushi play food. Displays overhead explained how the bento box came to be as a way for Japanese mothers to fill their kids' lunch boxes (and bellies!) with leftovers and detailed the way they "cutetify" their lunch creations, putting my ham-and-cheese sandwiches to shame.
The last storefront wasn't really a storefront at all, but an homage to the streets of Japan, where traffic hazards are marked with crafty characters meant to reassure pedestrians and motorists that if they follow directions, everything will be all right. Plastic manhole covers were on display and showed how even the most mundane objects are artfully decorated in Japanese culture. There was also a truck because as curator Ellen Bari pointed out, there is always a truck. She knows her audience, because there was also always a line as kids waited anxiously for their turn to drive.
RELATED: Best Museums and Art for NYC Kids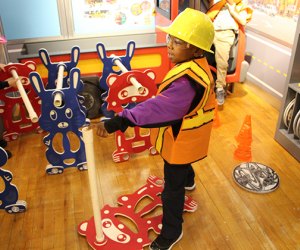 Kids can play in the Streets of Japan area. Photo courtesy of the museum.
Next, visitors traverse a bridge from the lively, contemporary, pop-art district to a more serene, traditional Japan and enter the Shinto shrine park. Here, natural hues and backdrops replace the vibrancy of Kawaii Central. Nature takes center stage with a bamboo forest framing one side. Guests will also find an altar and the focal point of the area, a Wishing Tree. Visitors are invited to write wishes on an ema and tie it to the tree.

A beautiful nature scene closed the other side of the garden and is meant to pay homage to the natural beauty of Japan, as well as the cultural appreciation of its natural spaces. It also illustrated the importance of kami, or animal spirits, which are represented almost as holographs in a now-you-see-them-now-you-don't way as you move around the garden. My daughter loved trying to see and un-see the fox and dragon in the scene.

As is the case with most CMOM exhibits, Hello from Japan! aims to hit the ages 2-10 demographic. My 3-year-old had tons of fun and has been telling her big brother and sister all about it. I look forward to bringing them all back. The interactivity may not impress my tween, but the walls of each store are packed with information and facts about Japanese culture, which I think he'd really enjoy. The exhibit has two mascots of its own, one in the Kawaii district and another in the Shinto shrine, and they are peppered throughout the information, offering simple Japanese words for kids to add to their vocabulary. Each bit of information is offered in a trio of languages: Japanese, English, and Spanish, something the curator said was very important in developing it.

Hello from Japan! is on view through Sunday, May 14, 2017, at the Children's Museum of Manhattan located at 212 West 83rd Street. It's hosting a number of related events and ongoing programming, including a Kamishibai storytime and Japanese dance performance this month.
Top photo: Learn about Japanese food at the Bento Joy area. Unless otherwise noted, photo by the author.
Places featured in this article:
---
Children's Museum of Manhattan