Masks & Vaccinations Policies in New York: Key to NYC and Safety Protocols for Kids and Visitors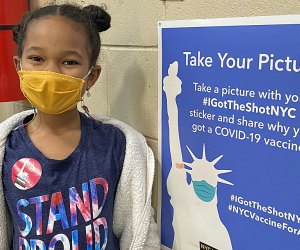 Local families and visitors take note: New York state has reinstituted its mask mandate, while New York City's COVID vaccine requirement rules now apply to children ages 5+. Here's what you need to know about where vaccines are required and the latest on mask mandates in NYC and nearby so you can enjoy all the city has to offer during the magical holiday season and beyond.
Keep in mind soaring COVID cases have canceled or postponed a number of events at the last minute. Before heading out, we recommend checking with the venue to confirm details and site-specific COVID protocols.
Subscribe to our newsletters to get stories like this delivered directly to your inbox. Find all our picks for family-friendly fun in our piece on the best things to do in NYC this month.
Where are masks required in New York?
A newly instituted statewide mask mandate goes requires masks to be worn in all businesses where there is no vaccine requirement for entry and applies to all patrons ages 2+. The mandate has been extended until at least Thursday, February 10.
A federal mandate requires that masks are worn on all public transportation, including MTA buses and subways, local ferries, and aboard all Metro-North and Long Island Railroad trains.
Masks are still widely required by individual venues in NYC, even at businesses where proof of vaccination is mandated. Most theaters, for example, require masks whenever you are not actively eating or drinking. Likewise, restaurants require masks whenever you are not seated at your table.
What is the Key to NYC?
Originally launched in August 2021, the Key to NYC institutes a vaccine requirement at certain indoor businesses throughout the five boroughs.
All patrons ages 5+ must now show proof of one dose of the COVID vaccine to enter certain businesses. All guests ages 12+ are required to show proof of full vaccination—that means they must have received at least two doses of the Moderna or Pfizer vaccines or one dose of the Johnson & Johnson vaccine.
Which NYC venues require vaccination for entry?
All NYC indoor attractions in the following categories must require proof of vaccination for entry:
Recreation centers and gyms
Arcades
Indoor arenas and concert venues
See the full list on the city's Key to NYC page.
What proof of vaccination is accepted?
Visitors can provide any of the following as proof of vaccination:
CDC vaccination card, including a digital photo or photocopy of the card.
NYC vaccination record, including a digital photo or photocopy of the card. You can call 311 to get a copy of the record if you do not already have one.
NYC COVID Safe app, which is available for download on Android and iOS devices. Parents can upload vaccination cards for their children on the NYC COVID Safe app.
New York State Excelsior Pass or Excelsior Pass Plus.
Please note: Adults ages 18+ must present a photo ID in addition to proof of COVID vaccination. Children do not need to present ID. Your photo ID can be uploaded along with your CDC vaccination card in the NYC COVID Safe app.