The Very Hungry Caterpillar Show
DR2 Theatre

NYC Easter Brunch Cruise 2023
Event Cruises NYC

Easter Fun Cruise with Egg Hunt 2023
Event Cruises NYC
Sign up for our free newsletters.
Sky Skate Elevates Winter Fun with Ice Skating Rink at Edge New York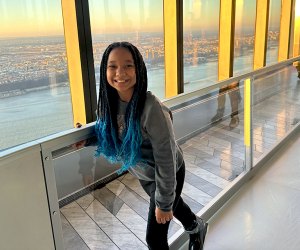 1/10/23
- By
Jody Mercier
When it comes to winter sports, NYC seems to be embroiled in a game of seasonal one-upmanship. There are dueling bumper cars on ice, rooftop ice skating rinks, and even our very own skate-and-play mashup of ice skating and gaming, but Edge New York is elevating winter fun—literally. The sky-high observation deck has just introduced Sky Skate, which allows visitors to glide across the highest ice skating rink in NYC—and the entire Western Hemisphere—as the city buzzes below.
Unlike our favorite seasonal outdoor ice skating rinks, Sky Skate is indoors, so it's an all-weather activity, though you'll want to bring along the hats, scarves, and gloves so you can step outside and take in the open-air observation deck views when you're done.
Subscribe to our newsletters to get stories like this delivered directly to your inbox.



When the sun sets, the disco lights really shine at Sky Skate.
Like the rooftop rinks at The William Vale and the Brooklyn Children's Museum, you won't find a Zamboni in sight here. Sky Skate's rink is crafted from synthetic Glice, which took a little getting used to. I found it easier than ice, though my 9-year-old disagreed initially, her Glice-skating skills outpaced mine by the time our session ended!
Tickets to Sky Skate, which runs through Tuesday, March 14, are a $10 upcharge to the regular Edge experience but include skate rental, 30 minutes of ice skating time, a digital souvenir photo, and handy rinkside lockers to stow your stuff while you glide. A collection of whale-shaped skate aids await for little ones who need extra support. Sky Skate is open to kids ages 6 and older, and the smallest size skate offered is a kids size 9.
RELATED: 40 Best Things To Do This Winter in NYC: Our Winter Fun List

No matter what time of the day you visit Sky Skate, save time to check out the views from Edge's outdoor observation deck.
The rink is laid out over 1,000 square feet in the northwest corner of the observation deck's indoor experience on the 100th floor and gives you an unbelievable view up and down the Hudson River while you skate. Only 20 people are allowed on the ice during each session.
Our skating session was at 4pm and perfectly timed to get in several laps before sunset, which was a picture-perfect way to end this exciting outing! The disco lights really come to life as the sun goes down, so it's a great time to experience Sky Skate.
Photos by the author