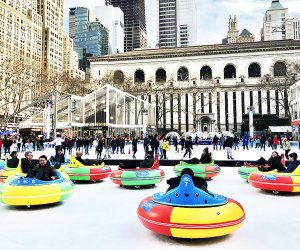 Bryant Park's Ice Rink Bumper Set to Return
It's a great time to be a kid in NYC: Ice rink bumper cars are returning to Midtown on January 17.
The bumper cars, which debuted last year at Bryant Park's FrostFest and made the trip out to Brooklyn in late 2019, are back in Bryant Park from January 17 to February 28, 2020. Can't wait to take one for a spin? Read on for all the details, plus how to reserve your spot.
The bumper cars on the outdoor ice skating rink at Bryant Park's Winter Village were a smashing success (get it? sorry...) last year and tickets are already in high demand. They cost $17 per 10-minute session and must be reserved in advance online. Tickets for each week go on sale by noon Thursday for the following week. Follow Bryant Park on Twitter or sign up for its newsletter to get notifications when tickets are released. Tickets are sold in one-hour time slots from 2pm-7pm on weekdays and 11am-4pm on weekends.
Kids ages 7 and up (and their adults, of course) can ride—one person per car, no lap-riders.
The ice skating rink at Bryant Park is located on Sixth Avenue between W. 42nd and W. 43rd Streets, and is open daily from 8am-10pm.
This post originally published in January 2019 has since been updated.
Bryant Park Winter Village
42nd between 5th and 6th Avenues
New York, NY 10018