Virtual Reality for Kids in NYC: 8 Spots Where Kids Get Inside Games and Immersive Experiences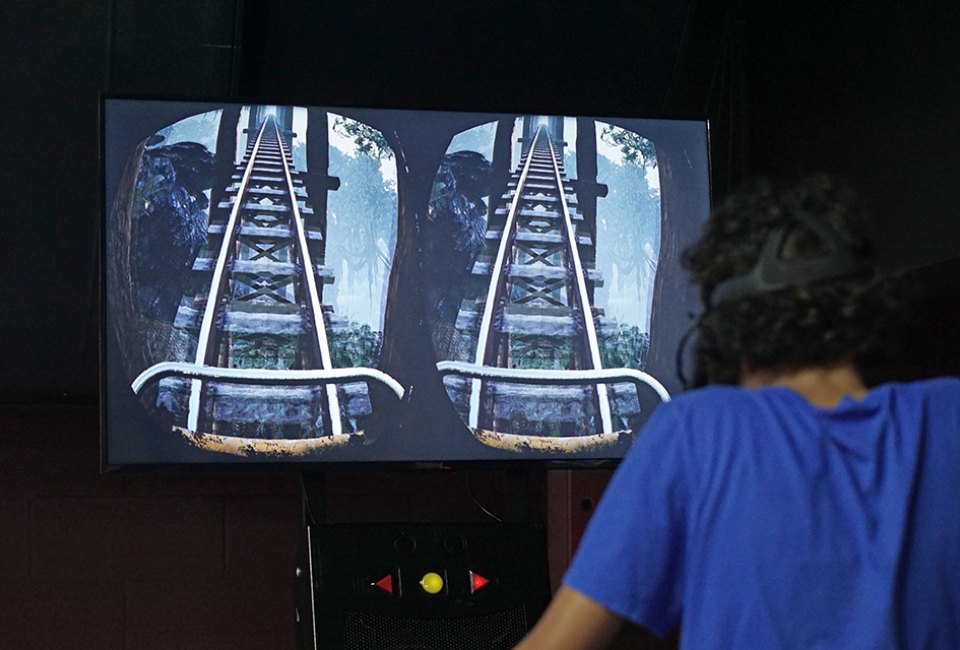 7/11/22
- By
Diana Kim
Virtual reality for kids in NYC is becoming an increasingly popular activity. With gaming technology growing ever more sophisticated, spending a day immersed in one of these VR for kids outings allows visitors to enter an immersive and interactive new realm of fun.
When it comes to virtual reality for kids in NYC, there are a number of futuristic pop-ups and permanent exhibits catering to kids. Some of these VR for kids experiences are located within kid-friendly attractions, like those at Harry Potter New York, while others are standalone destinations all their own, including the brand new RiseNY in Times Square. Read on for seven picks for virtual reality for kids in NYC.
Subscribe to our newsletters to get stories like this delivered directly to your inbox.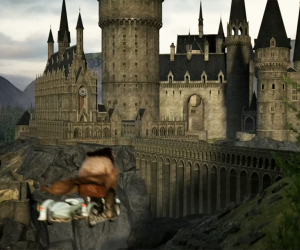 In Wizards Take Flight, guests hop on a virtual broomstick and fly into the Wizarding World of Harry Potter. Photo courtesy of the venue
Age minimum: Must be at least 10 years old and 54 inches tall for Wizards Take Flight and 10 years old and 48 inches tall for Chaos at Hogwarts.
Harry Potter fans can choose from a pair of VR for kids experiences at Harry Potter New York. In Wizards Take Flight, you're flying on a broomstick, battling Death Eaters, and casting spells with your wand. If you choose to tackle Chaos at Hogwarts, Dobby accompanies you on your journey through the famed castle where you're charged with rounding up a case of magical creatures accidentally set loose. Participants wear VR headsets and use hand sensors and the actual experience takes about 15 minutes with additional time for setting up and instructions. Tickets cost $37 and must be purchased online in advance. A bonus: While the lines have dissipated to visit Harry Potter New York, your VR ticket lets you skip the line if there is one, so plan extra time to explore the store before or after this virtual reality for kids in NYC experience.
2. VR World – Midtown East
Age minimum: Kids must be at least 9 years old and certain games have height requirements. After 5pm, all guests must be 18+.
One of the first virtual reality for kids in NYC outposts to pop up, VR World offers more than 50 virtual reality experiences at any given time. VR World is one of the largest virtual reality centers for tweens, teens, and grown-ups in NYC. You can play games like Arizona Sunshine, Richie's Plank Experience, Cook-Out, or have virtual, immersive film or art experiences. Purchase a 2-hour pass for $49 or an all-day pass for $69. Tickets and reservations can be made online in advance, though walk-ins are allowed if space is available.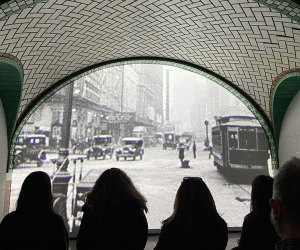 Explore the cityscape of NYC in a whole new way at RiseNY's immersive theater. Photo by Charlotte Wensley
3. RiseNY – Times Square
Age minimum: No age requirement but all guests must be at least 40 inches tall.
RiseNY is a new VR for kids experience that takes visitors on a simulated aerial tour of NYC. Guests sit in full-motion seats and are lifted 30 feet into the air while "flying" over NYC's top attractions. The fully immersive theater experience is accompanied by seven galleries highlighting NYC's most iconic institutions and landmarks. Tickets start at $25 for kids ages 3-12 and $29 for adults ages 12+.
Age minimum: No age restrictions, but most VR for kids experiences are suitable for tweens and older—younger children may be frustrated by machines made for adults that they're too small to operate.
This gaming center offers three immersive motion-simulated escape rooms as well as multiple VR for kids games. For immersive experiences, guests wear VR headsets and use hand-held controllers. The most little-kid-friendly attraction is an augmented reality climbing wall that can be adjusted to lower heights. There's a lot of flexibility when it comes to cost. Choose from a one-hour experience, a two-hour pass, or a one-day unlimited pass that also includes escape room access. One-hour passes are $39 and escape rooms start at $39 per person. If you are just passing by this virtual reality for kids in NYC experience and want to pop in for a single game, guests can also enjoy a single virtual reality game starting at $10. Tickets and passes can be purchased online.
RELATED: 15 Teen Activities For New York City's Ultra-Cool Big Kids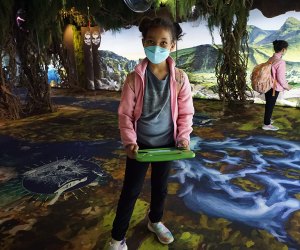 Step inside Arcadia Earth for both augmented and virtual reality experiences, plus cool photo-ops and important environmental messaging. Photo by Jody Mercier
Age minimum: Recommended for ages 6+
See nature in a whole new way in this long-running immersive experience. You'll wander through 15 rooms highlighting the plight of a changing environment and have a chance to interact with many features along the way thanks to an augmented reality component. Be wowed by stunning visuals, like a sea of plastic waste or a wonderland made from recycled plastic bags. See stunning video projections and get up close to animals with the help of an augmented reality app. Want to elevate the immersive experience even further? Its newest ticket allows visitors to strap on a Microsoft Hololens and interact with holograms scattered throughout the rooms for an out-of-this-world experience. Tickets start at $27 for kids ages 4+ and $33 for adults and should be purchased online in advance.
Age minimum: 12 years old and up
Though not specifically a virtual reality for kids in NYC experience, this VR center caters to older tweens and teens offering VR-inspired, immersive escape rooms for multiple players. Choose from either the Escape Room or the Space Defense where you have to work with other players to defend against a drone attack. Tickets cost $40 per person per hour and can be booked online in advance.
RELATED: Play Retro Video Games at These Family Arcades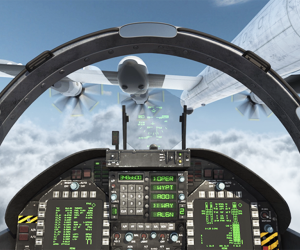 Go on a training mission with the Screaming Eagles and experience the excitement of flying a Navy fighter jet. Photo courtesy of the Intrepid
Age minimum: No age minimum, but riders must be 38-40 inches tall to participate. Some rides require visitors to ride in pairs.
We're big fans of the Intrepid Sea, Air, & Space Museum and love its dedication to bringing history to life in a way that relates to kids. Its collection of four simulator rides is just one example. Choose from an immersive 4D theater experience that tells the stories of the Intrepid's history with a combination of state-of-the-art graphics and historical footage or opt to test your mettle in a G-Force Simulator, Blue Angels simulator, or play Maverick in a Navy fighter jet simulator. If space exploration is more your thing, hop into the Apollo 11 & Beyond experience, where you'll put on a NASA helmet and experience space flight, the first steps on the moon, and get a glimpse into the future of space exploration. All simulators require an add-on to your general admission ticket, which can be purchased for $11 each or $30 for a three-ride combo.
RELATED: Paintball and Laser Tag Arenas in NYC for an Action-Packed Outing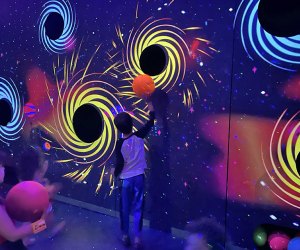 Little kids get a taste of VR fun at Cosmic CAMP at the City Point outpost. Photo by the author
Bonus: Virtual Reality for Kids in NYC Preschooler Edition
8. Cosmic CAMP – Downtown Brooklyn
Age minimum: All ages; guests under age 2 are FREE
If you have a little one whose feeling left out of the VR for kids experiences listed above, consider Cosmic CAMP. For the younger set, the CAMP outpost at Brooklyn's City Point is in the final days of its interactive, immersive Cosmic CAMP experience, which invites the whole family to play together. Kids are taken through different space-themed locations including lava fields, ice crystals, land, space rovers, and alien habitats. Participants wear digital wristbands that interact with the landscapes to win prizes. It's the perfect introduction to an immersive type of theater experience that doesn't require any gear. Tickets must be booked online in advance, but do it fast: This experience winds down at the end of July.