New VR Gaming and Escape Room Opens in Chelsea
There's a new game in town—actually, a whole slew of them—with the opening of Escape Virtuality in Chelsea, featuring two floors of immersive gaming and technology. Whether you're in the mood for classic, immersive VR games, have a taste for a wild ride, or want to tackle a brain-teasing escape room, grab your big kids and sense of adventure and give it a go. Read on for a look inside the new space and tips for what to expect (and play!) when you arrive.
Located on a quiet stretch of West 29th Street, Escape Virtuality offers several ways to experience the ever-changing, fast-growing world of virtual gaming technology. The biggest hit for my teenager was the KAT Walk omni-directional treadmill, which gives you access to more than 30 VR environments. You're strapped in at the waist, outfitted with VR goggles and controllers, and left to fend for yourself in a virtual world. The learning curve for figuring out how to move on the treadmills (which are socks only) is a bit steep, but we found it was easier to slide your feet along the concave surface, almost like moonwalking, which propels you forward through the VR world you've entered.
RELATED: 7 Cool Escape Rooms for NYC Kids
For a more passive experience, try one of the two different sets of simulators. In a sit-down simulator, you try your hand at car racing, though there are no gimmicks here. The cars are every bit as difficult to drive as a real race car. The full-motion simulators let you feel every bump and turn. Spinning out on the virtual track is likely to leave your head spinning in the real world.
In a simpler stand-up simulator, the Xtrematic, you use your body weight to shift directions as you navigate a diverse set of games—on our trip, we rode a roller coaster, flew fighter planes (complete with a fan-propelled breeze in our face), and were chased by people-eating dinosaurs.
RELATED: 16 Must-Try Things to Do With NYC Tweens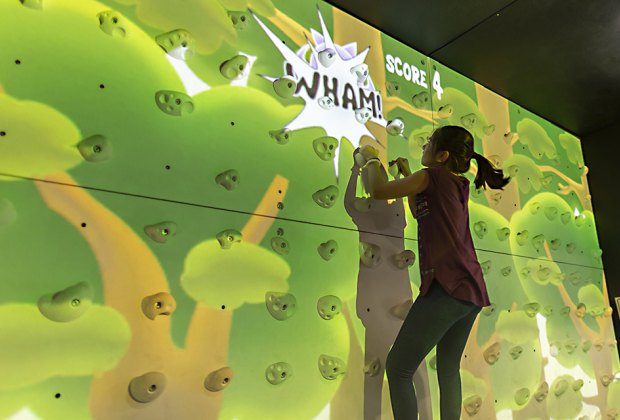 The most little-kid friendly attraction is definitely an augmented reality climbing wall that can be adjusted to lower heights for smaller kids. Like the VR games, there are several modes to try, including a Whack a Bat, where a furry, funny purple bat appears on the wall. The object: You scramble up, down, all around to whack him and make him disappear.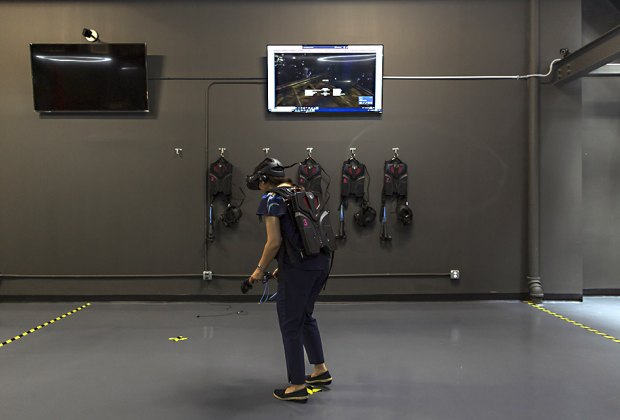 If escape rooms are more your thing, there are a trio of them here. On the ground floor, you can play a mini escape room as you try to save the city from a meltdown, or strap on a Ghost Busters-esque backpack and VR goggles to play a VR escape game, Goblin's Quest: The Uprising.
A second floor offers three more traditional escape rooms, with lots of high-tech bells and whistles. On the aptly named Runaway Subway Train, you can try your hand at escaping a moving subway train, which rumbles and shifts as you scurry down the tracks, playing footage from familiar subway stops as you try to concentrate. Ghost Collector is sure to creep you out as you first release holographic ghosts into the air, then attempt to lure them back, and Mission Galaxy Rescue offers a space-themed challenge to power up an abandoned space capsule and escape the danger lurking in the great beyond.
While there are no age minimums here, I'd say Escape Virtuality is best for older tweens and teens. Many of the games contain mature, shooter-style environments, and younger kids can't always be outfitted with the gear that's offered.
One big plus is you can pay by experience, with simulators ranging from $5-10 for 10 minutes of play; the AR wall starts at $7. If you want to try several experiences, consider purchasing passes, available in 1- and 2-hour increments, or all day. Escape rooms are $39 per person for a one-hour experience.
Photos courtesy of the author