Lighthouse Immersive Disney Animation Experience Puts Atlanta Kids into the Magic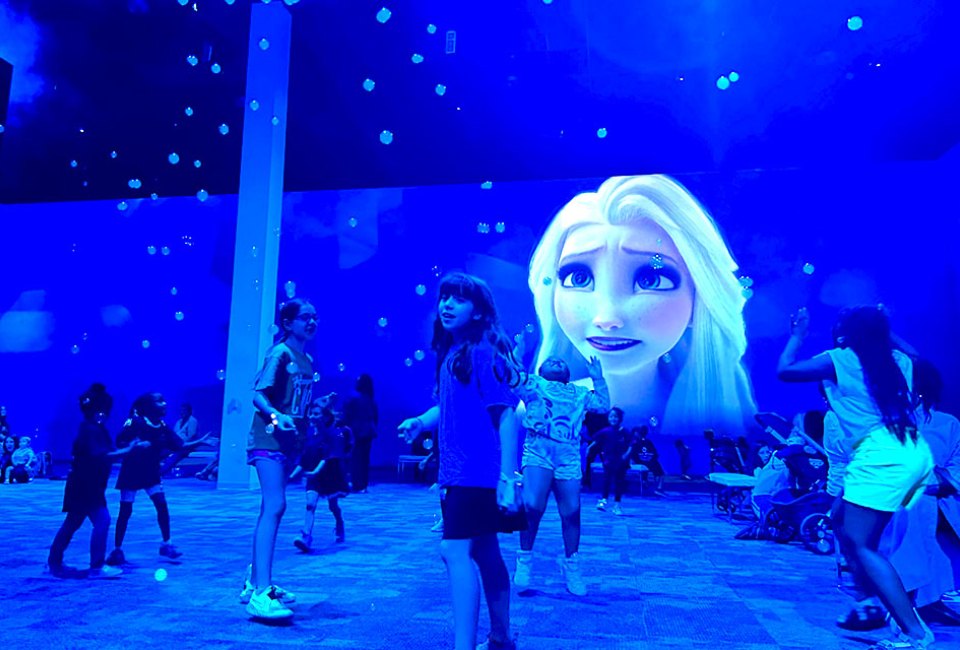 6/11/23
- By
Melanie Preis
The Lighthouse Immersive Disney Animation experience puts Atlanta kids into their favorite movies. Children of ALL ages (I'm including you, parents) feel giddy remembering their favorite animated scenes with huge screens, amazing sound systems, and touchable elements in the Disney immersive experience. My daughters and I spent an afternoon at Lighthouse Immersive Disney Animation Atlanta, and it was wonderful to relive my own movie memories with theirs.
The Disney immersive experience Atlanta is a great summer activity -- to escape the season's brutal heat and afternoon thunderstorms -- and enjoy beloved movies in a whole new way. Plus, kids learn about the animation process, renowned Disney artists, and how to draw classic Disney characters!
We may not "talk about Bruno," but your kids will love talking about this "whole new world" of magic and fun at the Atlanta Lighthouse Immersive event!
Lighthouse Immersive Disney Animation Atlanta
The Disney Immersive experience opened in Atlanta this summer after success in 11 other cities. Taking over 44,000 square feet of space at Armour Yards in West Midtown, this critically-acclaimed project connects family members from all different generations to share in the magic and love of their favorite Disney movies.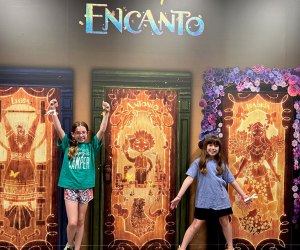 Pose with the characters from Encanto and other Disney movies upon entering the experience.
Disney Immersive Experience Atlanta: Photo Frenzy
As you walk into the experience, guests can take photos at Disney backdrops and silhouettes. It is an Instagrammer's paradise with this many photo opps! See characters from Encanto, Frozen, and of course, Mickey and Minnie! Think of this as your animation appetizer.
Go past the curtain and learn about famed Disney artists—my kids loved seeing the people who created their favorite Disney characters. Learn more about the science of animation, how cels work, and the intensive work that goes into making these movies.

My family's favorite part of the Lighthouse Immersive Disney event was learning how to draw famous characters.
Disney Immersive Experience Atlanta: Become an Artist
I have a creative family so we loved this drawing exhibit almost as much as the movie (details below). Grab a spot at one of the many drawing tables (at various heights for adults and young children) and learn the steps of drawing classic Disney characters: Mickey, Minnie, Goofy, Donald, Daisy, and Pluto. You can draw as many as you'd like, and take the sketches home to show friends.

Pull up a cushion or carpet and enjoy an afternoon of Disney magic kids will love.
Disney Immersive Experience Atlanta: Let the Show Begin!
Depending on your type of ticket, you may get a seat cushion to use in the "theater" and wear a light-up wristband that syncs to the show. (Don't worry, you will have an amazing time with or without these bonuses.) Before the show starts, wander the massive room, look at the animated details on the screens, and choose a spot on the floor or a bench to watch the movie.
The lights lower and that's when the magic begins! From Disney classics, like Pinocchio and Cinderella, to recent hits, like Encanto and Frozen, the characters and artistry come to life with the help of massive projections, special effects, and toe-tapping music. Swim Under the Sea with Ariel (complete with toddler-approved bubbles), ride a magic carpet with Aladdin, and Let It Go with Elsa (cue the bubbles again).
Kids are encouraged to get up and dance to their favorite songs, pop bubbles, and live their best lives with their favorite Disney pals!

Be ready for the Frozen section of the show, where kids can chase, catch, and pop flying fog bubbles!
Disney Immersive Experience Atlanta: Know Before You Go
Lighthouse Immersive Disney Animation is located at 159 Armour Drive, Atlanta, GA 30324. Free parking is available at the venue, as well as stroller- and wheelchair-friendly accessibility.
Basic ticket prices range from $28-$46, depending on days. Guests can also purchase VIP and Premium Plus tickets for additional price ranges (check the site for ticket offerings). Group discounts are available.
Sensory-friendly shows are available, check the calendar. Adaptations include reduced sound volume, reduced capacity, comfortable gallery lighting, and no blackouts.
Kids will love this show but be warned, there are sections about Disney villains and sad clips. (Don't get me started about including Mufasa's demise.)
Not outside food or drinks are allowed in. Since there isn't a snack bar, have the kids eat before arriving. There are also delicious restaurants nearby and on the neighboring Atlanta BeltLine.
Bathrooms are clean and bright.
As with any good Disney attraction, this immersive experience ends in the gift shop so be prepared. Depending on the type of ticket you purchased, some guests will receive a choice of Immersive Disney Animation prints to take home.
Photos by the author
Places featured in this article:
---
Immersive Disney Animation Atlanta
Click Here to Sign Up!