21 Hayrides and Corn Mazes Near Atlanta Perfect for Fall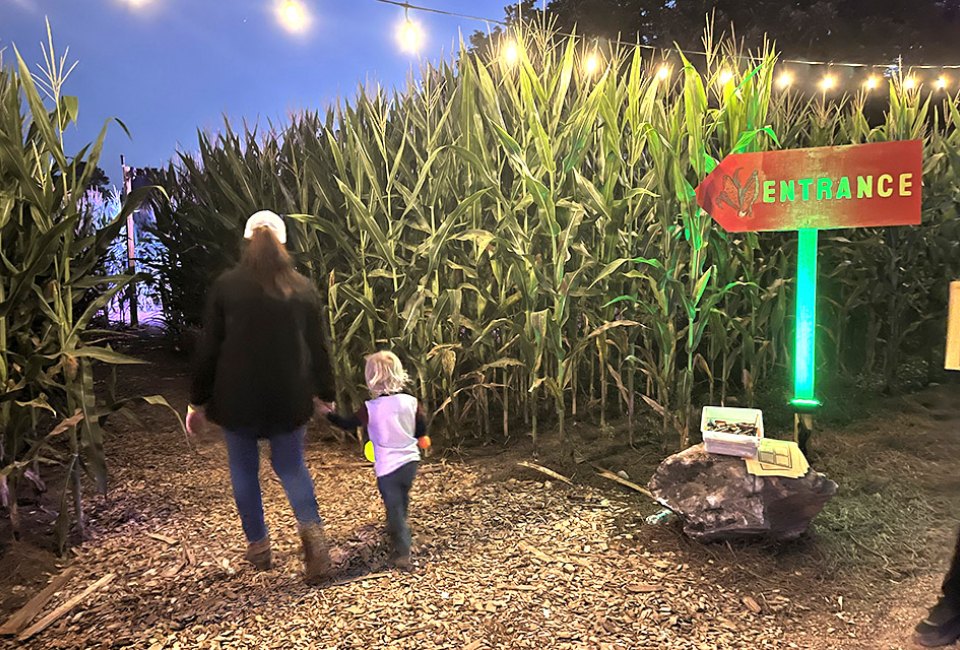 9/15/23
- By
Rebecca Ruffin Leffler
Celebrate fall by exploring a corn mazes near Atlanta and taking hayrides at nearby farms! Atlanta Hayrides and corn mazes are fun seasonal activities, just like apple picking and pumpkin patches. In addition to outdoor physical activity, corn mazes encourage the use of problem-solving skills and team building--the ultimate escape rooms!
Bring your camera as for perfect fall photo ops! Note that many Atlanta farms on our list of the best corn mazes and hayrides offer additional activities such as slides, jumping pillows, and petting zoos. Before you go check the farm's website for payment policy, reservation requirements, and inclement weather updates.
Love apples, hayrides, and corn mazes? Head to B.J. Reese Orchards for a fun-filled, farm adventure. The $26 Mega Fun ticket on the weekends includes wagon rides, corn maze, pony rides, pig races, cow train, mega slide, and other activities. You even get three apples to shoot in the apple cannon! There are other ticket options with fewer activities at a lesser price. And of course, go apple picking as well!
Weekends September 30-October 29, 2023
The fall season at Big Springs Farms kicks off with the annual Antique Tractor Show. In addition to the pumpkin patch, enjoy the corn maze and hayride. Check the farm's website or social media sites as pricing is still being determined. Other separately priced fall activities include a jumping pillow, bounce house, face painting, farm train, and gem mining every weekend.
Weekends September 15-October 29, 2023
At Cagles, families pick out pumpkins, conquer a corn maze, watch pig races, see a sheepdog herding demonstration, and visit farm animals. Smaller kids enjoy Micah's Mini Maze and the water trough bubbles, while parents love the photo ops. The Family Plus ticket also includes wagon rides to Cagles Lake, where you can roast marshmallows over the campfire.
Select days September 23-October 28, 2023
Families explore two dozen farm activities including the new bubble barn and Cinderella carriage! Start with the eight-acre corn maze (or kiddie maze for younger kids) followed by a hayride and animated chicken show. There's also a mechanical bull, steer roping, and talking pumpkins. For evening adventures, enjoy the Haunted Trail, evening hayride, flashlight maze, haunted corn maze, a large bonfire with marshmallows, and fireworks.
Weekends September 2-October 29, 2023
For a unique twist on the corn maze, explore Hillcrest's apple tree maze, where tree branches have grown along wires to create "walls." In addition to the apple tree maze, admission includes wagon rides, mini golf, petting farm, cow train rides, and more activities. Kids will love the swimming pig races (we said that right), chicken chase, and other live shows. If time allows, purchase a one-half peck bag and go apple picking in the orchards.
RELATED: Fall Bucket List for Kids: 40 Fun Things to Do in Atlanta This Fall

Ole McDermitt's Farm's hayride is fun for the whole family. Photo by 616RcPhotography
Weekends September 30-October 29, 2023
See if your family escapes Farmer Kenny's Corn Maze at Ole McDermitt's Farm. Or, just take the hayride around the maze and visit peacocks, chickens, goats, and other animals. The admission ticket also includes slides, rubber duck races, and playground structures. Bring extra cash for gem mining and a pumpkin from the pumpkin patch.
Selet days September 23-October 31, 2023
Welcome to Pumpkin Fest at Pettit Creek Farms! This 80-acre farm offers scarecrow building and unlimited visits to the two-acre corn maze, hayrides, ring toss, and petting zoo. Admission add-ons include giraffe feedings and camel rides, as well as bungee jumping, Aerial Adventure Course, and Canopy Zipline Tour for older children and teens. Pettit Creek Farms only accepts cash for add-ons and concessions.

Head to Powder Springs to enjoy the fun at Sleepy Hollow Farm's corn maze. Photo courtesy of the farm
Select days September 23-Novembers 4, 2023
Sleepy Hollow Farm offers wagon rides, a corn maze, petting zoo, pumpkin patch, and multiple kids' games this fall. Tickets for a reserved two-hour time slot are $14 (ages 3 and up) and must be purchased online. The farm also offers an online discount of $12 on weekday mornings, which includes a mini pumpkin. If you have older kids, try an escape game adventure at the farm (booked separately through Escape Woods).
September 16-October 31, 2023
Visit Yahoo Farm for a hayride, corn maze, pony rides, corn cannon, gem mining, rubber duck races, and the pumpkin wagon and "hay bale" kiddie maze. Older kids and teens visit on Saturday nights in October for the haunted hayride and the cosmic corn maze while enjoying the marshmallow roast held until 10pm.
Corn Mazes and Hayrides Near Atlanta – Northeast and East
Select days September 2-November 12, 2023
The name of this spot says it all! Wander this five-acre corn maze, as well as take unlimited hayrides and visit the Kid's Corner Play Area, with popcorn pillows, ride slides, and alpacas. If you have kids ages 10 and older, purchase a combo ticket for $29.95, which includes the creepy Haunted Forest beginning September 22. If you anticipate repeat visits, season passes are also available.
September 2-November 4, 2023 (excluding Tuesdays)
Hillside Orchards offers a fun corn maze for $8. Afterward, purchase delicious apples, visit farm animals, enjoy the playground, and stop by the country store for jams, jellies, and ciders. Hillside also offers hayrides and train rides on the weekends.
RELATED: World of Coca-Cola: A Bubbly Review of Atlanta's Beverage Museum
Select days September 9-November 5, 2023
Bring the family to Jaemor Farms' Harvest Celebration to enjoy the corn maze, hayrides, and apple cannon. Younger kids may prefer the mini corn maze, slide, petting zoo, tricycle races, and train rides. Admission fees vary by date. Add-ons include flower picking, gem mining, and paintball. Visit October 20-21, 2023 for Flashlight Nights when the farm stays open until 10pm.
Open weekends October 6-October 28, 2023
A corn maze, hayride, sunflower field, and goats await kids at Scottsdale Farms. Find plenty of autumn-themed photo ops and the perfect pumpkin from the patch. You can even eat lunch at the on-site cafe which offers a kids' menu.
Weekends September 23-October 29, 2023
Get lost in the seven-acre Colonel Cob's Corn Maze, take a hayride, shoot a corn cannon, ride a mechanical bull, enjoy the jump pad and slide, pet farm animals, and more at Mitcham Farm! If that's not enough, try the corn maze with only a flashlight on select Friday and Saturday nights. Gem mining is available for an additional cost.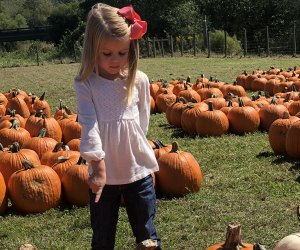 The 15-acre corn maze and pumpkin patch at Uncle Shuck's is the home of great farm fun, food, and family memories! Photo courtesy of Uncle Shuck's
Select days September 16-November 12, 2023
Uncle Shuck's 15-acre property offers almost four miles of "corn-fusing" twists and turns! The general admission ticket also includes wagon rides, a bonfire, kiddie maze, goat walk, tire mountain, jump pad, and corn cannon. The combo ticket includes Dark Rows Haunted Corn Trail, offered Friday and Saturday evenings in October. (Flashlights aren't allowed so parents must accompany children under age 12.)
Select days September 9-November 4, 2023
Enjoy wagon rides, a corn maze, zinnia field, and the Fun Park (with corn crib, jumping pillow, slides, swings, and barnyard). Bring your flashlight to experience the Flashlight Corn Maze Challenge every Friday night in October. Special events include Pumpkin Palooza on October 14, Magical Maze on October 21, and Halloween Egg Haunt on October 28.
September 26-November 5, 2023 (excluding Mondays except October 9)
Purchase tickets online to visit Washington Farms. If the 6.5-acre corn maze sounds daunting, staff members are on the site to provide clues and help. General admission tickets include a wagon ride, ropes course, zipline, vortex tunnel, bounce house, and more activities. The zinnia field and pumpkin patch are free to enter. On select Fridays in October, the farm stays open until 10:30pm.

Yule Forest Corn Maze is one of the largest corn mazes in Atlanta. Photo courtesy of the farm
Corn Mazes and Hayrides Near Atlanta – South
Select days September 15-October 29, 2023
Head to Callaway Gardens to stroll past thousands of carved pumpkins, visit the Pumpkin Tree, and escape the corn maze. At night, everything lights up for a fun evening of exploration. Kids love the Enchanted Pumpkin Forest with dancing lights and a huge pumpkin butterfly, as well as live performances, Mini Glow Golf, and more. Instead of hayrides, trolleys take guests to the corn maze and pumpkin patch.
Open September 23-November 5, 2023 (closed Mondays and Tuesdays)
A favorite U-pick farm, Southern Belle Farms has families covered for all adventures. Get lost in the 7-acre corn maze and take a hayride around the 330-acre farm. General admission (purchased online only) also includes corn cannons, pig races, a cow train, and more. For an extra fee, children can paint mini pumpkins or mine for gems. Stop by the Country Market to purchase tasty fall treats.
Weekends September 30-October 29, 2023
Explore a corn maze, take a hayride, and visit one of the state's largest pumpkin patches at Yule Forest...AND watch an interactive dinosaur show, see a honeybee house, and learn about farming! Other activities include a train ride, petting zoo, 20-foot slide, pumpkin movie, and garden. Food trucks and local vendors sell goods each weekend.

Burt's Pumpkin Farm features an amazing scenic hayride. Photo by the author
Atlanta Hayrides Only
September 15-October 31, 2023
Burt's Pumpkin Farm offers a scenic two-mile hayride featuring a stream crossing, animated pumpkins, and a view of nearby Amicalola Falls. You'll also want to visit the pumpkin patch, stock up on fall decorations, and taste the pumpkin rolls in the country store.
Click Here to Sign Up!
i