Apple Picking near Atlanta: Best Apple Orchards for Apple Picking with Kids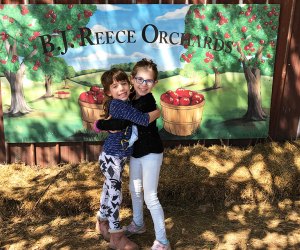 8/21/22
- By
Melanie Preis
Atlanta apple picking checks every box for an enjoyable fall outing—getting close to Mother Nature, letting children frolic in an apple orchard, taking home delicious apples (souvenir bonus!), and enjoying that fresh autumn weather. Besides the actual apple picking, many Atlanta apple orchards and apple u-picks feature additional attractions for the young and young at heart. Apple picking near Atlanta may also involve hay rides, arts and crafts, and of course, filling one's face with as many apple-related baked goods as possible from the orchard's on-site shop (we recommend the apple doughnuts). There are no rotten apples in this bunch of wonderful Atlanta orchards! We also offer the best picks for apple season events.
Many of the attraction-focused apple orchards near Atlanta are only a short drive from the city, and as you drive to Ellijay, or farther north, it's easy to be entranced by the wonderful fall colors that surround the drive. But before you head out for fall fun, keep a lookout on each orchard's website or social media page as apple-picking days and hours vary, as well as crop statuses. September to late October are the best times to pick apples so start finding those tasty apple pie recipes now. There's more seasonal info in our fall guide!
And don't forget to read more about what Atlanta has to offer local kids and families by subscribing to our Mommy Poppins Atlanta newsletter.
The Best Apple Picking Near Atlanta
Located in the heart of Ellijay, B.J. Reece Orchards attracts families from Atlanta and the surrounding North Georgia region. The u-pick apple season runs from now until the very end of October, and B.J. Reece posts its u-pick calendar so kids and families know which apple varieties are available to pick on certain days (apples include Rome Beauty, Crimson Crisp, Golden Delicious, and Evercrisp). Everyone over the age of 2 pays $8 per person on the weekdays and includes the farm slide, corn box, duck races and petting farm play time. On Saturdays & Sundays visitors pay $13-$26, depending on which activities they want to do. (The Super Fun package for $26 includes the farm slide, corn box, duck races, petting farm play time, wagon ride around the farm, admission to the pig races, milking the cow, jumping pillow play time & cow train ride.) U-pick apples are measured in bushels and pecks and cost between $10-$40. You can even bring your four-legged family members—B.J. Reece allows leashed dogs into the orchard!
Need inspiration for all those bags of apples? B.J. Reece Orchards, around for more than 50 years, has a tasty on-site bakery and market, open Monday-Saturday, 9 am-6pm, and Sunday, 1-6 pm, selling the yummiest apple-related baked goods (we seriously recommend getting an apple cider doughnut...or five).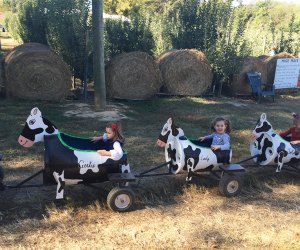 Hillcrest Orchards offers great attractions, including cow train rides. Photo by author
Hillcrest Orchards in Ellijay kicks off their apple-picking season on Saturday, September 3rd (Labor Day weekend). It runs every day until the apples are gone, usually around Halloween. Hillcrest features apple varieties including Rome Beauty, Mutsu, Granny Smith, Golden Delicious, Cameo and many more. Every weekend during the apple season, Hillcrest puts on the Apple Pickin' Jubilee with fun attractions like cow train rides. Families pay $18 per per person on weekends and these are the only days in which visitors can pick apples (u-pick priced seperately). On weekdays Hillcrest charges $12 per person and guests can still experience many of the fun attractions from the jubilee.
The bakery is open daily 9am-6pm and features some of the most delicious treats that will get you in the fall spirit. Hillcrest Orchards and Farms makes apple pies, apple cider doughnuts, and their famous apple fritters. Another great part of the bakery is you get to watch the bakers at work making their apple creations.
Located a few miles east of Ellijay, R&A Orchards has been an apple-picking destination and family-run business for more than 50 years. Every weekend in September from 9 am to 4 pm, visitors pay $5 for admission (which includes a family-friendly tractor ride) and head to the orchard for apple picking. Available apples vary throughout the month, but available types may include Rome Beauty, Ginger Gold, Honey Crisp, Gala, and more. Small bags are $10 and large bags are $20 (and flower picking is also offered). R&A also has a market that is open seven days a week, 9am-6pm.
Spend the weekend in Ellijay at Red Apple Barn, where u-pick happens on the weekends (Saturday, 10:30am-5pm; Sunday, 1-4 pm). Admission is $10 which includes a tractor ride to and from the orchard, one apple from the orchard, a cup of apple cider, an apple cider doughnut, three flowers, rock and pumpkin picking, games, access to the playground, and more (kids under 2 are free). Purchase additional apples in bins at the orchard by the quarter peck ($6), half peck ($10), peck ($18), and half bushel ($29). The market, open Monday - Saturday, 9am-6pm, and Sunday, 1-5:30pm, sells amazing apple products, including apple breads, apple chips, apple cider and doughnuts, apple butter, and loads of other yummy items.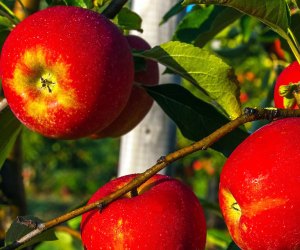 The apples are gorgeous and delicious at Mercier Orchards.
Located a few miles north of Ellijay, by the Blue Ridge mountains, sits Mercier Orchards. The family-run orchard is well known throughout Atlanta for its lush grounds, u-pick options, market store, and hard cider. This year visitors are taken by tractor to the orchards where staff helps them pick apples. The Mercier Orchards market is still open every day, 9 am-5 pm, and offers apples available for purchase (as well as other produce, jams, jellies, and more tasty products).
Apple Season Events Near Atlanta
Happening in Ellijay, across two weekends in October, Georgia Apple Festival is a celebration of fall, great food, art vendors, and of course, apples! Occurring October 8-9 and 15-16, Georgia Apple Festival costs $10 admission for adults, with children under 12 free. Events include Apple Arts (arts and crafts in downtown Ellijay), Apple Classic Auto Show, a 5K, parade, and much more. Make sure to check the website regularly for updates to this year's scheduled event.
On weekends during apple season families head to Hillcrest Orchards for this fun event. For $18 per person, you get access to many attractions, including the apple tree maze, cow train rides, cow milking, mini golf, wagon rides, and more, as well as live shows, like pig racing. This is also the only time visitors can pick apples at Hillcrest; bags are priced separately from admission.
Deep Roots Orchard is just that—deep rooted to Appalachia, in McCaysville (approaching Tennessee). This year Deep Roots is offering Cider Days, most Saturdays in September-November. During this family-friendly mountain experience, visitors take a tour of the orchard, learn about the harvesting process, and then press their own cider on a vintage cider press. Best of all, families take the cider home! The cost is $30 per person and fills up quickly. Deep Roots also features The Folk Apothic, a market which sells all organic or wildharvested herbs, mountain medicinals, salves, local produce, teas, and more.
Remember to check each orchard's website and/or social media as weather and other factors can affect crop availability, hours of operation, and event programming.