12 Pumpkin Patches near Atlanta for Fall Farm Fun
9/18/22
- By
Dana Shemesh
Though September's weather is funky in Atlanta (sometimes hot, sometimes cool), the month certainly indicates pumpkin time! Pumpkin patches near Atlanta offer a million ways to carve, decorate, pie, seed, and lots of other verbs fall's best gourd. Visiting an Atlanta pumpkin patch is an full-day experience —a way to greet fall, bond with friends and family, spend time outdoors, and enjoy the colors and splendor of a new season.
Pumpkin patches near Atlanta offer, of course, a large selection of pumpkins, but other attractions like corn mazes, petting zoos, and playgrounds will keep the kiddos entertained the whole day.
Fall is one of the best times in Atlanta to enjoy Mother Nature, watch the leaves change color, and share family time together. Once you've brought home those pumpkins of all shapes and sizes, learn how to carve them, bowl with them, or most deliciously, bake with them. If pumpkins aren't your thing, head outdoors for Atlanta apple picking, of which many orchards also have fun activities and attractions for kids. Read on for our list of the best pumpkin patches near Atlanta, and get more seasonal ideas by visiting our Fall guide!
Best Pumpkin Patches Near Atlanta for 2022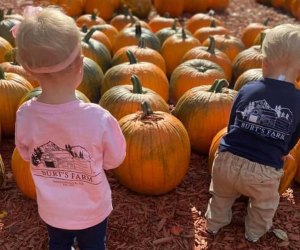 Pumpkins and foliage make a trip to Burt's Farm a perfect family trip. Photo courtesy of the farm
Open select days September 1-November 10, 2022
This full-working farm in the mountains of north Georgia is less than an hour drive from Atlanta. Pumpkin season opened on September 1 for plenty of pumpkin patch fun. Burt's also offers hayrides that travel two miles around the pumpkin patch with a visit to the farm's "famous" pumpkins, Autumn and Gordy. Passengers can catch a glimpse of Amicalola Falls, the highest waterfall east of the Mississippi River.
Open select days September 10-November 6, 2022
Jaemor is a full agriculture-focused farm a little over an hour's drive northeast of Atlanta. Aside from pumpkins, the farm harvests and sells a smorgasbord of fruits and vegetables, including peaches, plums, blackberries, and more. The fall extravaganza includes pumpkins, corn maze, hayrides, farm slides, a petting zoo, farm skeeball, a pumpkin train, apple cannons, and concessions. The all-access pass is $15 for anyone ages 3 and up, which includes the corn maze, farm games, hayrides, and pumpkin patch access.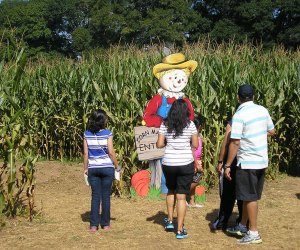 Make your way through Uncle Shuck's Corn Maze. Photo courtesy of the farm
Open select days September 10-November 13, 2022
If there ever was a "fall wonderland," this Georgia farm would come pretty darn close. Enjoy the pumpkin patch, a 15-acre corn maze, corn canyon shooting, a jumping pad (in-ground trampoline), a towering goat walk, farm animals, wagon rides, and a haunted trail—all just a 45-minute drive northwest from Atlanta. The corn maze (and activities) is $15 for anyone over age 4 (additional cost for the Haunted Trail).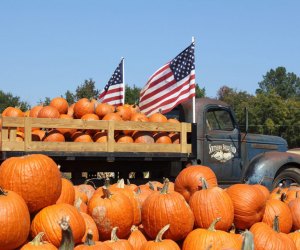 Southern Belle Farms offers pumpkins and so much more. Photo courtesy of the farm
Open select days September 17-November 6, 2022
You had us at "Pig Racing," Southern Belle Farms! It's just one of the 20 or so activities aside from pumpkin picking at this 330-acre working farm in McDonough, Georgia that opened this weekend. Families can spend the day getting lost in the corn maze, taking a cow train ride, shooting a corn canyon, enjoying a rubber duck race, visiting barnyard animals, racing pedal carts, and more. Prices vary by day of entry.
Open select days September 22-October 31, 2022
With its amusement park atmosphere, it's easy to spend the day at Randy's Pumpkin Patch. In addition to a plethora of pumpkins, there's a trackless train, a petting zoo, giant slide, inflatable corn maze, bounce houses, and concession stands with funnel cakes. It's just 30 minutes outside of Atlanta.
Open select days September 23-November 6, 2022
This fall favorite is a staple for families with a pumpkin patch full of gourds and pumpkins, farm-animal viewing, a "corn box" for kids to dive in (think sandbox filled with dried corn), a popcorn jumping pillow, corn maze, hayride, and Haunted Forest to roam through, this Buford Corn Maze has it all. Note: The Haunted Forest is appropriate for kids ages 10 and older; younger children can enter with a guardian.

Sleepy Hollow Farms offers a huge list of kid-friendly attractions. Photo courtesy of the farm
Open select days September 23-November 5, 2022
There are no headless horsemen here (at least not that we're aware of), but there are plenty of pumpkins from which to choose at this pumpkin patch near Atlanta. In addition to gourds, Sleepy Hollow attractions include tractor rides around the farm, a corn maze to get lost in, kids games throughout the farm playground, an "Escape Woods" game adventure, farm animals, and a country store. Make sure to buy your tickets online ($13 per person).
Open select days September 23-October 30, 2022
Camels and pumpkins, who knew? Pettit Creek, located less than an hour from Atlanta, is a drive-thru animal farm January - August, then transforms into Pumpkin Fest for the fall. While there are no pumpkins here for purchase, there are plenty around for photo-ops, as well as animals to see. Adding to the fall festival theme, enjoy the two-acre corn maze, pig races, scarecrow building, corn hole games, hayrides, a petting zoo, and a canopy tour. General admission starts at $15 (under age 12 is $12), and higher priced packages are offered with additional activities.
Open select days September 24-October 30, 2022
Colonel Cob's Corn Maze and Pumpkin Patch is a thrill for families at this working farm less than an hour drive from Atlanta. The Atlanta pumpkin patch is but one of many kid-friendly attractions, including a petting zoo, pony rides, barrel train ride, corn cannon, and more. Access to the pumpkin patch and farm market is FREE, but all other attractions require wristbands ($15 per person) and tickets.
Open select days September 24-November 6, 2022
Grab one of Washington Farms' wheelbarrows and peruse the field for the perfect pumpkins to take home. Need something more exciting than pumpkins? Washington Farms offers a cow train, corn maze, jump pad, wagon rides, duck races, ziplines, and so much more. There are additional attractions offered on the weekend, so check the website before you go. Ticket prices vary by weekdays and weekends and must be purchased online.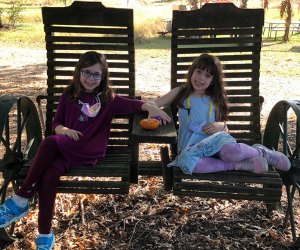 Berry Patch Farms is a picturesque photo opp for parents! Photo by Melanie Preis
Open weekends October 1-30, 2022
Located on the outskirts of Woodstock, this farm features a bevy of pumpkins of varying sizes, hayrides, playground, and a visit with baby farm animals in the barnyard. After picking the perfect pumpkin (say that three times!), guests are invited to purchase Berry Patch Farms' homemade treats. Prices vary by gourds.
Open weekends October 1-30, 2022
Unlike some Atlanta pumpkin patches, Yule Forest offers the chance for visitors to cut a fresh pumpkin straight from the vine with provided stem cutters (or grab one of the pre-cut ones). Besides the actual pumpkins, this Atlanta pumpkin patch offers a corn maze, hayrides, a pirate ship playground, puppet shows, farm animals, and much more. General admission is $14.95 for anyone over age 2.
Know Before You Go to Pumpkin Patches Near Atlanta
Make sure to call ahead or check social media to confirm hours, pumpkin availability, and attractions. Don't leave it up to what's on the venue's website. Many farms and orchards are small, family-run establishments that can close unexpectedly due to weather, staffing, and other reasons.
Leave your pets at home.
If you're thinking of packing a picnic, call ahead to make sure the farm allows you to bring your own outside food.
Bring cash or call to confirm the farm accepts credit or debit cards. Some farms are cash-only.