Immerse Yourself in the Georgia Aquarium: A Delight for Kids of all Ages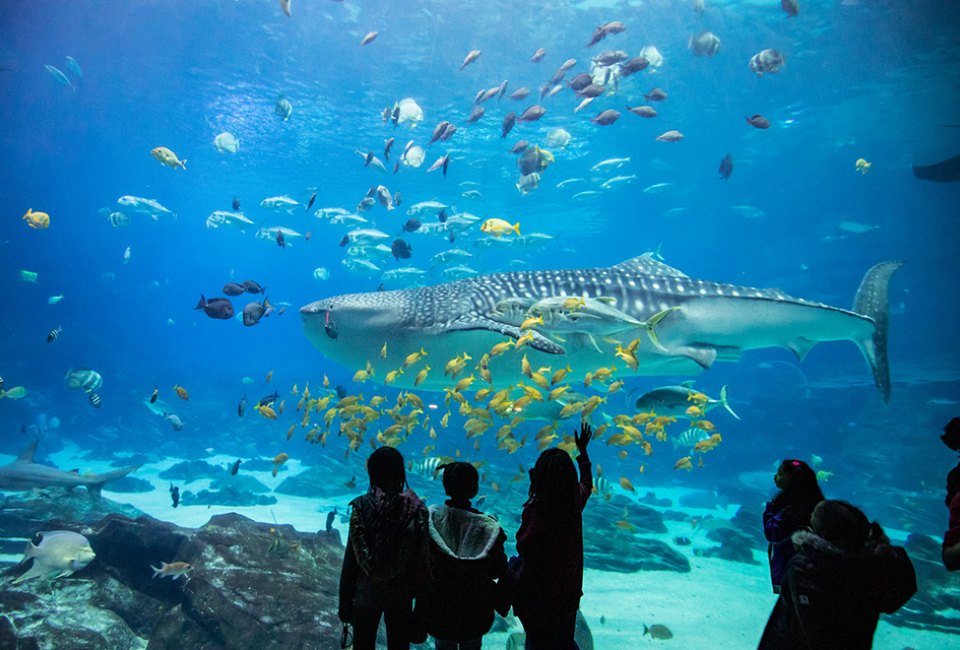 8/19/22
- By
Dana Shemesh
The Georgia Aquarium brings the wonder of the seas to children and adults from across the Southern region. This magical Atlanta attraction has aquatic creatures represented from across the globe, including those species that reside in Georgia's nearby waters. With animals that impress every child (and grown-up) who visits, and awesome weekly events that cater to every age group, the Georgia Aquarium is a must-see spot! Plus, you can save money on admission with an Atlanta CityPass!
Visiting the Georgia Aquarium
The Georgia Aquarium is one of the largest in the Southeast, located near CNN Center in downtown Atlanta. It's no wonder the aquarium has become one of Georgia's top tourist sites—with more than 10 million gallons of fresh and saltwater habitats housing hundreds of species of marine animals and plants.
Families with children of all ages can expect to spend several hours at the aquarium, visiting some or all of the galleries and exhibits, which include SHARKS! Predators of the Deep, Tropical Diver, Ocean Voyager, Cold Water Quest, Southern Company River Scout, Dolphin Coast, Aquanaut Adventure: A Discovery Zone, and more.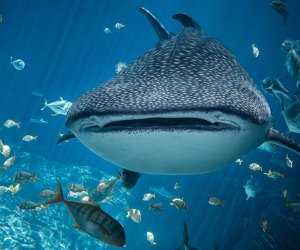 This exciting gallery experience brings you face to face with the most enigmatic creatures in the sea.
Each exhibit highlights a different marine environment. One of the newest galleries, SHARKS! Predators of the Deep, features a 20-foot-deep tank housing great hammerhead sharks, sand tiger sharks, silvertip sharks, silky sharks, zebra sharks, and round ribbontail rays. The exhibit also features a dive cage where visitors can play out their National Geographic fantasies and submerge in a tank full of sharks.
RELATED: World of Coca-Cola: A Bubbly Review of Atlanta's Beverage Museum

The resident dolphins are friendly and engaging.
There is also a wading pool (sounds innocent enough) where visitors can walk with rays and zebra sharks. The shark experience is one of several a la carte experiences visitors can purchase in addition to regular admission. One of the aquarium's largest exhibits—the Ocean Voyager—features a 6.4-million gallon aquatic habitat with a 100-foot underwater acrylic tunnel and one of the world's largest viewing windows for an up-close and personal view of whale sharks, manta rays, and other sea creatures.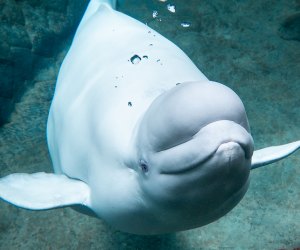 Dolphin Coast features a number of dolphin species.
Dolphin Coast features a 1.8 million-gallon gallery with an indoor dolphin stadium, where the family can catch an interactive show (make sure to bring a change of clothes if you choose to sit up front). Unlike many dolphin shows, this one focuses more on the education of the marine ecosystem rather than the pure entertainment of trick-performing dolphins. The show lasts about 20 to 30 minutes, is featured throughout the day, and admission is included in the general fee.
RELATED: Atlanta Attractions that Offer Free Admission for Kids

The penguins are charismatic and sure to attract a crowd.
Visitors can opt to pay an extra charge to experience the Sea Lion Encounter, where they can watch aquarium staff training sea lions, learn more about the animals, and even pose for a selfie with a sea lion. Other animal encounters include penguins, belugas, dolphins, and more.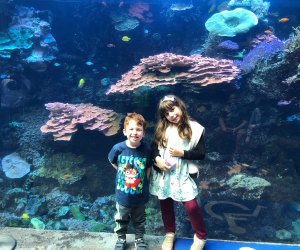 There are great photo opps throughout the aquairum. Photo by Melanie Preis
Georgia Aquarium Admission Fees
As of 2022, general admission starts at $44.95 per person at the box office and $39.95 per person online (a definite savings for pre-purchase). Discounted rates are available for members. Admission is free for children under age 2. Guests of all ages are admitted free on their birthdays with a Georgia ID or copy of a birth certificate.
The aquarium's party rooms are available for birthday parties, small-group gatherings, and weddings.

Learn cool facts about the animals, like green moray eels have layers of mucus for protection. Photo by Melanie Preis
Georgia Aquarium: Know Before You Go
Cafe Aquaria offers a variety of tasty foods and snacks to satisfy your hungry guppies. Hot options include chicken fingers, pizza, and hamburgers; cold options include salads, sandwiches, and baked goods.
As with many popular attractions, the Georgia Aquarium exit goes right through the gift shop. Prepare yourself (and possibly your wallet) for some begging and whining on the way out.
Check the Georgia Aquarium events page regularly as the attraction has really fun events happening throughout the year, including the popular Sips Under the Sea series.
The Georgia Aquarium is located in downtown Atlanta across from Centennial Olympic Park. If you're driving and planning to park on-site, use this address for a direct route to the parking area: 357 Luckie St. NW, Atlanta, 30313. On-site parking rates range from $11-$17 depending on membership and ticket status. You can save money on admission with an Atlanta CityPass.
Unless noted, photos courtesy of the aquarium