Immerse Yourself in the Georgia Aquarium: A Delight for Kids of all Ages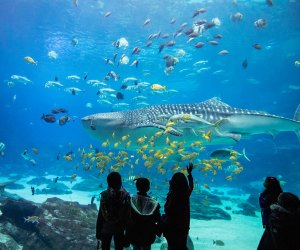 If you or your children have ever had a brush with a jellyfish, you might know the awe and majesty of the sea first hand.
After a few painful experiences (stepping on not sure what, being urinated on to alleviate said jellyfish sting, and a close call with a baby shark in knee-deep water) I prefer to appreciate the majesty of the oceans from behind a thick coating of glass—such as the one at the Georgia Aquarium, one of our favorite Atlanta attractions.
A Visit to the Georgia Aquarium in Atlanta
The Georgia Aquarium is one of the largest in the Southeast, located near CNN Center in downtown Atlanta. It's no wonder the aquarium has become one of Georgia's top tourist sites—with more than 10 million gallons of fresh and saltwater habitats housing hundreds of species of marine animals and plants.
Families with children of all ages can expect to spend several hours at the aquarium, visiting some or all of the galleries and exhibits, which include Tropical Diver, Ocean Voyager, Cold Water Quest, Southern Company River Scout, Dolphin Coast, Truist Pier 225 and Aquanaut Adventure: A Discovery Zone.
Each exhibit highlights a different marine environment. One of the newest galleries—Sharks! Predators of the Deep—opened last year, and features a 20-foot-deep tank housing great hammerhead sharks, sand tiger sharks, silvertip sharks, silky sharks, zebra sharks, and round ribbontail rays. The exhibit also features a dive cage where visitors can play out their National Geographic fantasies and submerge in a tank full of sharks.
RELATED: Petting Zoos, Animal Farms, and Sanctuaries Near Atlanta

The resident dolphins are friendly and engaging.
There is also a wading pool (sounds innocent enough) where visitors can walk with rays and zebra sharks. The shark experience is one of several a la carte experiences visitors can purchase in addition to regular admission. One of the aquarium's largest exhibits—the Ocean Voyager—features a 6.4-million gallon aquatic habitat with a 100-foot underwater acrylic tunnel and one of the world's largest viewing windows for an up-close and personal visit with whale sharks, manta rays, and other sea creatures.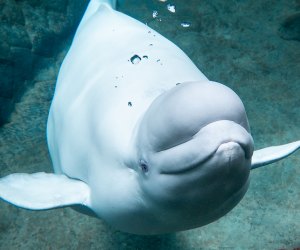 Dolphin Coast features a number of dolphin species.
Dolphin Coast features a 1.8 million-gallon gallery with an indoor dolphin stadium, where the family can catch an interactive show (make sure to bring a change of clothes if you choose to sit up front). Unlike many dolphin shows, this one focuses more on the education of the marine ecosystem rather than the pure entertainment of trick-performing dolphins. The show lasts about 20 to 30 minutes, is featured througout the day, and admission is included in the general fee.
RELATED: Atlanta Attractions that Offer Free Admission for Kids

The penguins are charismatic and sure to attract a crowd.
On occasion, visitors can delight in a seawater surprise. One is the March of the Penguins, when aquarium staff lead a small group of African penguins on a walk around the aquarium's common areas in a perfectly synchornized waddle.
Visitors also can opt to pay an extra charge to experience Sea Lions Up Close, where they can watch aquarium staff training sea lions, learn more about the animals, and even pose for a selfie with a sea lion.
As the end of the school year nears, a visit to the Georgia Aquarium is a great option for families looking to start summer with some great memories.
Admission fees
As of 2021, general admission starts at $35.95 per person and tickets must be purchased in advance and online before entry. Admission is free for children under age 2. Guests of all ages are admitted free on their birthdays with Georgia ID or a copy of a birth certificate.
The aquarium's party rooms are available for birthday parties, small-group gatherings, even weddings.
Getting to the Georgia Aquarium
The Georgia Aquarium is located in downtown Atlanta across from Centennial Olympic Park. If you're driving and planning to park on-site, use this address for a direct route to the parking area: 357 Luckie St. NW, Atlanta, 30313.
Photos courtesy of the aquarium